From the Archives: Helicopters fight a 1966 brush fire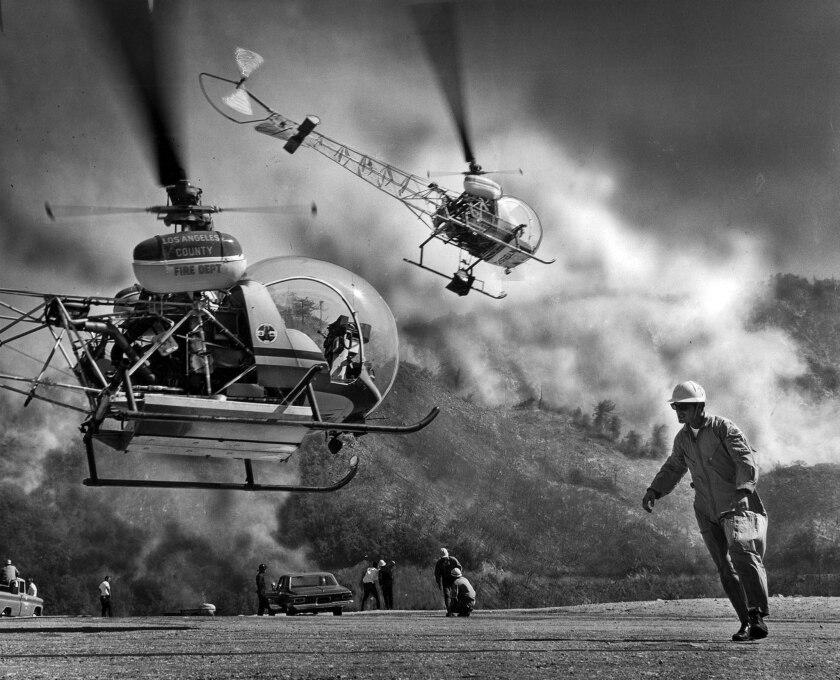 A total of four helicopters fought the 35-acre brush fire in the Angeles National Forest. An article in the July 17, 1966, edition of the Los Angeles Times reported:
After a seven-hour battle, firemen Saturday night contained a stubborn brush fire which swept across 35 acres at the juncture of three canyons in Angeles National Forest 5 1/2 miles above La Cañada. …
The blaze broke out at 1:06 p.m. in Lady Bug Canyon, just off Angeles Crest Highway, and then swept over ridges into Arroyo Seco Canyon and Cloudburst Canyon.
Two aerial tankers dumped 50,000 gallons of a fire-retardant solution on the flames as about 250 U.S. Forest Service and county firemen established a line around the blaze. ...
The above photo by former Times staff photographer Don Cormier appeared in the July 17, 1966, Los Angeles Times.
This post was originally published on May 5, 2014.
---