From the Archives: 1940 opening of the Hollywood Palladium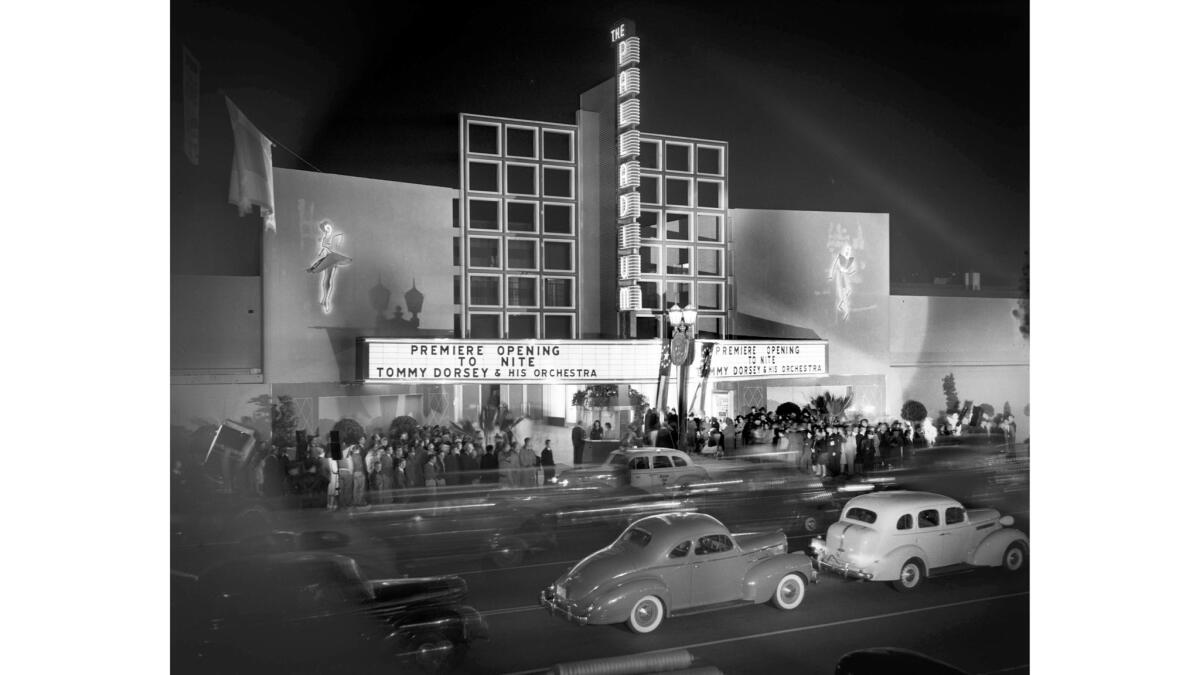 The Art Deco Hollywood Palladium opened on Halloween night, 1940. Built by film-producer Maurice Cohen, the building occupied the site of the original Paramount lot.
The dance hall was designed by architect Gordon Kaufmann, who also designed the Los Angeles Times building. Los Angeles Times publisher Norman Chandler provided $1.6 million to fund the Palladium's construction.
A story in the Nov. 1, 1940, Los Angeles Times reported:
Tables were turned on Hollywood last night when the Palladium, newest of the glamour city's night spots, opened its doors for the first time on Halloween.
The million-dollar ballroom-cafe, which can accommodate comfortably 7500 persons, was literally packed to the rafters with Band Leader Tommy Dorsey blew the first blast from his trombone and his orchestra let loose with some jive and swing music.
There were many motion-picture actors and executives to welcome the new adventure of Maury Cohen and his associated but what the crowd really wanted was dancing.
So it was at 8:30 p.m. that the music began promptly. At 9:15 p.m., Dorothy Lamour, film actress, walked to the rostrum. There, standing beside Dorsey, she used a pair of scissors to cut a ribbon draped with orchids. This marked the only dedicatory ceremony.
Truly Hollywood gazed in its newest home for entertainment. Searchlights threw their arcs into the skies and Mr. and Mrs. John Public walked into the new building. …
While the Palladium accommodates 7500, with 3000 couples being able to dance at one time, it was estimated that more than 10,000 were present last night. This did not include the many hundreds who stood in front to watch the arrival of celebrities.
In 2008, the building underwent a major renovation. In 2016, the Hollywood Palladium was listed on the National Register of Historic Places. The Tommy Dorsey band's vocalist was Frank Sinatra.