From the Archives: Sears Santa school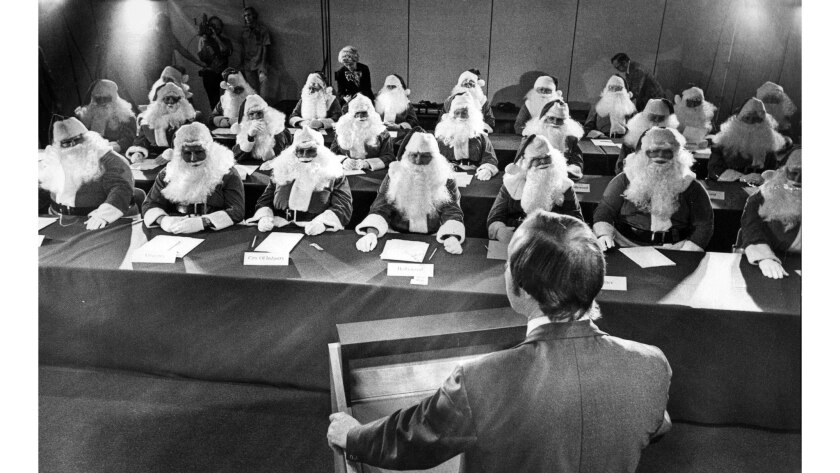 For the 1976 holiday season, 28 Santa Claus candidates gathered for a two-hour class at the Sears Roebuck and Co. regional headquarters in Alhambra. In addition to the Santa Clauses, local media also attended.
Staff writer Nancy Yoshihara reported in the Nov. 25, 1976, Los Angeles Times:
Little Susan Korostoff, 5, blinked in disbelief. Rudolph the Rednosed Reindeer would have to take a second glance and even then, he would have been just as confused as Susan by the whole affair.
There sat Santa Claus–not one, but 28 facsimiles of the the jolly fellow, stroking their white beards and patting their red-flocked stomachs as they sat side by side listening attentively and jotting down notes.
Then, on cue the gentlemen chorused, "Ho, ho, ho–Merry Christmas."
It took three tries before they got it right.
The Santas were participating in a two-hour crash course Wednesday at the West Coast headquarters of Sears, Roebuck and Co. in Alhambra. It was the first time the Chicago-based retailer had held a training session for the men who will sit in St. Nick's corner at Sears stores in Los Angeles and Orange County beginning Friday.
For their ho, ho, ho-ing, the Santas received diplomas from the Sears School for Santa Clauses. They were booked by Sears through personnel agencies or the photographers who will operate photo concessions at the Santa corners. The Santas will earn about $2.50 to $3 an hour.
Their lesson included printed material about the history and details of the Christmas hero, and instructions to tell the children that Santa's reindeer are on the roof not in the parking lot. There also was short talks on theories of child development, the do's and don'ts of playing Santa and a review of this year's toys.
Susan was on hand, along with Dominque Romero, 5, to help demonstrate how Santa should deal with his little visitors. …
Finally, there was an exam–but not one Santa flunked because the answers were included at the end of the test.
The above John Malmin photo accompanied Yoshihara's 1976 story. I've added another image, below, from a similar Sears Santa event in 1979.
---