From the Archives: The 1943 flag salute change
On Dec. 22, 1942, Congress amended the flag code to replace the salute with the hand-over-heart method. The previous salute started with the hand outstretched toward the flag, palm down, and ended with palm up, but it was too similar to salutes used by U.S. enemies during World War II.
This photo accompanied a March 30, 1943, L.A. Times article, which explained:
Members of the Board of Education yesterday adopted a resolution ordering a change in the method of saluting the American Flag, whereby the right hand will be placed over the heart throughout the recitation of the Pledge of Allegiance.
The new method of saluting Old Glory will be placed in effect in all city schools on April 6, Army Day, Superintendent Vierling Kersey announced.
Last year Congress adopted this method of salute and urged that it be made uniform throughout the nation.The old method of extending the hand toward the flag was criticized by several national patriotic groups as being too much like the Nazi and fascist salutes.
The photo above, by staff photographer Frank Q. Brown, had the background lightened by a Times staff artist.
Below I've added a 1942 image showing the old flag salute.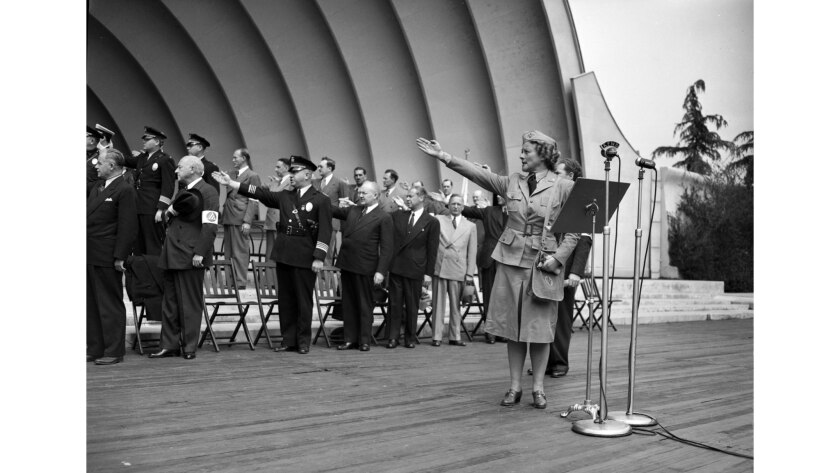 In the above photo from 1942, 4,000 people — including several Hollywood celebrities — were sworn in as air-raid wardens, fire watchers, messengers and auxiliary policemen.
This post was originally published on June 19, 2012.
---