From the Archives: Whisky a Go Go closes in 1982 — but only temporarily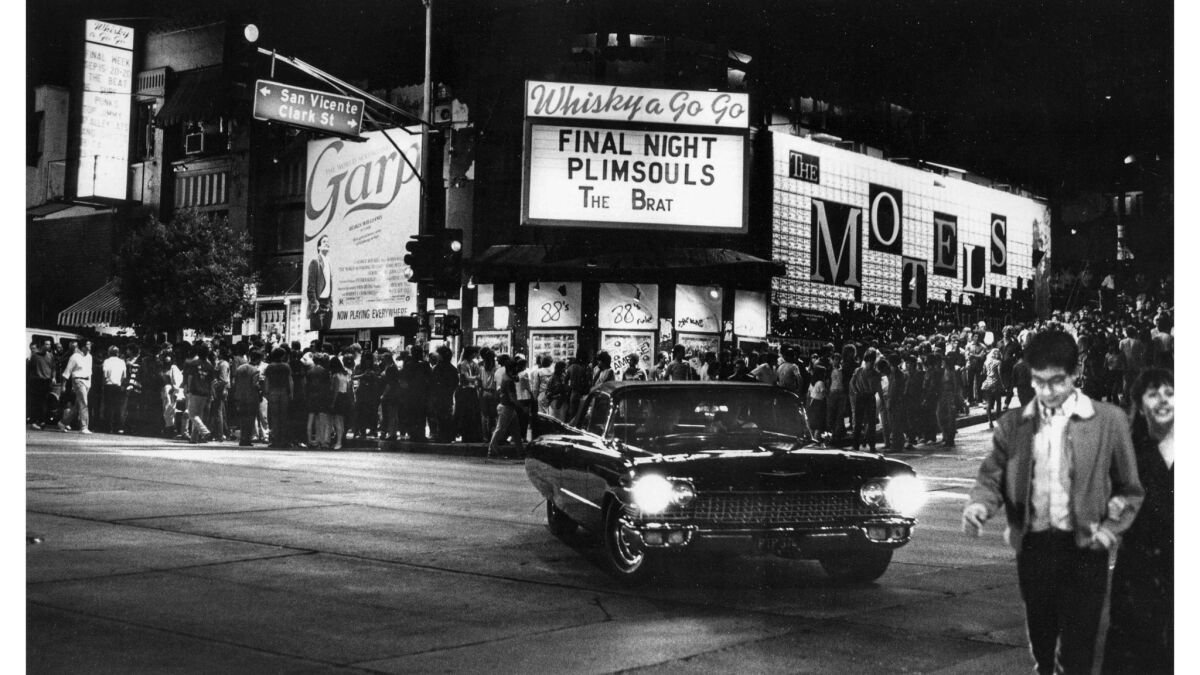 The Whisky's closure was only temporary, but crowds still flocked to the venue, treating it as an end of an era.
Robert Hilburn began his Sept. 21, 1982, Los Angeles Times goodbye column by writing:
What's that Joni Mitchell line about not knowing what you've got until it's gone?
For years, I've scoffed when asked to name my favorite place around town to see a band. My position: It's the attraction, not the room that's important.
But I realized Sunday night as the Whisky closed its doors (at least temporarily) to live rock music that I am going to miss this club, an anchor on the local scene since the mid-'60s.
Despite the cheers from the sold-out crowd when Tom Petty guested onstage during the Plimsouls' opening set, there was an overlay of sadness and nostalgia Sunday at the West Hollywood club.
More than simply an intimate spot that featured some of rock's most exciting new attractions, the Whisky benefited in recent years from a personable staff, a down-home, rather than trendy ambiance and an owner, Elmer Valentine, who loved many of the bands he presented as much as any paying customer did.
You could see a twinkle of nostalgia in Valentine's eyes Sunday.
As Petty and the Plimsouls' Peter Case alternated lead vocals on oldies like the Sir Douglas Quintet's "She's About a Mover," Valentine left his usual spot near the club's front door to join the dance crowd. He notes wistfully, "We sure have had a lot of great bands here, haven't we."
After a two-year hiatus, the Whisky reopened in 1984. In 2006, the venue was inducted into the Rock and Roll Hall of Fame.
The top image and one below, both by Marsha Traeger, accompanied Hilburn's story in the Sept. 21, 1982, Los Angeles Times. The photo at the bottom of this post is a 1965 image by Nelson Tiffany that appeared in the April 12, 1965, L.A. Times.
---