Israel's move to bar two Democratic lawmakers draws widespread criticism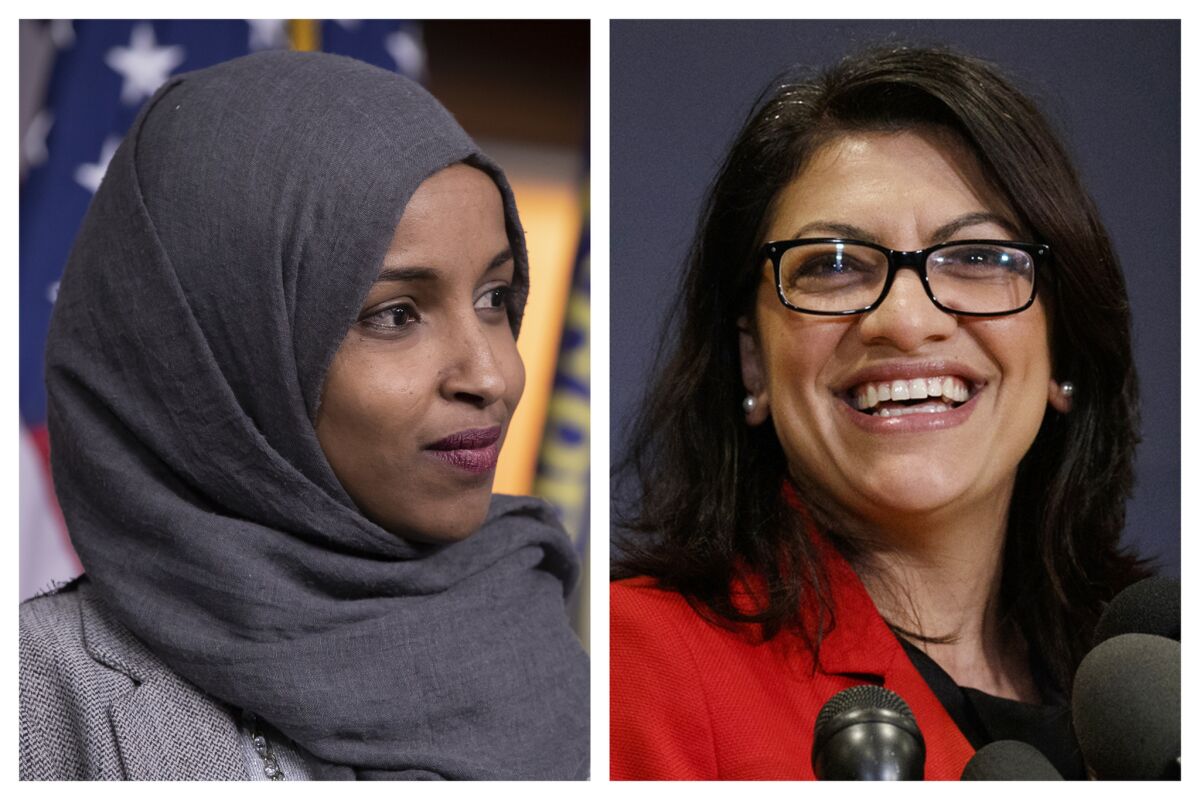 WASHINGTON —
Prime Minister Benjamin Netanyahu's widely condemned decision Thursday to bow to President Trump's pressure and bar two U.S. Democratic congresswomen from entering Israel was a calculated but risky move.
It appeased a demanding U.S. president with whom Netanyahu has long curried favor and whose support he will need as he faces reelection next month. But it also angered and alienated many in Congress, where Israel for years has enjoyed uncommon bipartisan support and received billions of dollars in aid.
Even the staunchly pro-Israel lobbying group AIPAC spoke out against the extraordinary diplomatic slap, saying all members of Congress should be welcome in the country. And scores of former Israeli officials and former U.S. ambassadors to Israel joined in widespread criticism, saying the decision would harm U.S.-Israeli relations and set a bad precedent of disrespecting the U.S. Congress that other nations might follow. None could think of any other time Israel had banned a member of Congress.
"This is what happens when Trump and Netanyahu turn Israel into a partisan issue," said Martin Indyk, a former U.S. ambassador to Israel, now at the Council on Foreign Relations think tank. He said it showed that Netanyahu "can't stand up to Trump's pressure."
For Trump, the move fueled his battle against four lawmakers of color and may appeal to his evangelical base's staunch support of Israel. Critics called it part of an effort by Trump and the GOP to make Israel a more partisan issue.
On Thursday, Netanyahu abruptly reversed an earlier decision to grant permission to enter Israel to Reps. Ilhan Omar of Minnesota and Rashida Tlaib of Michigan. The two first-term congresswomen, who were planning a fact-finding trip to Israel and the Palestinian territories, have been fiercely critical of Israel's treatment of Palestinians and support an international boycott movement against Israel.
The decision came shortly after Trump tweeted that allowing the women to enter Israel would "show great weakness."
Returning to the kind of inflammatory, unfounded and sometimes racist rhetoric that Trump has made the centerpiece of his reelection campaign, the president said, "They hate Israel & all Jewish people, & there is nothing that can be said or done to change their minds.... They are a disgrace."
Susie Gelman, chair of the U.S.-based Israel Policy Forum, a pro-Israel organization that supports peace between Israel and the Palestinians, said that Netanyahu's decision was an "affront" to the U.S. Congress and that it behooved Israel to welcome critics as a way for them to fully appreciate the complexity of the situation.
"Trump is using Israel as a wedge issue for his own domestic political purposes," she said. "It is dangerous for Israel and for the U.S.-Israeli relationship."
Netanyahu sought to portray his decision as an independent one, saying that upon review of Omar and Tlaib's itinerary, it was clear their "sole objective is to strengthen the boycott against us and deny Israel's legitimacy." As examples, he said the congresswomen did not plan meetings with Israeli officials and part of the trip was being paid for by a Palestinian organization.
Omar seemed to dispute that. In a statement, she said denying them entrance "limits our ability to learn from Israelis" and prevents them from entering the Palestinian territories. Israel has occupied the West Bank since the 1967 Middle East War and controls virtually all access.
"The irony of the 'only democracy in the Middle East' making such a decision is that it is both an insult to democratic values and a chilling response to a visit by government officials from an allied nation," she said, referring to Israel's frequent claim to be the only representative government in the region.
Tlaib responded by tweeting a photo of her Palestinian grandmother in the West Bank, saying Israel denied her entry because it is afraid to expose "what is happening to Palestinians."
Last month, Israeli Ambassador to the U.S. Ron Dermer assured U.S. lawmakers that Israel would not deny entry to any member of Congress "out of respect for the U.S. Congress and the great alliance between Israel and America."
Far from discouraging lawmakers from visiting, Israel historically has courted and funded such trips. Israel often hosts delegations of U.S. representatives and senators, who usually meet with senior Israeli officials as well as Palestinian officials in the West Bank.
Tlaib and Omar have been the target of repeated attacks by Trump in recent months, including a series of racist tweets on July 14 in which he said they should "go back" to the "broken" countries they came from. Both are U.S. citizens, and Tlaib was born in the United States. The two are members of the so-called Squad of newly elected progressive Democratic representatives, along with Reps. Alexandria Ocasio-Cortez of New York and Ayanna Pressley of Massachusetts.
A "send her back!" chant at one recent Trump rally drew shock and condemnation from both Democrats and Republicans.
Rep. Tom Malinowski (D-N.J.) noted the irony: "First he tells Congresswoman Tlaib to 'go back' to 'her' country, and then he tells that country not to let her in."
House Speaker Nancy Pelosi (D-San Francisco), who has occasionally clashed with "the Squad," said Israel's prohibition was "beneath the dignity of the great state of Israel," while Trump's comments about the congresswomen were "a sign of ignorance and disrespect, and beneath the dignity of the office of the president."
Other Democrats were also quick to condemn the move, while Republicans remained relatively quiet.
"Israel doesn't advance its case as a tolerant democracy or unwavering US ally by barring elected members of Congress from visiting because of their political views," tweeted Sen. Elizabeth Warren (D-Mass.), a leading presidential candidate. "This would be a shameful, unprecedented move. I urge Israel's government to allow @IlhanMN and @RashidaTlaib entry."
Rep. Jerrold Nadler (D-N.Y.) said Israel's actions would harm relations between the two allied countries. "I strongly condemn this decision by the Israeli government, which undermines the ability for our two allied countries to have the frank, open and, at times, difficult discussions that we must have in order to ensure Israel remains a secure and democratic nation," he tweeted.
A key Republican, Sen. Marco Rubio of Florida, who is a strong supporter of Israel, said that while he disagreed "100%" with the two congresswomen on Israel, banning them was a mistake.
"Being blocked is what they really hoped for all along in order to bolster their attacks against the Jewish state," Rubio said.
Several former Israeli diplomats spoke out on Twitter against barring the congresswomen, warning of political backlash.
Arthur Lenk, formerly Israel's ambassador to South Africa, said barring Omar and Tlaib "would be sinking us deeper into U.S. domestic political quagmire."
Alon Pinkas, formerly Israel's consul in New York, called such an action "fake policy" and said Israel should instead "engage Omar and Tlaib, show them where they are wrong or have a partial and skewed perception of reality."
Times staff writer Wilkinson reported from Washington and special correspondent Tarnopolsky from Jerusalem.

---
Must-read stories from the L.A. Times
Get the day's top news with our Today's Headlines newsletter, sent every weekday morning.
You may occasionally receive promotional content from the Los Angeles Times.