Revelers around the globe are bidding farewell to a decade that will be remembered for the rise of social media, the Arab Spring, the #MeToo movement and President Trump.
Here's a look at how the world is ushering in 2020:
FLORIDA KEYS
The Sunshine State's hedonistic, subtropical island has six different "drops," including a drag queen drop.
NEW YORK
Fireworks burst and confetti fell in one of the world's most watched New Year's Eve spectacles.
SINGAPORE
Singapore stole the show on New Year's Eve as 500 drones performed in unison, forming a clock, a planet, a diamond and a mythical Merlion, Singapore's official mascot that has a lion's head and a fish's body.
The intricacy of the show, in which some drones got within 3 feet of one another, took a year to create, choreograph and produce, the Straits Times reported.
FRANCE
A joyful crowd of Parisians and tourists walked, biked and used scooters to reach the Champs-Elysees for New Year's celebrations, in a city with almost no public transport amid massive strikes.
Revelers converged at the famous avenue to watch a light show at the Arc de Triomphe, followed by a fireworks display at midnight. Paris police set up a security perimeter around the Champs-Elysees area with a ban on alcohol and traffic restrictions.
All Metro lines in the French capital were closed except for two automatic lines, and only a few night buses were running, as Tuesday marked the 27th consecutive day of transport strikes against President Emmanuel Macron's plans to overhaul the French pension system.
GERMANY
Hundreds of thousands of revelers were expected to ring in the new year in front of the Brandenburg Gate in Berlin while revelers celebrated around the country.
Several German cities including Munich and Hamburg have banned private fireworks amid concerns about the danger and environmental impacts from the increasingly powerful fireworks.
SWITZERLAND
Snow bike races in Villars-sur-Ollon were held Tuesday to celebrate the new year at the St. Sylvestre Grand Prix, a ritual that has been going on for more than three decades. Participants rode their bikes down snow-covered ski slopes from the top of Roc d'Orsay to the center of the Villars resort, the race's website says. A drone captured an image of cyclists and a hang-glider during the race.
RUSSIA
Russians began the world's longest continuous New Year's Eve with fireworks and a message from President Vladimir Putin urging them to work together in the coming year.
Putin made the call in a short speech broadcast on television just before the stroke of midnight in each of Russia's 11 time zones. The recorded message was followed by an image of the Kremlin Clock and the sound of its chimes. State TV showed footage of extensive festive fireworks in cities of the Far East.
But one holiday tradition was missing in Moscow this year — a picturesque layer of snow. The Russian capital has had an unusually warm December, and temperatures in central Moscow as midnight approached were just above freezing.
AUSTRALIA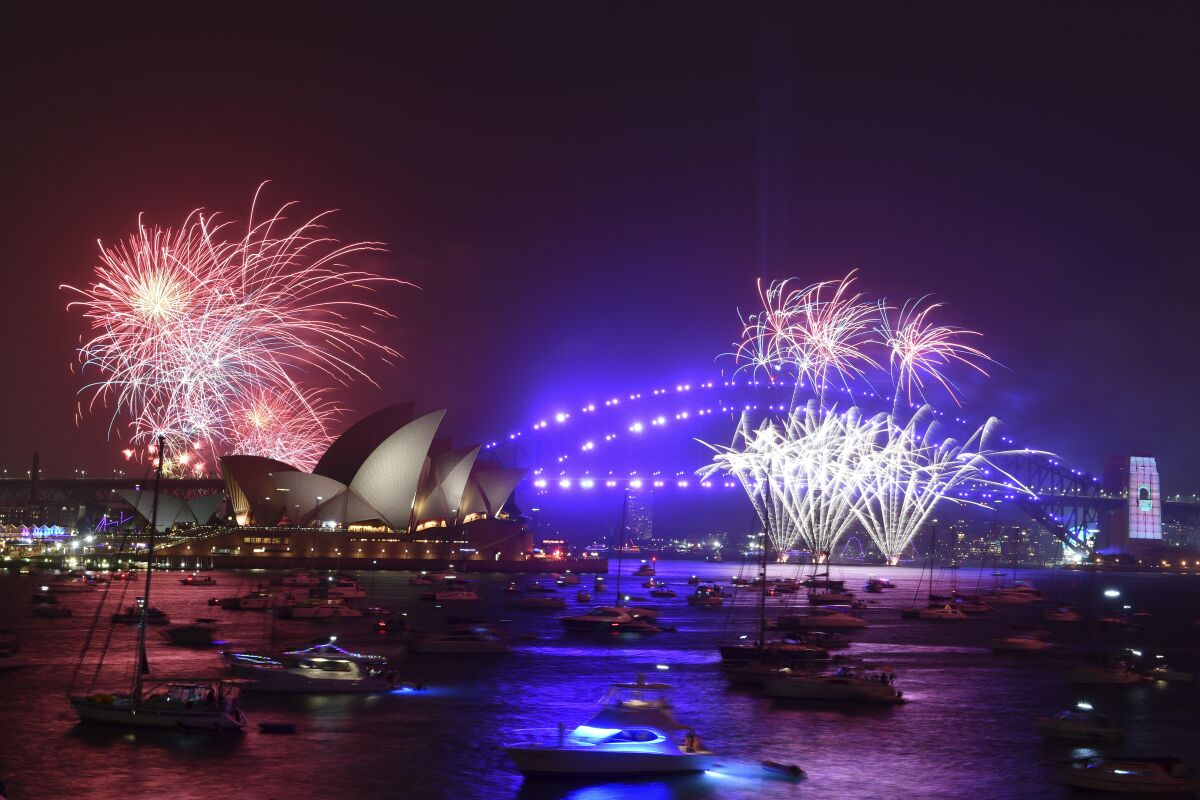 More than a million people descended on a hazy Sydney Harbor and surrounding areas to ring in the new year despite ongoing wildfires ravaging New South Wales, Australia's most populous state.
Some communities have canceled New Year's fireworks celebrations, but Sydney Harbor's popular display was granted an exemption to the fireworks ban in place there and elsewhere to prevent new wildfires.
NORTH MACEDONIA
TURKEY
LATVIA
---