EU leaders back pro-democracy protesters in Belarus, reject election results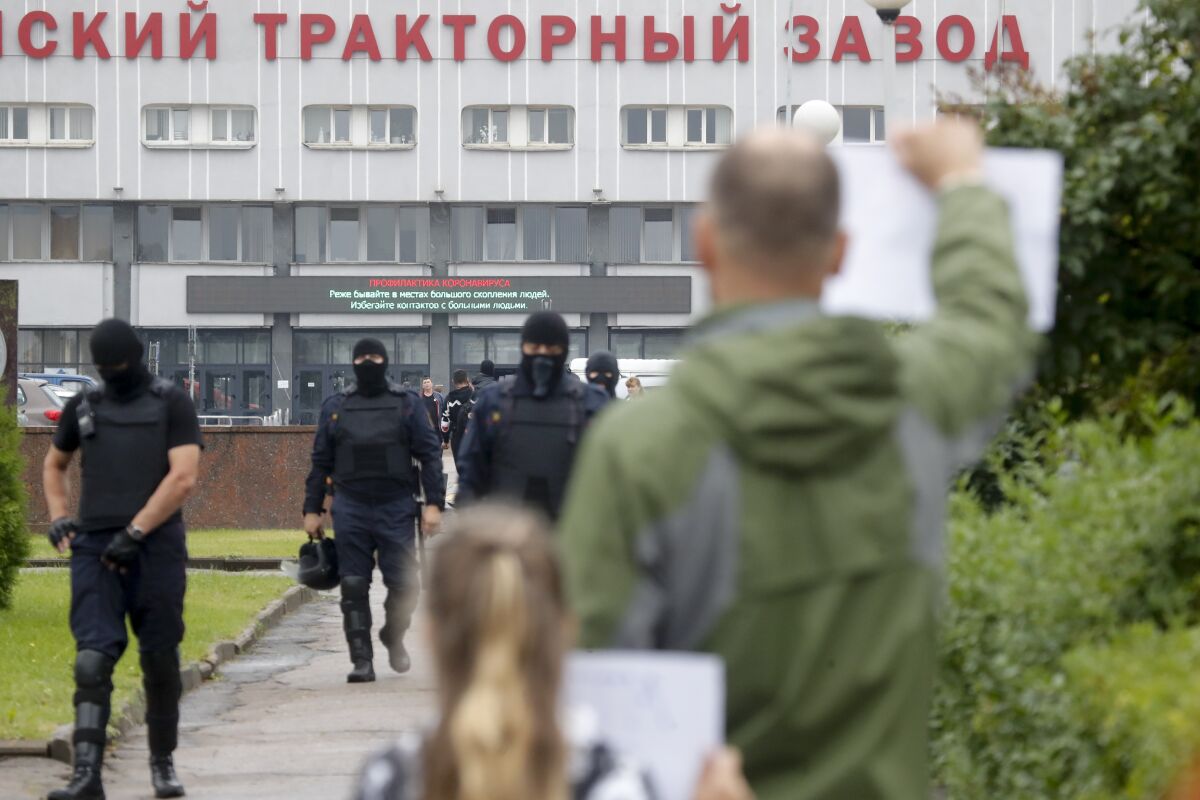 MINSK, Belarus —
European Union leaders Wednesday said they stood beside the people protesting for democratic rights in Belarus, rejecting election results that swept the country's authoritarian leader back into power and warning that they were preparing a long list of Belarusians who will face sanctions over vote fraud and the brutal crackdown on demonstrators.
The message of support came as the leading opposition candidate urged the Europeans to support "the awakening of Belarus" and as authorities began again detaining protesters, who took to the streets of Minsk for an 11th day to demand that President Alexander Lukashenko resign. Lukashenko, who has been dubbed "Europe's last dictator" for his iron-fisted, 26-year rule of Belarus, accused the EU of "fomenting unrest."
"The European Union stands in solidarity with the people of Belarus, and we don't accept impunity," European Council President Charles Michel told reporters after chairing an emergency teleconference of EU leaders. "We don't recognize the results presented by the Belarus authorities."
Michel said the EU would impose sanctions on "a substantial number" of people linked to election fraud and violence. He declined to name any of those who might be listed. He also said that the 27-nation EU fully supported mediation efforts by the Organization for Security and Cooperation in Europe between the Belarusian government and the opposition led by schoolteacher Sviatlana Tsikhanouskaya.
European Commission President Ursula von der Leyen said the EU would mobilize $63 million to support the Belarusian people. Most of it is for coronavirus emergency assistance, but $2.4 million will go toward helping victims of the post-election crackdown, and $1.2 million to civil society and independent media.
Belarusian security forces detained almost 7,000 people and injured hundreds with rubber bullets, stun grenades and clubs in the first four days of demonstrations after the Aug. 9 election, whose official results handed a sixth presidential term to Lukashenko by a landslide. At least three protesters died.
The workforce at state-run enterprises in Belarus has long been a pillar of support for the country's beleaguered president. Now that's changing.
"The elections were neither fair nor free, and therefore one cannot recognize the result of the elections," German Chancellor Angela Merkel said in Berlin. She condemned the "brutal violence" against peaceful protesters and called on the regime to release all political prisoners without conditions.
In a joint statement, the presidents of the Czech Republic, Hungary, Poland and Slovakia — Central and Eastern European nations known as the Visegrad Four — called on Belarusian authorities to "open the way for a political solution, and to abide by the fundamental human rights and freedoms while refraining from the use of violence against the peaceful demonstrators."
In a likely dig at Russia, they urged unnamed "foreign actors to refrain from actions that would undermine Belarus' independence and sovereignty."
In a video statement ahead of the summit, Belarusian opposition leader Tsikhanouskaya urged the EU to support "the awakening of Belarus."
"I call on you not to recognize these fraudulent elections. Mr. Lukashenko has lost all the legitimacy in the eyes of our nation and the world," Tsikhanouskaya said.
After "Europe's last dictator" claims election win in Belarus, days of protests put spotlight on women.
The relatively small EU nation of Lithuania is playing a major role as the protests unfold by giving refuge to Tsikhanouskaya. Its Baltic neighbors, Estonia and Latvia, are also deeply involved in diplomatic efforts, as is Poland.
"We spoke as one voice today and agreed that these elections can't be recognized. New ones must be held in Belarus to elect a new president," Lithuanian President Gitanas Nauseda told reporters.
On Wednesday morning, rallies resumed in Minsk, and police once again started detaining protesters. Nearly 50 people were detained in front of the Minsk Tractor Factory, where workers have been on strike since Monday, according to Sergei Dylevsky, leader of the factory's strike committee. The Belarusian Interior Ministry said in a statement that police had detained only two protesters and pushed the remaining crowd aside.
"People are on strike demanding Lukashenko's resignation, and authorities respond with batons and riot police," Dylevsky said. "Lukashenko is not changing."
Police also blocked all entrances to the Janka Kupala National Theater in Minsk, where the troupe on Tuesday gave notice en masse after its director, Pavel Latushko, was fired for siding with protesters. Actors who arrived at the theater Wednesday morning were not allowed in.
"It's unprecedented that, in the 21st century, law enforcement is deployed to a cultural institution. The situation speaks for itself," Latushko said.
Get breaking news, investigations, analysis and more signature journalism from the Los Angeles Times in your inbox.
You may occasionally receive promotional content from the Los Angeles Times.
Earlier this week, Tsikhanouskaya said she was ready to act as a national leader to facilitate a rerun of the election, and her associates announced the formation of a "coordination council" to help create a platform for a peaceful transition of power.
"I have initiated the national coordination council of Belarus. It will lead the process of a peaceful transition of power via dialogue. It will immediately call for new fair and democratic presidential elections with international supervision," Tsikhanouskaya said in the latest video statement.
Lukashenko has repeatedly rejected demands to step down and bristled at the idea of talks with the opposition, denouncing the coordination council Tuesday as "an attempt to seize power." Nevertheless, the council is set to convene for the first time Wednesday.
Lukashenko warned that participants might be prosecuted.
"If someone thinks that the government bent down and teetered, you're mistaken," he said at a meeting Wednesday with security officials. "We will not waver."
---
Must-read stories from the L.A. Times
Get the day's top news with our Today's Headlines newsletter, sent every weekday morning.
You may occasionally receive promotional content from the Los Angeles Times.