Race, royalty, reckoning: Britain's Prince William defends family against bigotry claims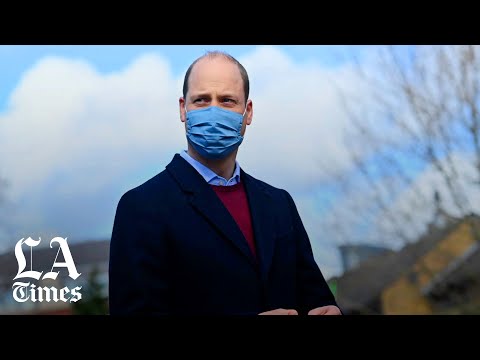 Prince William says the British royals are 'very much not a racist family' following accusations of racism in Meghan and Harry's bombshell TV interview.
LONDON —
In an ancient chapel in a storied castle, Meghan Markle married a prince. That May day in 2018 had all the trappings of a fairytale with a post-racial twist: a gospel choir, a diverse guest list, a stirring sermon from Michael Curry, a prominent Black bishop.
But Britain is now facing some harsh truths about the scourge of racism inside and outside its centuries-old monarchy. Buckingham Palace has scrambled all week to find its footing after the highly personal — and highly damaging — interview given to Oprah Winfrey by the Los Angeles-born Meghan and her husband, Prince Harry.
On Thursday, Harry's elder brother, Prince William, second in line to the throne, addressed the most explosive of their depictions of royal life, telling reporters: "We're very much not a racist family."
The couple's account of a suffocating existence, punctuated by racial cruelties large and small, drew an enormous audience on both sides of the Atlantic. For Britons of color, disclosures such as an unnamed royal family member raising "concerns" about the skin tone of their then-unborn child — Meghan's mother is Black and her father is white — felt devastatingly familiar.
Against the backdrop of racial justice protests that flared in the United States and around the world last year after the Minneapolis killing of George Floyd while in police custody, the interview was seen as fresh evidence of a deep divide between outmoded, out-of-touch royal traditions and a modern, multicultural Britain.
Some have demanded a fuller reckoning, faulting the palace for casting allegations of racism as a private family matter, rather than symptomatic of a broader social ill.
"There should be a public condemnation of racism," Bell Ribeiro-Addy, a member of Parliament from the opposition Labor Party, told BBC radio. "We expect it of any institution — why not the monarchy? Why not the palace?"
After the interview aired Sunday in the United States and Monday in Britain, the palace issued a 61-word statement Tuesday saying, in part, that "issues raised, particularly that of race, are concerning." Critics said that did not go far enough in acknowledging deeply rooted prejudice.
William's brief comments, in response to questions shouted by journalists as he and his wife, Kate, visited a school in East London, were the first direct public remarks by a member of the royal family in response to the interview, which took place near the couple's home in Montecito, Calif., where Winfrey also has a home.
Alex Beresford's now famous slap-back at Piers Morgan was a perfect example of allyship and calling out racism and sexism in real time.
Harry and Meghan, together with baby son Archie, moved to California in the culmination of a messy split that began a year ago when they announced they were stepping back from duties as senior royals. In the interview, Harry said racism directed against his wife, primarily in tabloid reports that went unanswered by the palace, was a "large part" of why the two chose to leave Britain.
The schism left them retaining the titles of duke and duchess of Sussex, but resulted, by their account, in an abrupt financial cutoff and a painful personal rupture with some close family members.
They said Queen Elizabeth II, 94, had treated Meghan kindly, but Harry disclosed in the interview that at one point, his father, Prince Charles, the heir to the throne, had stopped taking his phone calls. He also said the queen, seemingly at the behest of courtiers, had abruptly rescinded a personal invitation late last year for a visit by the couple to her royal retreat, Sandringham.
William said Thursday he had not spoken with his younger brother since the interview aired, but said "I will do" so.
Fallout from the episode has morphed into one of the greatest crises facing the British monarchy since Princess Diana, William and Harry's mother, was fatally injured in a Paris car crash in 1997. At the time, Queen Elizabeth II and senior royals were widely seen as oblivious to the powerful emotional connection Diana had forged with the public by speaking openly of her struggles with mental health, bulimia and other subjects that were then largely taboo.
Many Britons have been saddened by the evident rift between William and Harry, princes who were once close. When their mother was killed, William was 15 and Harry was just 12.
Harry said relentless tabloid assaults on Meghan were a constant reminder of the intrusive coverage of Diana, by then divorced from Prince Charles. But the fiercest fallout from the interview has been over racism.
Hearing Meghan's story, some winced, seeing their own struggles reflected in hers. British-Somali novelist Nadifa Mohamed wrote in a column for the Guardian newspaper that the duchess had symbolized "young Black women who have stormed into previously closed-off institutions."
But Mohamed also said "the old caste system" is still alive, describing an incident when someone credited her book publication to her "exotic" quality.
Post-interview repercussions have continued for days. Broadcaster Piers Morgan — a former tabloid editor and vituperative Meghan critic — left his role as host of a popular morning show, "Good Morning Britain," after his belittling remarks about the duchess drew tens of thousands of complaints.
The head of a major media trade group, the Society of Editors, resigned after a backlash to his suggestion that racist tabloid attacks against Meghan were a rare aberration, likening them to a needle in a haystack.
The palace, in its statement, also said "recollections may vary" as to episodes described by the couple, without addressing the specifics of their account. But the fact that it responded at all — first with Tuesday's official statement, and then with William replying to shouted queries that would normally have been ignored at such an event — was a token of the situation's perceived gravity.
In the interview, Harry sought to draw a distinction between racism the couple experienced at the hands of tabloid newspapers and what he believed of the country as a whole.
He recounted an acquaintance once warning him that "the U.K. is very bigoted," and said he disagreed: "The U.K. is not bigoted. The U.K. press is bigoted, specifically the tabloids."
"Unfortunately," he told Winfrey, "if the source of information is inherently corrupt or racist or biased, then that filters out to the rest of society."
Special correspondent Boyle reported from London and Times staff writer King from Washington.
Sign up for Essential California for the L.A. Times biggest news, features and recommendations in your inbox six days a week.
You may occasionally receive promotional content from the Los Angeles Times.