Russia at 70% of Ukraine military buildup, officials say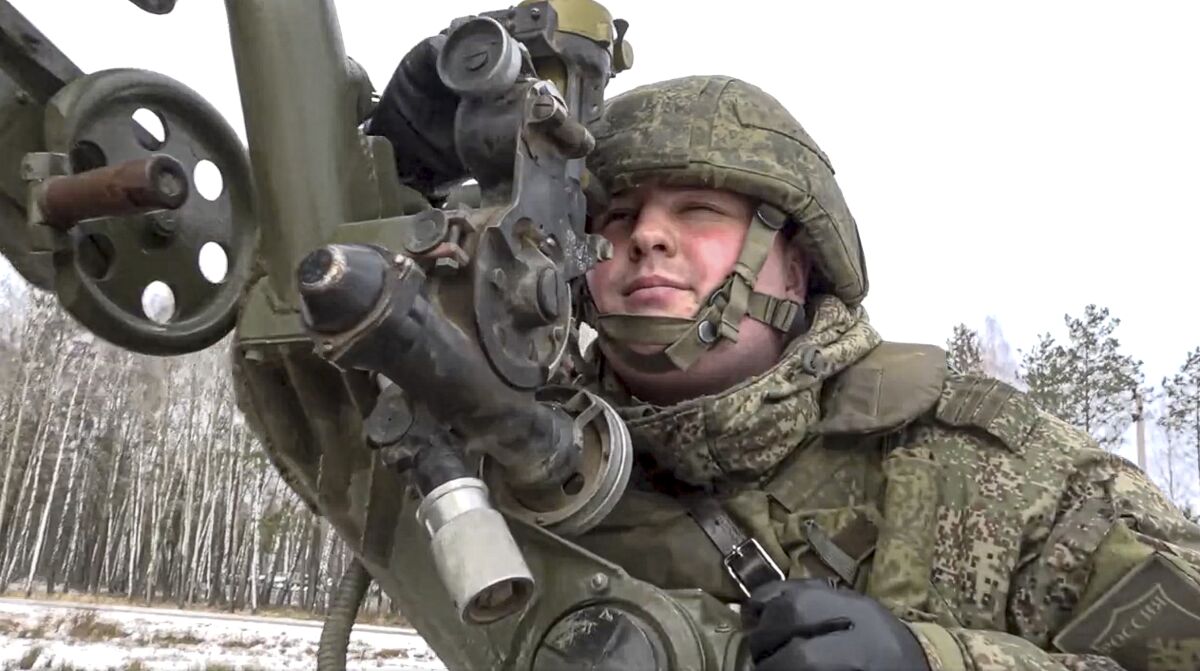 WASHINGTON —
Russia has assembled at least 70% of the military firepower it likely intends to have in place by mid-month to give President Vladimir Putin the option of launching a full-scale invasion of Ukraine, U.S. officials say.
The officials, who discussed internal assessments of the Russian buildup on condition they not be identified, sketched out a series of indicators suggesting Putin intends an invasion in coming weeks, although the size and scale are unclear. They stressed that a diplomatic solution appears to remain possible.
Among those military indicators: an exercise of Russia's strategic nuclear forces that usually is held each fall was rescheduled for mid-February to March. That coincides with what U.S. officials see as the most likely window for invasion. The officials made no suggestion that a prospective conflict would involve the use of nuclear weapons, but the Russian exercise — likely involving the test-launching of unarmed long-range missiles on Russian territory — could be used as a message aimed at deterring the West from intervening in Ukraine.
President Biden has said he will not send U.S. troops to Ukraine to fight a war. He has, however, ordered additional forces, including combat troops, to Poland and Romania to reassure those NATO allies that Washington would fulfill its treaty commitment to respond to Russian aggression against NATO territory. Ukraine is not a member of the North Atlantic Treaty Organization but receives U.S. and allied military support and training.
Defense Secretary Lloyd J. Austin III said last week that Putin could use any portion of the force he has assembled along Ukraine's borders to seize Ukrainian cities and "significant territories" or to carry out "coercive acts or provocative political acts" like the recognition of breakaway territories in Ukraine.
More recently, other U.S. officials provided a more detailed breakdown of Russia's continuing force buildup, of U.S. assessments of prospects for war, and of the U.S. view of Putin's approach to the crisis.
Plenty of residents of Kyiv don't seem to think their capital is on borrowed time, but some are girding for a potential Russian invasion anyway.
The officials reiterated what other Biden administration officials have been saying for weeks — that they don't believe Putin has made a final decision to invade Ukraine. But it appears possible that the Russian leader set his intentions and is waiting until the last moment to give the go-ahead for an invasion.
Officials sketched out the disposition of Russian forces that have been deployed toward Ukraine's borders over the last several months, creating what Western officials see as the threat of a full-scale invasion despite repeated assertions by senior Russian officials that they do not intend to attack unprovoked.
As of Friday, the officials said, the Russian army has put in place near Ukraine a total of 83 "battalion tactical groups," each of which is roughly equivalent in size to an American battalion of between 750 and 1,000 soldiers. That is an increase from 60 battalion tactical groups in position just two weeks ago, they said.
An additional 14 battalion tactical groups are on their way to the border area from other parts of Russia, the officials said. Two officials said the U.S. assesses that Russia would want a total of between 110 and 130 battalion tactical groups for use in a full-scale invasion, but Putin could decide on a more limited incursion. Including support units, Russia might be aiming to have 150,000 troops in place for a full-scale invasion, one official said, adding that the ongoing buildup could reach that level in the next couple of weeks.
Depending on Putin's ultimate objective, the Russian forces could attack Kyiv directly by moving south from current positions in southern Belarus. He might also send forces across the Russian border into eastern and southern Ukraine if his intent is to fracture and destroy a large portion of the Ukrainian army, the officials said.
Russia has sent a pair of long-range nuclear-capable bombers on patrol over its ally Belarus amid spiraling tensions over Ukraine.
On the lower end of the scale of military action, Putin might order sabotage, cyberattacks and other destabilizing actions in Ukraine with the goal of removing the current government in Kyiv, officials have said.
Must-read stories from the L.A. Times
Get the day's top news with our Today's Headlines newsletter, sent every weekday morning.
You may occasionally receive promotional content from the Los Angeles Times.