Deceit or defeat? Russia announces retreat from key southern Ukrainian city of Kherson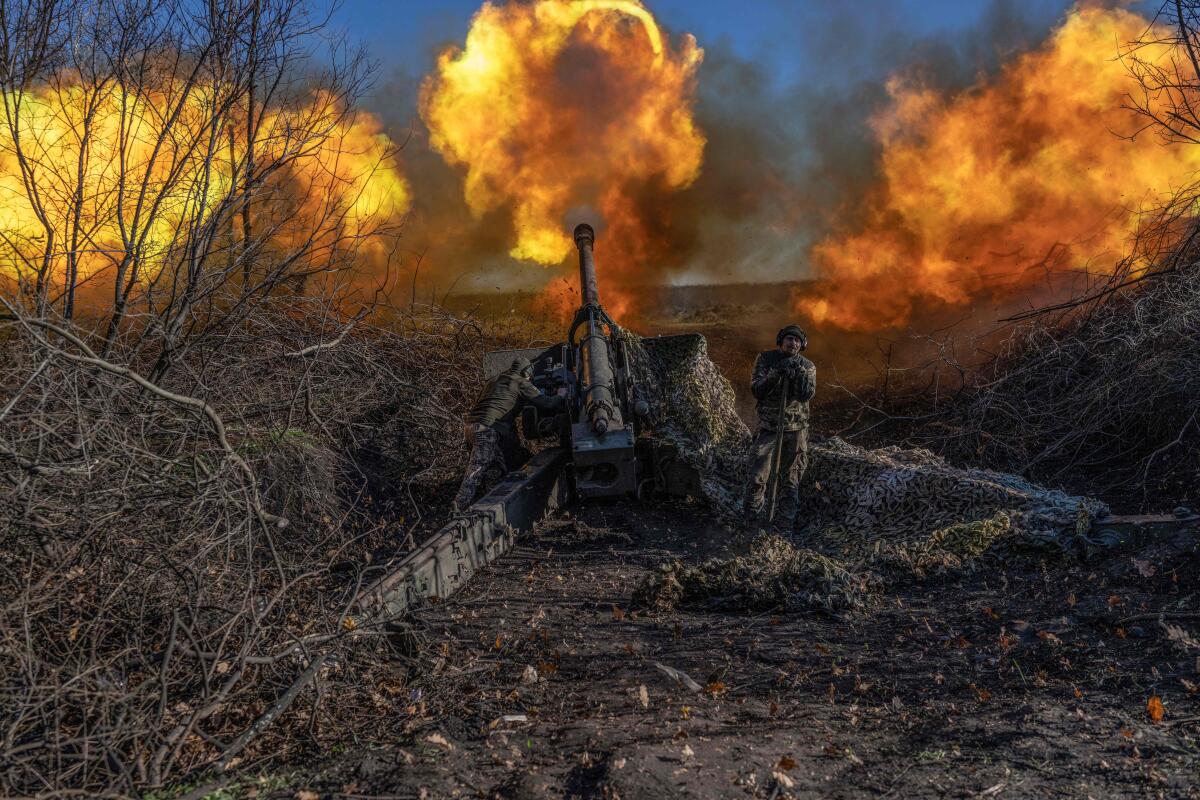 KYIV, Ukraine —
Less than six weeks ago, Russian President Vladimir Putin declared with great fanfare that the strategic southern province of Kherson, along with three other war-scarred Ukrainian regions, was being annexed and was now "forever" part of Russia.
On Wednesday, in what would mark one of the most momentous setbacks of a conflict already riddled with humiliating losses for Moscow, Russia announced its forces were abandoning the region's capital — the city of Kherson — seized in the earliest hours of the Feb. 24 full-scale invasion of Ukraine. It was the only regional capital the Russians had captured.
If borne out, the announced pullout from Kherson — an important industrial port and a key gateway to Ukraine's Black Sea coast and the Crimean peninsula that Russia seized in 2014 — would rank alongside the most consequential battlefield failures on the part of Putin's forces in nearly nine months of warfare.
That pantheon of high-profile losses includes the thwarted attempt to seize the capital, Kyiv, at the start of the war; the April sinking of the Moskva, the flagship of Russia's vaunted Black Sea fleet; the September rout of Russian forces in the northeastern province of Kharkiv, in which Ukrainian troops recaptured thousands of square miles of territory in the space of a few days; and a shambolic mobilization of hundreds of thousands of recruits, many of whom were speedily flung onto the front lines with little training and outmoded equipment.
But Russia has been making confusing and sometimes contradictory statements for weeks about its intentions in Kherson, and many in Ukraine feared the announcement was a feint meant to draw in and trap Ukrainian forces who for weeks have been pressing a slow but relentless offensive on the southern front.
"Actions speak louder than words," Mykhailo Podolyak, a senior advisor to President Volodymyr Zelensky, wrote on Twitter. "We see no signs that Russia is leaving Kherson without a fight."
Podolyak said Ukraine would conduct its own intelligence assessment of the situation, rather than taking Russia's word. In Kyiv, Zelensky huddled with top military advisors.
The North Atlantic Treaty Organization too expressed a degree of skepticism about the pullback. Secretary General Jens Stoltenberg, in London for talks with U.K. Prime Minister Rishi Sunak, told reporters that "we will of course wait and see what actually happens on the ground" in the city.
Even so, Western military analysts in recent days had pointed to signs that Moscow appeared to be preparing some sort of repositioning in Kherson — presumably to avoid a chaotic retreat like that in Kharkiv two months ago — when Russian units threw away their uniforms and abandoned military vehicles in headlong flight from advancing Ukrainian forces.
A Russian retreat from Kherson would dramatically change the dynamics of the southern battlefront. Russia had used its hold on the city — which had a prewar population of nearly 300,000 — to menace the entire Black Sea coast, including the seaside jewel of Odesa just 90 miles away, and the Ukrainian-held port of Mykolaiv, considered a vital bulwark against westward advances by Moscow's forces.
For months, Ukrainian troops have been pounding forward positions outside Kherson with rockets fired from sophisticated U.S.-provided HIMARS launchers. Ukrainian strikes also wrecked a main bridge across the Dnieper, cutting off a main avenue for potential retreat and forcing Russia to instead use vulnerable pontoon bridges and ferries as supply links.
Adding to supply-line pressures, the Kerch Strait bridge connecting the Russian mainland to Crimea, a way station to Kherson, was damaged in a massive explosion last month. Ukraine did not formally claim responsibility.
As with other wartime setbacks, the apparent loss of Kherson could add to domestic pressures on Putin, with hard-liners demanding even more brutal assaults against Ukrainian civilians in retribution.
Ukrainian forces pressing a counteroffensive in the south have zeroed in on Kherson, a strategic city seized by Russia in the early days of the war.
But analysts have also pointed to the Russian leader's tendency to double down when presented with obstacles to his plans, such as his internationally rejected announcement of the annexation of Kherson province, along with the regions of Zaporizhzhia, Donetsk and Luhansk, just as his troops were suffering a severe battlefield drubbing in the northeast.
The seemingly choreographed Kherson withdrawal announcement came from Russia's defense minister, Sergei Shoigu, who said on state television that Moscow's forces were being redeployed to defensive lines on the eastern side of the wide Dnieper River. Kherson lies on the opposite bank.
Shoigu's somewhat stilted announcement was preceded by an acknowledgment, also televised, by Gen. Sergei Surovikin, Putin's new commander in Ukraine. The general said that with supply lines largely choked off, it was no longer possible to provide Russia's troops with ammunition, food and other essentials.
Western military analysts have consistently said Russia shows little regard for the lives of its own troops, who have suffered staggering casualty rates along a battlefront extending hundreds of miles from southeastern to northeastern Ukraine. Surovikin, however, declared that the move was meant to "preserve the most important thing — the lives of our servicemen" — a pointedly pious assessment echoed by his boss, Shoigu, together with an expression of concern for civilian safety.
North Korea denied U.S. allegations that it is shipping artillery shells and ammunition to Russia for use in its war against Ukraine.
In recent weeks, Russia has claimed to have evacuated about 100,000 city residents to the eastern bank of the Dnieper, supposedly for their own protection. The Russian flag disappeared from the main administrative building and other sites. Russian-backed authorities were even said to have spirited away the remains of Grigory Potemkin, the 18th century princely Russian general who was the city's founder.
Further suggesting imminent retreat, Russia has been engaging in industrial-scale looting of the city and its environs, Ukrainian officials have said — carting away everything from office furnishings in government buildings to hospital equipment and dismantled cellphone towers. This week, the Ukrainian military reported a Russian convoy passing over a roadway atop a major dam — one of the few river crossings left in the vicinity of the city — loaded with "home appliances and building materials."
During the city's months under Russian occupation, horrific stories have filtered out from those managing to flee to Ukrainian-controlled areas. Activists and officials have been "disappeared" and tortured, human rights groups say, as Russia sought to tighten control by demanding that Ukrainians living in Kherson use Russian rubles and accept Russian passports.
In a fittingly cryptic development, the withdrawal announcement came the same day that Russian authorities said Moscow's No. 2 official in the city, a Ukrainian named Kirill Stremousov, had been killed in a car crash. Among Ukrainians, who viewed Stremousov as a traitor, there were widespread doubts about the circumstances of the death of such a prominent Kremlin mouthpiece.

Sign up for Essential California for news, features and recommendations from the L.A. Times and beyond in your inbox six days a week.
You may occasionally receive promotional content from the Los Angeles Times.