'Fast-track' talks underway for missiles and planes, Ukraine says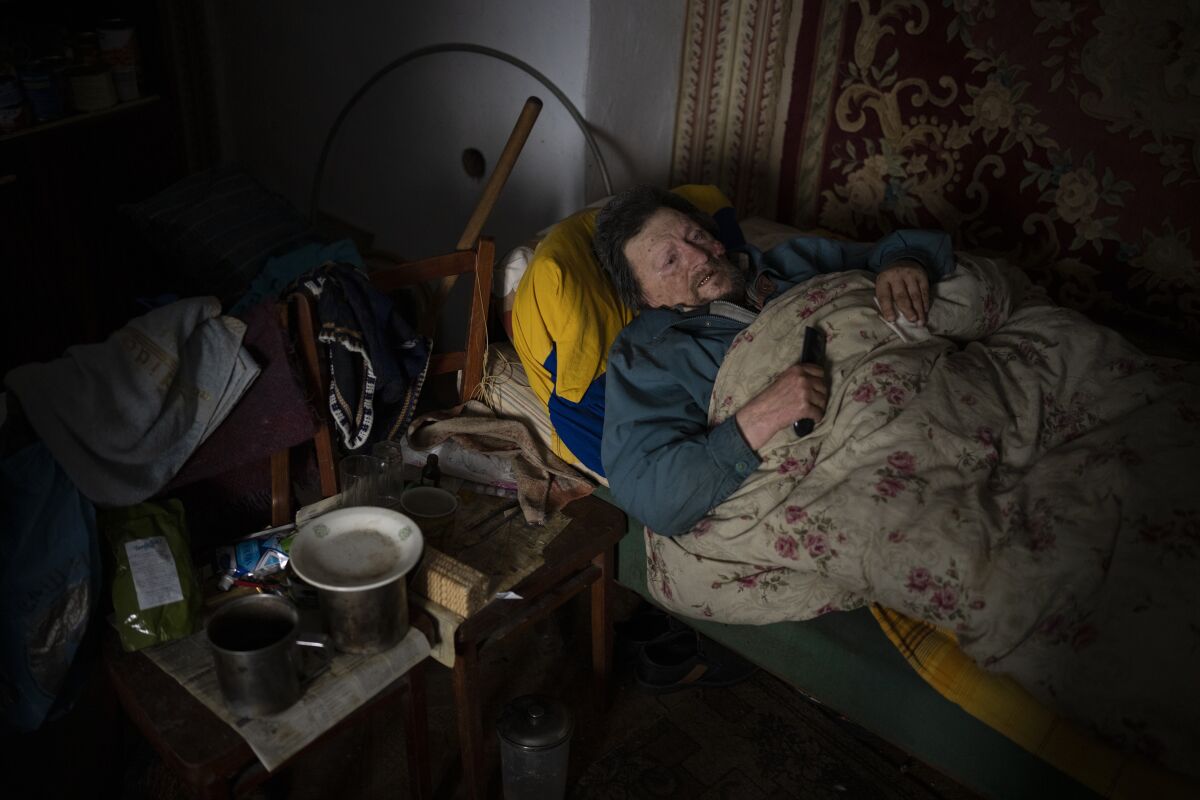 KYIV, Ukraine —
Ukraine and its Western allies are engaged in "fast-track" talks on the possibility of equipping the invaded country with long-range missiles and military aircraft, a top Ukrainian presidential aide said Saturday.
Mykhailo Podolyak, an advisor to Ukrainian President Volodymyr Zelensky, said Ukraine's supporters in the West "understand how the war is developing" and the need to supply planes capable of providing cover for the armored fighting vehicles that the United States and Germany pledged recently.
However, in remarks to online video channel Freedom, Podolyak said that some of Ukraine's Western partners maintain a "conservative" attitude to arms deliveries, "due to fear of changes in the international architecture." Russia and North Korea have accused the West of prolonging and taking a direct role in the war by sending Kyiv increasingly sophisticated weapons.
"We need to work with this. We must show [our partners] the real picture of this war," Podolyak said, without naming specific countries. "We must speak reasonably and tell them, for example, 'This and this will reduce fatalities, this will reduce the burden on infrastructure. This will reduce security threats to the European continent, this will keep the war localized.' And we are doing it."
After being held in detention in Texas for months during his legal fight to remain in the U.S., Afghan soldier Abdul Wasi Safi is now a free man as he seeks asylum.
The U.S. and Germany agreed Wednesday to share advanced tanks with Ukraine along with the Bradley and Marder armored vehicles promised earlier, a decision that led to criticism not only from the Kremlin but from the authoritarian prime minister of Hungary, which is a member of the North Atlantic Treaty Organization and the European Union.
Hungarian Prime Minister Viktor Orban asserted Friday that Western countries providing weapons and money to assist Ukraine in its war with Russia have "drifted" into becoming active participants in the conflict. Orban has refused to send weapons to neighboring Ukraine and sought to block EU funds earmarked for military aid.
The Ukrainian Foreign Ministry said it would summon Hungary's ambassador to complain about Orban's remarks. A ministry spokesperson, Oleg Nikolenko, said Orban told reporters that Ukraine was "a no man's land" and compared it to Afghanistan.
"Such statements are completely unacceptable. Budapest continues on its course to deliberately destroy Ukrainian-Hungarian relations," Nikolenko said in a Facebook post.
President Biden's announcement that the U.S. would send 31 M1 Abrams tanks to Ukraine reversed months of arguments by Washington that they were too difficult for Ukrainian troops to operate and maintain.
The U.S. decision persuaded German Chancellor Olaf Scholz, who had expressed concern about a unilateral action drawing Russia's wrath, to agree to send 14 Leopard 2 tanks from Germany's stocks and to allow European countries with such tanks to send some of theirs.
Western weapons have proved essential to Ukraine's defense while stoking ever-higher tensions with Moscow. Russia's Defense Ministry said Saturday that Ukrainian forces used U.S.-made rockets to strike a hospital in the eastern Ukrainian town of Novoaidar, killing 14 people.
Novoaidar is in Luhansk province, which is almost entirely under the control of Russian forces or Russia-backed separatists. The Russian Defense Ministry alleged the hospital was deliberately targeted. Its claim of a strike in Novoaidar could not be immediately verified.
"A deliberate missile attack on a known operating civilian medical institution is an unconditional grave war crime of the Kyiv regime," the ministry said, according to Russian news agencies.
Amid the news of the Western pledges of heavy tanks, Russia bombarded Ukraine with missiles, exploding drones and artillery shells last week. The attacks continued Saturday, when Russian missiles struck the city of Kostyantynivka in eastern Ukraine's Donetsk province.
The missiles fell in a residential area, killing three civilians, wounding 14 and damaging four high-rise apartment buildings, a hotel and garages, Gov. Pavlo Kyrylenko said.
"Kostyantynivka is a city relatively far from the front line, but still, it constantly suffers from enemy attacks. Everyone who remains in the city exposes themselves to mortal danger," Kyrylenko said. "The Russians target civilians because they are not able to fight the Ukrainian army."
In a separate Telegram post earlier Saturday, Kyrylenko reported that Russian attacks in the province killed four civilians in all and wounded seven others in 24 hours.
Russian rockets hit a residential area in the Donetsk town of Chasiv Yar on Friday night, killing two people and wounding five, the governor said. Photos attached to Kyrylenko's post showed a three-story school building on fire.
Donetsk province, where the territory is roughly split between Russian and Ukrainian control, has become the battle epicenter as Moscow tries to jump-start a months-long, grinding offensive to capture the city of Bakhmut.
Chasiv Yar lies on a hill strategically located for the defense of Bakhmut, and has come under intensified Russian shelling. Capturing Bakhmut would allow Russian troops to disrupt Ukrainian supply lines and potentially pave the way for them to threaten Slovyansk and Kramatorsk, the largest remaining Ukrainian-held cities in the country's east.
Russian forces continued ground attacks around Bakhmut and Avdiivka, another Donetsk city to the south, while Ukrainian troops were on the offensive in southern and northeastern Ukraine, the Ukrainian military said in a Saturday morning update.
Ukraine's military said Russian troops "are defending themselves" near Lyman in Luhansk and Kharkiv provinces north of Donetsk, as well as in Kherson and Zaporizhzhia provinces in the south.
The fighting has largely been deadlocked, with winter conditions slowing ground operations.
In the same update, the military reported that Russian forces launched 10 missile strikes, 26 airstrikes and 81 shelling attacks on Ukrainian territory between Friday and Saturday mornings. The shelling killed two civilians in Kherson, another province that is partly Russian-occupied.
Podolyak, the presidential advisor, said Ukraine needs supplies of Western long-range missiles "to drastically curtail the key tool of the Russian army" by destroying the warehouses where it stores cannon artillery used on the front line.
Must-read stories from the L.A. Times
Get the day's top news with our Today's Headlines newsletter, sent every weekday morning.
You may occasionally receive promotional content from the Los Angeles Times.