Tunisian voters spurn elections seen as a test for their troubled democracy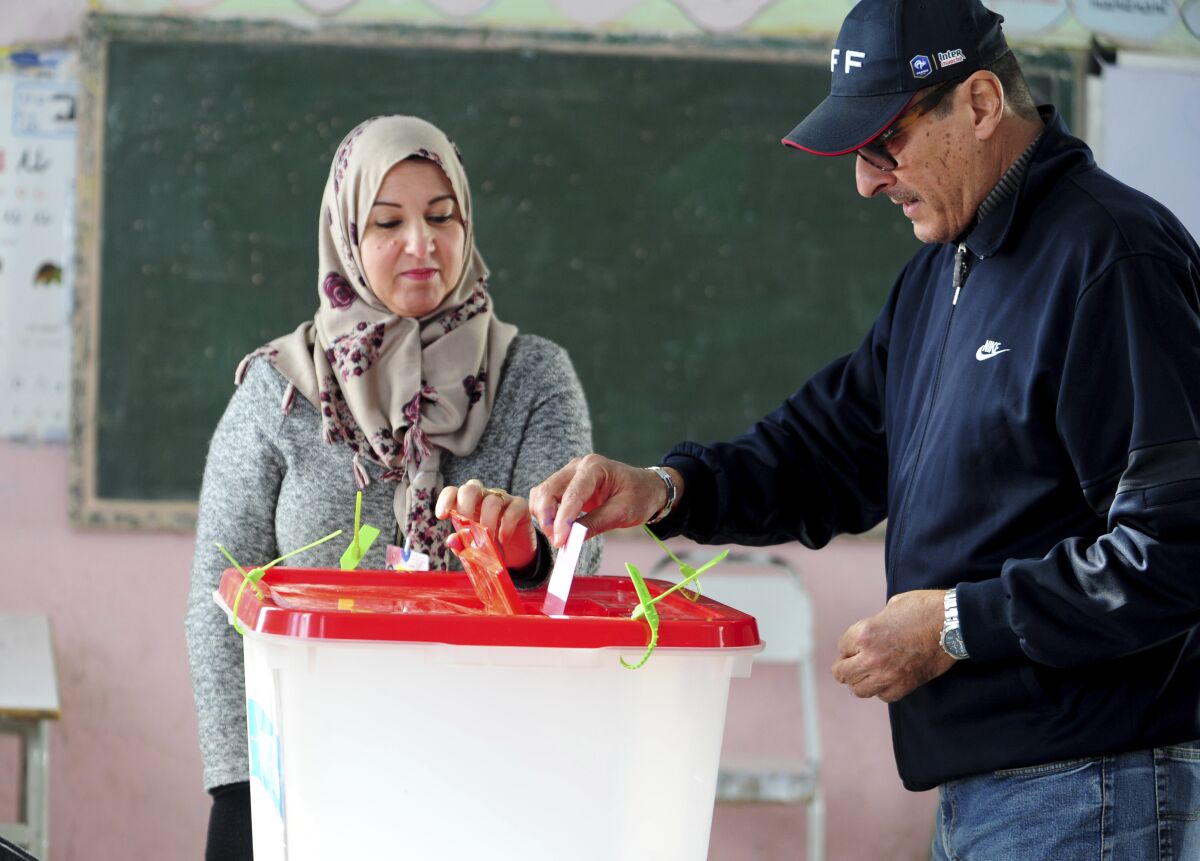 TUNIS —
In massive numbers, voters in Tunisia shunned parliamentary elections seen as an important test for their president and their country's troubled democracy, according to preliminary turnout figures Sunday. Independent observers reported scattered election violations.
Turnout was just 11.3% of Tunisia's 8 million voters, according to initial estimates from the national electoral commission. That is about the same level of participation as in the first round of voting last month.
Many disaffected Tunisians stayed away, and the influential Islamist party Ennahdha and other opposition movements boycotted.
The runoff elections were being watched around the Arab world. They're seen as a conclusive step in President Kais Saied's push to consolidate power, tame Islamist rivals and woo back lenders and investors needed to save the teetering economy.
But the low turnout casts doubt on the future parliament's legitimacy and could complicate Saied's plans. Election officials are expected to announce preliminary results Wednesday.
Voters were choosing lawmakers to replace the last parliament, led by Ennahdha, which Saied suspended in 2021 and later disbanded. He then had the constitution rewritten to give more power to the president and less to the legislature.
Low turnout doesn't necessarily signal a high rate of boycotting the vote to consolidate the president's power. A lot of people have grown apathetic.
Analysts note a growing crisis of confidence between citizens and the political class since Tunisia's 2011 revolution unleashed Arab Spring uprisings across the region, and led Tunisians to create a new democratic political system once seen as a model.
It's now seen as disintegrating.
In the first-round elections, 10 candidates secured seats outright in the 161-seat parliament without winning any votes because they ran unopposed. No candidates bothered to run in seven constituencies; electoral officials say those seats will be filled in special elections at a later date.
At a voting station in the Tunis suburb of Soukra, people trickled in to mark their ballots and drop them in a plastic box.
Activists and revolutionaries reflect on their struggles for reform in the countries they fought to free.
Multiple independent organizations reported violations in Sunday's voting.
In a statement, the associations Chahed (Witness) and Mourakiboun (Controllers) said some polling station heads refused to provide their observers access to data on turnout rates or the number of voters in their constituencies.
Chahed also reported violations of rules prohibiting election-day campaigning and said authorities used administrative vehicles to transport voters to polling stations.
The vice president of the National Union of Tunisian Journalists, Amira Mohamed, said on Mosaique radio that journalists were barred from some voting stations, contrary to electoral rules.
Get breaking news, investigations, analysis and more signature journalism from the Los Angeles Times in your inbox.
You may occasionally receive promotional content from the Los Angeles Times.
Electoral commission member Maher Jedidi rejected accusations of wrongdoing, but said there might have been "isolated cases" of problems in the more than 4,000 voting centers. He said the commission would address any problems it finds.
Meanwhile, critics of the president were doubtful the new parliament would be effective, regardless of who is elected.
The opposition Work and Achievement Party, which was among the groups that boycotted the elections, instead held a meeting Sunday in its Tunis offices.
"Kais Saied, when he wrote his constitution and ignored the committee he formed to write a new constitution, ... wanted parliament to be a group of people in a closed place who had no influence on the situation of the country," party chief Abdellatif Meki told the Associated Press.
President told dozens of African leaders gathered in Washington the United States is 'all in on Africa's future,' as China's influence on the continent grows.
"The next parliament has no control over the government. So for parliament members who make promises to the people, what is the mechanism by which they will keep their promises?" he asked.
Saied and his supporters argue that his overhaul of Tunisian politics was needed to end political deadlock seen as worsening economic and social crises. Unemployment tops 18%, the soaring budget deficit has led to shortages of staples and the International Monetary Fund has frozen talks on a much-awaited new loan for the Tunisian government.
Saied's popularity has sunk since his election in 2019, as evidenced by a video shared online of an impromptu visit he made to a cafe in Tunis amid campaigning earlier this month.
"God willing, we will provide you with everything you need ... as long as you have hope," he told a group of young people.
One retorted: "We don't have hope."
Must-read stories from the L.A. Times
Get the day's top news with our Today's Headlines newsletter, sent every weekday morning.
You may occasionally receive promotional content from the Los Angeles Times.