'Citizens' insurrection': More strikes and protests hit France over raising retirement age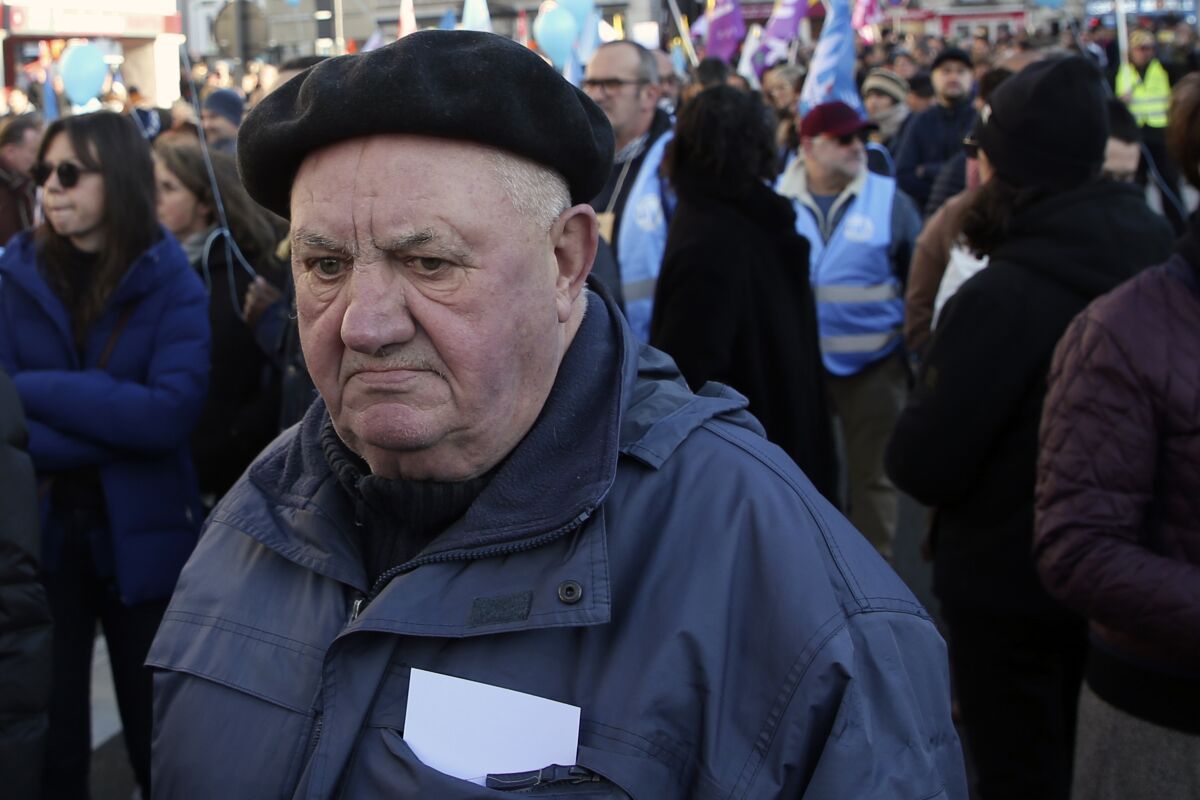 PARIS —
From tiny islands to major cities, demonstrators poured into France's streets Tuesday in the latest clash of wills with the government over its plans to raise the retirement age, with labor unions aiming to mobilize more than 1 million protesters for a "citizens' insurrection."
The nationwide strikes and protests were a crucial test both for President Emmanuel Macron's government and its opponents. The government says it is determined to push through Macron's election pledge to reform France's pension system. Labor unions and left-wing legislators fighting in Parliament against Macron's plans are counting on protesters to turn out in massive numbers to strengthen their efforts to kill the bill, which would raise the retirement age from 62 to 64.
As large crowds marched in cities and towns, veteran left-wing leader Jean-Luc Melenchon celebrated "a historic day" of protests and predicted defeat for Macron. In Paris, flag-waving, horn-blowing demonstrators gathered in large numbers for an afternoon march through the capital.
"It's not often that we see such a mass mobilization," Melenchon said in the southern city of Marseille. "It's a form of citizens' insurrection."
On the tiny western isle of Ouessant, off the tip of Brittany, about 100 demonstrators gathered outside the office of Mayor Denis Palluel and marched Tuesday morning, he said.
Speaking by phone to the Associated Press, Palluel said the prospect of having to work longer alarmed mariners on the island with arduous ocean-going jobs.
The French government is proposing broad changes to the pension system that will notably push back the legal retirement age from 62 to 64.
"Retiring at a reasonable age is important, because life expectancy isn't very long," he said.
A first round of strikes and protests brought out between 1 million and 2 million demonstrators earlier this month, including many tens of thousands in Paris. Labor leaders were aiming at least to match or better those numbers Tuesday, with around 250 demonstrations expected around the country. The government mobilized 11,000 officers to police the protests.
Positions are hardening on both sides as lawmakers begin locking horns in Parliament over the government's retirement reform bill.
On Monday, Macron described the reform as "essential." His prime minister, Elisabeth Borne, insisted over the weekend that raising the retirement age to 64 was "no longer negotiable."
France has launched a nationwide drive to collect millions of old firearms, remnants of the two World Wars or long-abandoned hunting excursions.
Strikers and protesters intend to prove otherwise.
Rail operator SNCF reported major disruptions, with strikes knocking out most train service in the Paris region and on France's flagship high-speed network linking cities and major towns. The Paris Metro was also hard hit by station closures and cancellations.
Construction worker Said Belaiba was among travelers whose morning train from Paris to the city of Lyon was canceled, forcing him to wait. Still, the 62-year-old said he opposed the planned reform.
"My job is physically exhausting," he said. "You can't keep on over 64."
Strikes also hit schools, with the Education Ministry reporting that around one-quarter of teachers stayed off the job — fewer than in the Jan. 19 first round of protests.
French media also reported walkouts in oil refineries. Radio station France Inter played music instead of its usual morning talk shows and apologized to its listeners because employees were striking.
Must-read stories from the L.A. Times
Get the day's top news with our Today's Headlines newsletter, sent every weekday morning.
You may occasionally receive promotional content from the Los Angeles Times.