U.S. to increase weapons deployment to Korean Peninsula to counter the North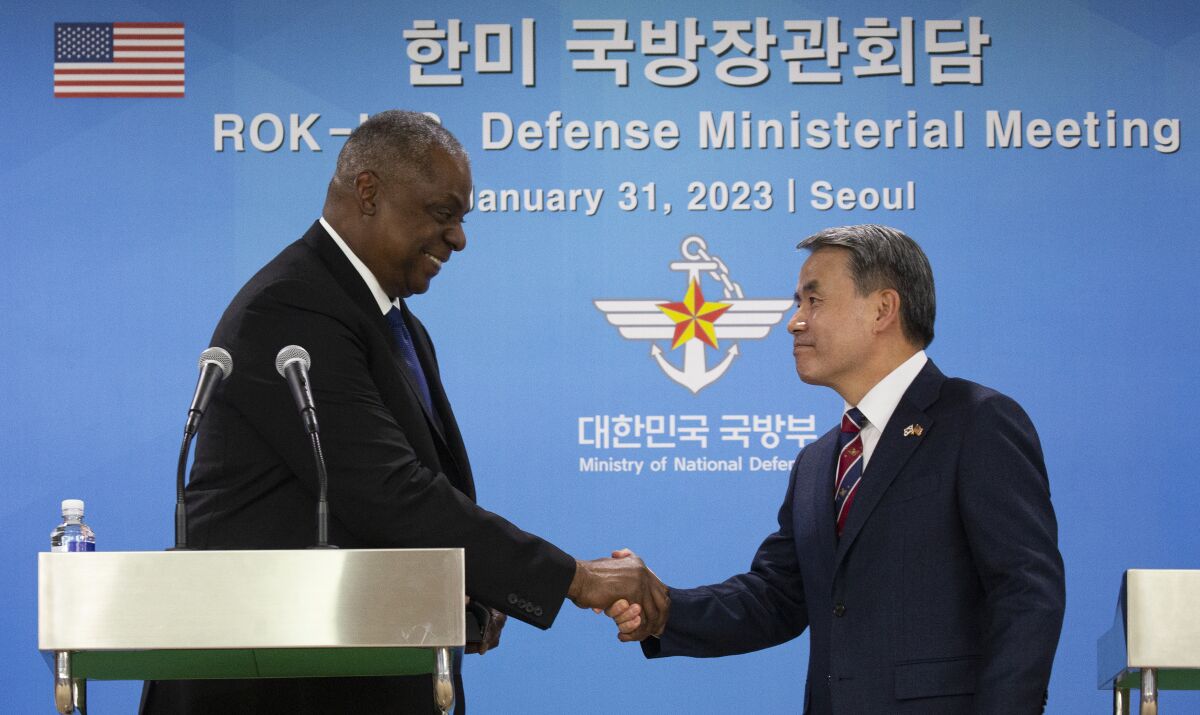 SEOUL —
U.S. Defense Secretary Lloyd J .Austin III on Tuesday said the U.S. would increase its deployment of advanced weapons such as fighter jets and bombers to the Korean Peninsula as it strengthens joint training and operational planning with South Korea in response to the North's growing nuclear threat.
Austin made the comments in Seoul after he and South Korean Defense Minister Lee Jong-sup agreed to expand their combined military exercises, including a resumption of live-fire demonstrations, and continue a "timely and coordinated" deployment of U.S. strategic assets to the region, according to their offices.
Austin and Lee also discussed preparations for a simulated exercise between the allies in February aimed at sharpening their response if North Korea uses nuclear weapons.
Austin's trip comes as South Korea seeks stronger assurances that the U.S. will swiftly and decisively use its nuclear capabilities to protect its ally in face of a North Korean nuclear attack.
South Korea's security jitters have risen since North Korea test-fired dozens of missiles in 2022, including potentially nuclear-capable ones designed to strike targets in South Korea and the U.S. mainland.
Seoul and Washington have also been strengthening their security cooperation with Tokyo, including joint missile-defense and anti-submarine warfare exercises in past months amid the provocative run of North Korean weapons tests.
North Korea's recent barrage of missile tests is raising a question: How does the country pay for the tests?
At a joint news conference following their meeting, Austin and Lee said they agreed that their countries' resumption of large-scale military drills last year, including an aerial exercise involving U.S. strategic bombers in November, effectively demonstrated their combined capabilities to deter North Korean aggression.
The allies had downsized their training in recent years to create room for diplomacy with North Korea during the Trump administration and because of the COVID-19 pandemic.
"We deployed fifth-generation aircraft, F-22s and F-35s. We deployed a carrier strike group to visit the peninsula. You can look for more of that kind of activity going forward," Austin said.
He said the U.S. commitment to protecting its allies with its full range of military capabilities, including nuclear ones, remained "iron-clad."
The United States and South Korea are strengthening their defense posture as North Korea grows more bellicose, including issuing nuclear threats.
North Korea's ramped-up missile tests have been punctuated by threats to preemptively use its nuclear weapons in a broad range of scenarios in which it perceives its leadership to be under threat, including conventional clashes or non-war situations.
Tensions could further rise in coming months with North Korean leader Kim Jong Un doubling down on his nuclear ambitions.
During a political conference in December, Kim called for an "exponential increase" in nuclear warheads, mass production of battlefield tactical nuclear weapons targeting South Korea and development of more powerful long-range missiles designed to reach the U.S. mainland.
Experts say Kim's nuclear push is aimed at forcing the U.S. to accept the idea of North Korea as a nuclear power and negotiating badly needed economic concessions from a position of strength.
Must-read stories from the L.A. Times
Get the day's top news with our Today's Headlines newsletter, sent every weekday morning.
You may occasionally receive promotional content from the Los Angeles Times.
Nuclear negotiations between the U.S. and North Korea have been derailed since 2019 because of disagreements over a relaxation of U.S.-led economic sanctions against the North in exchange for steps by Pyongyang to wind down its nuclear weapons and missiles programs.
North Korea's growing nuclear arsenal and provocations have raised the urgency for South Korea and Japan to strengthen their defense postures in line with their alliances with the U.S.
In an interview with the Associated Press this month, South Korean President Yoon Suk-yeol said his government was discussing with the Biden administration joint military planning potentially involving U.S. nuclear assets.
In December, Japan made a major break from its strictly self-defense-only post-World War II principle, adopting a new national security strategy that includes the goals of acquiring preemptive strike capabilities and cruise missiles to counter growing threats from North Korea, China and Russia.
Must-read stories from the L.A. Times
Get the day's top news with our Today's Headlines newsletter, sent every weekday morning.
You may occasionally receive promotional content from the Los Angeles Times.