EU prepares new sanctions against Russia as officials visit Ukraine in show of support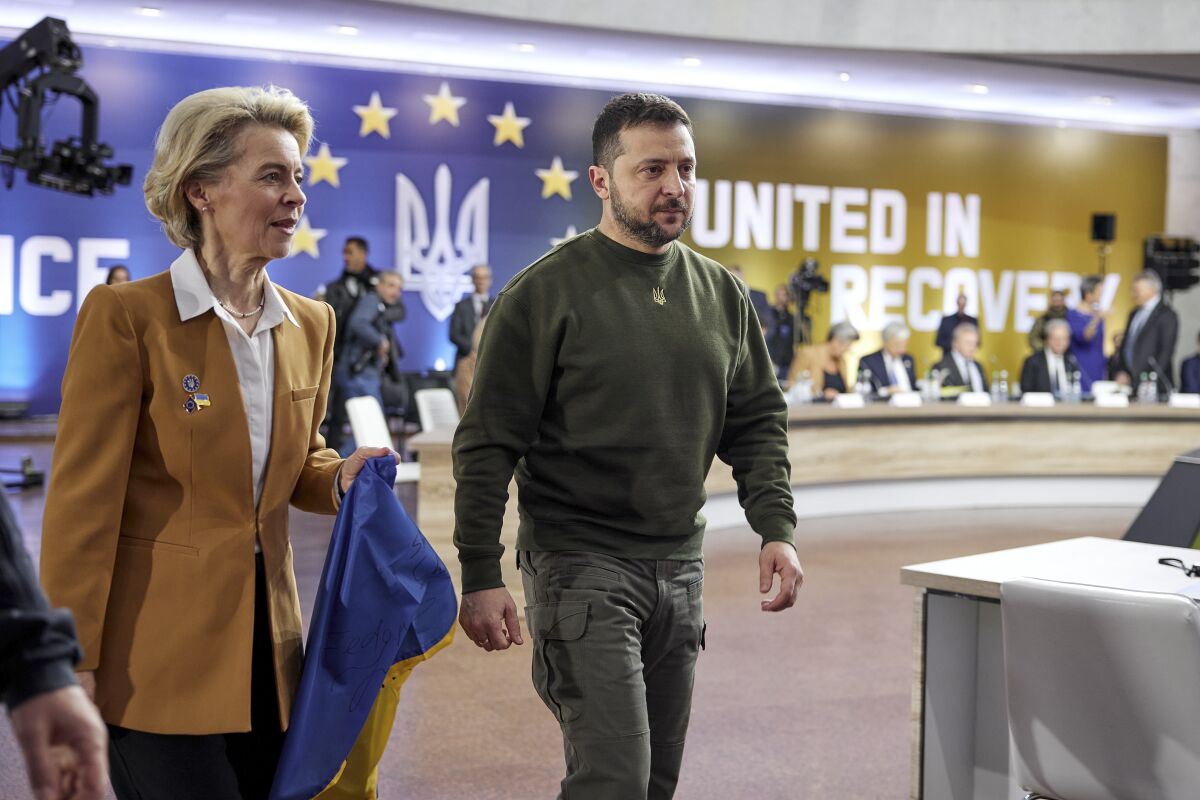 KYIV, Ukraine —
The European Union will unveil its 10th package of sanctions against Russia on Feb. 24 to mark the one-year anniversary of Moscow's invasion of Ukraine, a senior official from the bloc said in Kyiv on Friday, as Ukrainian forces gird for an expected Russian offensive in the coming weeks.
The sanctions will target technology used by Russia's war machine, among other things, European Commission President Ursula von der Leyen told a news conference.
The sanctions will take aim in particular at components used in the manufacturing of drones, she said, naming Iran as a key supplier of Russia.
Closing loopholes that the Kremlin uses to circumvent sanctions will also be a priority, according to Von der Leyen, who was on her fourth visit to the Ukrainian capital since the war began.
The exact measures in the next EU sanctions package must be agreed upon by the bloc's 27 member countries — a process that can take weeks.
Top European Union officials met Friday in Kyiv with Ukrainian President Volodymyr Zelensky in a show of support for the country as it battles to counter Russia's invasion and strives to join the EU as well as NATO.
On the Belarusian border, Ukrainian drones monitor a long expanse of marsh and woodland for a possible Russian offensive from the north.
European Commission President Ursula von der Leyen, European Council President Charles Michel and 15 European commissioners traveled to the Ukrainian capital for what they described as a summit meeting.
The last such summit was held in Kyiv in October 2021 — a few months before the war started. The highly symbolic visit is also the first EU political mission of its kind to a country at war.
The high-level visit came as a 60-year-old man was killed and six others were wounded Friday after Russian missiles hit Toretsk, a town in Ukraine's eastern Donetsk region, the local prosecutor's office said in a statement on Facebook.
Ukrainian authorities reported Friday that at least six civilians were killed and 20 others were injured over the previous 24 hours.
After months of agonizing, the U.S. has agreed to send longer-range bombs to Ukraine as it prepares to launch a spring offensive.
Among the dead were two brothers, ages 49 and 42, who were killed when Russian shelling destroyed an apartment block in the northeastern Kharkiv region, Ukraine's presidential office said. Their 70-year-old father was hospitalized with unspecified injuries.
Also, six people were wounded when 18 apartment buildings, two hospitals and a school were damaged in a Russian attack in the eastern city of Kramatorsk on Thursday, Gov. Pavlo Kyrylenko told Ukrainian TV. Three people died when a Russian missile hit an apartment building in that city Wednesday.
European officials were adamant about continuing to support Ukraine militarily and economically, but they didn't provide any new details about Ukraine's accession path to the EU.
Zelensky said that Ukraine's goal "is to start negotiations this year." But the process will likely take years and require the adoption of far-reaching reforms, including a clampdown on endemic corruption as the country receives billions of dollars in aid. Kyiv formally submitted its application last June.
Zelensky said progress had been made to further integrate the Ukraine economically into the EU across several sectors, including agriculture, industry, energy and customs.
The longest battle of the war in Ukraine has turned Bakhmut into a ghost city fought over by Ukrainian troops and by Russian forces eager for a win.
Ukraine's government is keen to get more Western military aid, on top of the tanks pledged last week, as the warring sides are expected to launch new offensives once winter ends. Kyiv is now asking for fighter jets.
The U.S is expected to announce Friday that it will send longer-range bombs to Ukraine as part of a new $2.17-billion aid package.
Ukraine's forces are bracing for an expected new onslaught by the Kremlin's forces in eastern Ukraine. Kyiv's fighters "have a chance" of beating back the looming offensive if supplied with the right Western weapons, Zelensky said.
"Our task is not to give them [an] opportunity until our army is strengthened with appropriate weapons. I think we have a chance," Zelensky added.
The possibility of providing Kyiv with fighter jets to help beat back Russia's invasion risks the unity of Ukraine's Western allies.
Officials in the eastern Luhansk region said Russian forces have disabled mobile internet connections, stepped up shelling and deployed more troops in preparation for a full-scale offensive there.
EU assistance for Ukraine has reached almost 50 billion euros ($55 billion) since the fighting started, according to EU officials.
The EU is providing Ukraine with financial and humanitarian aid, among other things. The bloc has also announced that it is ramping up its military training mission for Ukraine, from an initial target of pushing 15,000 Ukrainian troops through the schooling to up to 30,000 troops. One focus is to train the crews of tanks that Western countries have offered Ukraine.
Must-read stories from the L.A. Times
Get the day's top news with our Today's Headlines newsletter, sent every weekday morning.
You may occasionally receive promotional content from the Los Angeles Times.