Russian forces keep Ukrainian troops tied down with fighting in the east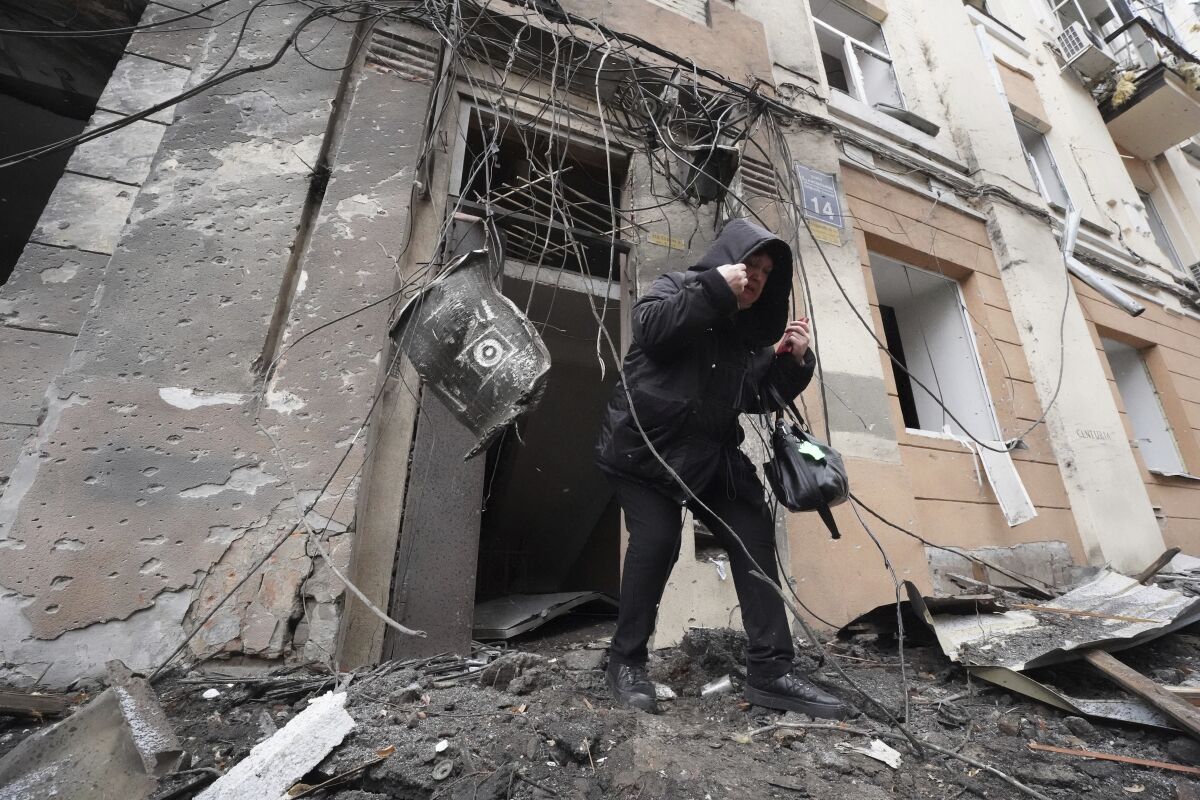 KYIV, Ukraine —
Russian forces are keeping Ukrainian troops tied down with fighting in the eastern Donbas region as Moscow assembles additional combat power there for an expected offensive in the coming weeks, Ukrainian officials said Monday.
Weeks of intense fighting continued to rage around the city of Bakhmut and the nearby towns of Soledar and Vuhledar, Ukraine's presidential office said.
The towns are in the Donetsk region, which with the neighboring Luhansk region makes up the Donbas region, an industrial area bordering Russia.
"The battles for the region are heating up," Donetsk Gov. Pavlo Kyrylenko said in televised remarks, adding that "the Russians are throwing new units into the battle and eradicating our towns and villages."
In Luhansk, Gov. Serhiy Haidai said shelling there had subsided because "the Russians have been saving ammunition for a large-scale offensive."
Military analysts say the Kremlin's forces may be probing Ukrainian defenses for weak points or could be making a feint while preparing for a main thrust through southern Ukraine.
Officials on both sides of Russia's war in Ukraine say scores of their soldiers have returned home following a prisoner swap.
David Arakhamia, who leads Ukrainian President Volodymyr Zelensky's Servant of the People party in parliament, said Sunday that Kyiv is preparing for a Russian offensive while planning to counterattack and reclaim its occupied territory.
Arakhamia, noting that "time and circumstances call for strengthening and regrouping," had also announced that Ukrainian Defense Minister Oleksii Reznikov would be moved to another government post and replaced by the head of military intelligence, Kyrylo Budanov. But Arakhamia abruptly changed course Monday and said no shakeup would happen this week.
Mariana Bezuhla, a Servant of the People party lawmaker, said officials decided to postpone the reshuffle following the analysis of "risks for the system as a whole" ahead of next week's meeting with NATO allies.
One of Reznikov's deputies recently lost his job amid Zelensky's crackdown on corruption. Reznikov said over the weekend that he was ready to step down if Zelensky decided it best.
The possibility of providing Kyiv with fighter jets to help beat back Russia's invasion risks the unity of Ukraine's Western allies.
Russian President Vladimir Putin is hungry for some battlefield success, especially securing illegally annexed territory in eastern Ukraine, to mark the anniversary of his invasion Feb. 24.
Russian forces made gains in the first few months of the war, though they failed to clinch key objectives and were then driven back from large areas by a Ukrainian counteroffensive.
The government of Norway aims to donate 75 billion kroner ($7.3 billion) in a multi-year support package to Ukraine, making the oil-rich Scandinavian country one of the world's top donors.
Prime Minister Jonas Gahr Store said Monday that the money would be used for a military and civilian aid package over a five-year period once parliament gives its approval.
The longest battle of the war in Ukraine has turned Bakhmut into a ghost city fought over by Ukrainian troops and by Russian forces eager for a win.
Western military help has been essential for Kyiv. Canadian Defense Minister Anita Anand tweeted late Sunday that the first Leopard tank Canada is donating to Ukraine had arrived in Poland. It is part of a broad tank commitment by Ukraine's Western allies to help it defeat Russia.
Training for Ukrainian military in how to use the tank was due to begin soon, Anand said, as the allies race to get Ukraine's forces ready before the looming offensive.
Ukraine's presidential office said Monday that at least one civilian had been killed and 10 others were wounded by Russian shelling over the last 24 hours.
Five of those wounded were injured during the shelling of Kharkiv city, where Russian shells struck residential buildings and a university, the presidential office said.
On the Belarusian border, Ukrainian drones monitor a long expanse of marsh and woodland for a possible Russian offensive from the north.
The Russians again fired at targets across the Dnipro River from the Russian-occupied Zaporizhzhia nuclear power plant, damaging residential buildings and power lines in Nikopol and Marhanets across the river, Ukrainian authorities reported.
Russian forces overran Zaporizhzhia, Europe's biggest nuclear power plant, early in the war, and regular shelling of the area stoked major safety concerns.
The United Nations' nuclear energy chief is due to visit Moscow this week to discuss safety at Zaporizhzhia.
International Atomic Energy Agency Director-General Rafael Grossi aims to "continue his consultations aimed at agreeing and implementing a nuclear safety and security protection zone" around the plant, IAEA spokesman Fredrik Dahl said.
Must-read stories from the L.A. Times
Get the day's top news with our Today's Headlines newsletter, sent every weekday morning.
You may occasionally receive promotional content from the Los Angeles Times.