Raleigh police release video of stun-gun use before suspect's death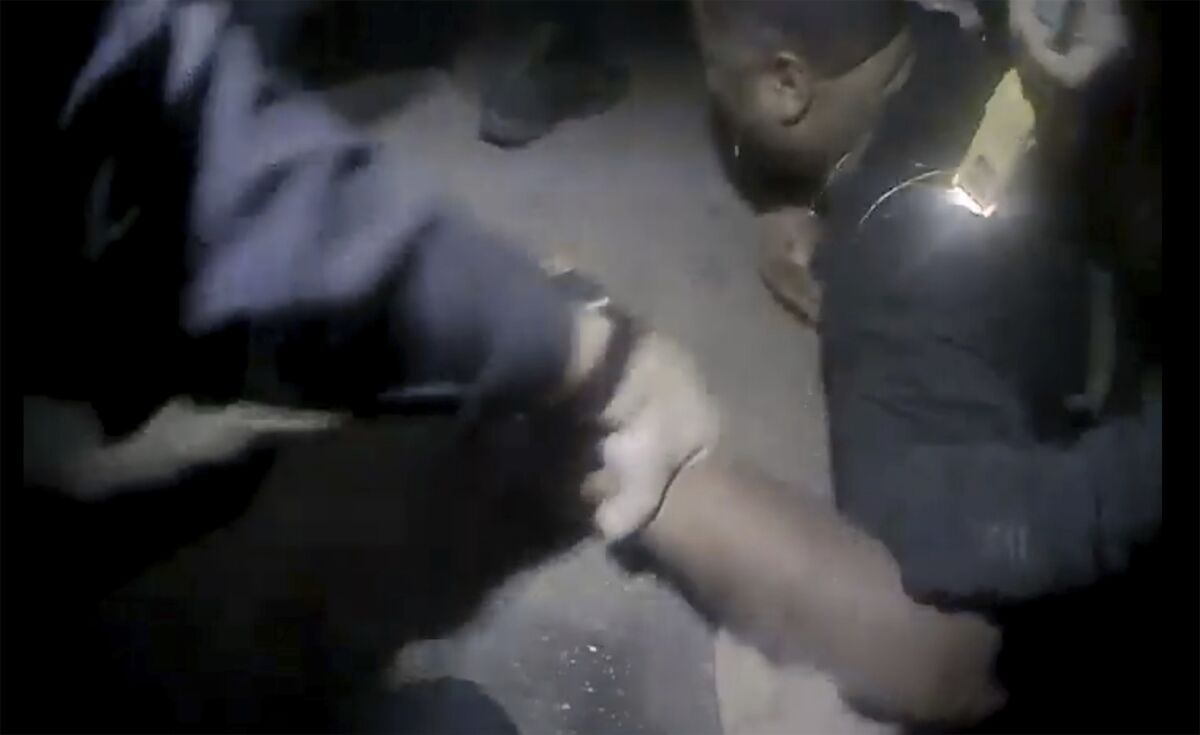 RALEIGH, N.C. —
Police in North Carolina's capital city released body and dashboard camera video Friday that shows the arrest of a Black man who died after officers repeatedly used stun guns on him.
Darryl Tyree Williams, 32, died at a hospital after he was confronted by officers in a Raleigh neighborhood around 2 a.m. on Jan. 17, according to a report by Police Chief Estella Patterson.
The video shows officers approaching and searching Williams near a parked car. Police have said officers had been conducting patrols of nearby businesses.
A man can be heard on several of the body-cam recordings saying, "I'm not doing anything."
The diocese is facing hundreds of lawsuits alleging sexual abuse by clergy. It would be the second time the diocese has sought the protections of the courts.
Williams' family had no comment Friday on the video's release, according to Dawn Blagrove with Emancipate NC, a criminal justice reform group that has been in contact with the family. Family members viewed the video on Thursday, a city spokesperson said.
In one body-cam video, officers tell Williams multiple times to place his hands up or behind his back. A struggle ensues, and someone can be heard threatening to fire a Taser. The police report says a Taser was deployed, temporarily stopping Williams and causing him to fall. The video shows officers on the ground with Williams near a trash can.
The police report said Williams then broke away from the officers. The video shows him moments later in a parking lot, where officers tell him to get on the ground and try again to arrest him.
"Why are you all doing this to me?" he asks.
"Hands behind your back or you're going to get Tased again," an officer said about 20 seconds later after other orders by his colleagues.
The video confirms the report's statement that Williams said, "I have heart problems" after he was stunned again and before officers said they would continue if he didn't cooperate. Police have said Williams was stunned three times, twice through direct body contact with the Taser.
Once Williams appears to be detained, someone says, "Relax man, relax. Chill out."
Seconds later, officers become worried about whether he still had a pulse, but they turn him over and say he's breathing.
One of the videos begins with Williams already on the ground and officers kneeling over him. He can be heard moaning.
The written account says Williams became unresponsive and stopped breathing after he was handcuffed.
The video shows police doing chest compressions to try to resuscitate him before emergency services arrived. Williams was pronounced dead at a hospital around 3 a.m. The cause of his death is under investigation.
Wake County Dist. Atty. Lorrin Freeman said Friday that an autopsy had been performed but that a final report from the Office of the Chief Medical Examiner had not yet been provided.
The report said that officers initially approached Williams as he sat in the driver's seat of a parked car, and that an officer saw marijuana and an open container of alcohol in the car. Police decided to arrest Williams for possession of a controlled substance after they found a folded dollar bill with white powder in his pocket, the report said.
In one of the videos, an officer approaches the car's passenger side, the door opens and the officer asks, "Hey what's up? How's it going? What are y'all doing?"
One of the men inside explains that he's walking to his house. The officer responds, "OK, just do me a favor. Come over here. Have a seat, both of you." The men in the car repeatedly ask, "Why? and "For what?" and the officer repeats, "Have a seat," six times.
A search of Williams' car also found two firearms, one reported stolen, the report states. A passenger in the car left the scene on foot, the report adds.
Six officers involved in the arrest are on administrative leave, and the State Bureau of Investigation is conducting a probe. The Police Department released the body- and dash-cam videos after a state judge authorized the move last week.
Emancipate NC and other advocacy groups have given the Raleigh City Council a list of demands that include firing the officers, retooling the city's police advisory board and stopping the use of Tasers for now.
"How many times do we have to watch public executions before policing will be held accountable?" Blagrove said. "Emancipate NC stands behind the demands presented to Raleigh City Council and [expects] to see officers held accountable for Darryl Williams' death."
Robertson and Barakat write for the Associated Press and reported from Raleigh and Falls Church, Va., respectively. AP writer Sarah Brumfield in Silver Spring, Md., contributed to this report.
Must-read stories from the L.A. Times
Get the day's top news with our Today's Headlines newsletter, sent every weekday morning.
You may occasionally receive promotional content from the Los Angeles Times.