Key witness testifies about Sinaloa cartel's bribing of ex-Mexico security chief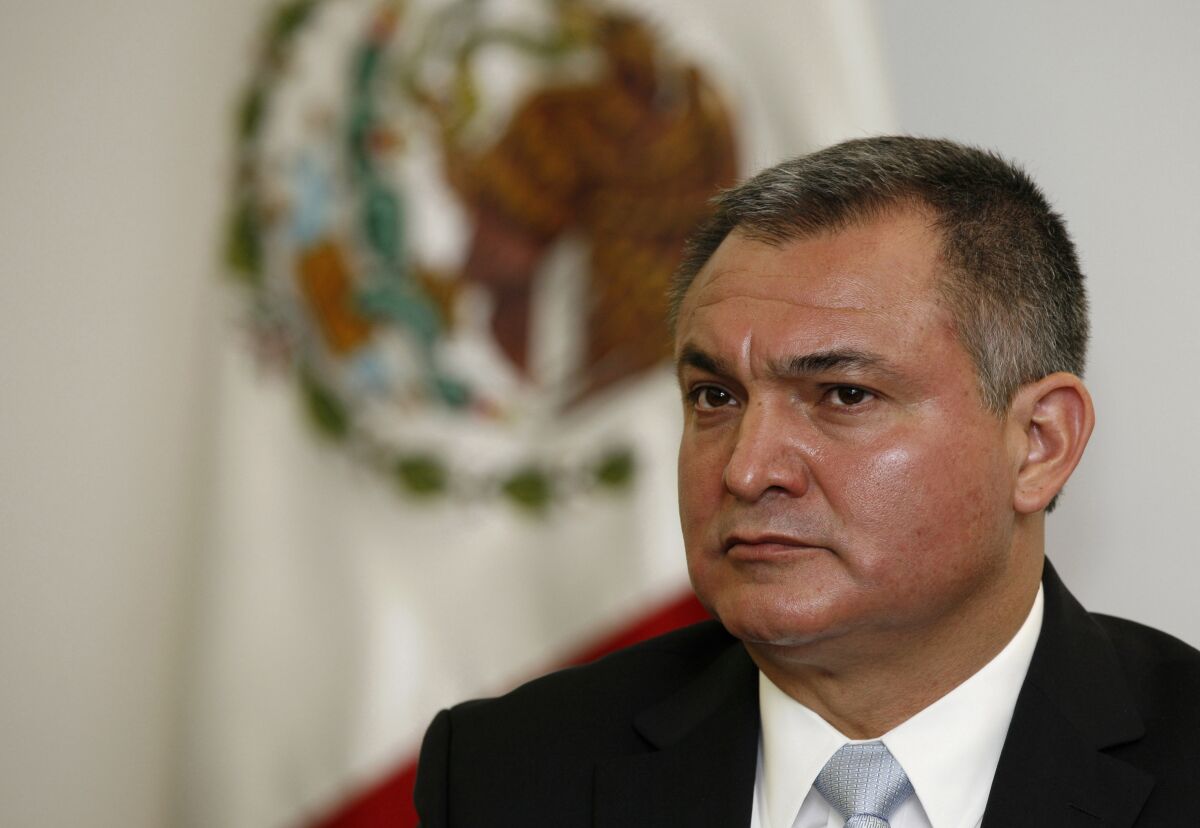 NEW YORK —
A key prosecution witness testified Monday that he delivered millions of dollars in payoffs destined for former Mexican public safety chief Genaro García Luna, though he didn't directly discuss what the money was allegedly buying: impunity for the infamous Sinaloa cartel.
Former member Jesús "El Rey" Zambada testified at García Luna's U.S. drug trafficking trial four years after airing allegations about him at the trial of Sinaloa kingpin Joaquín "El Chapo" Guzmán. García Luna was subsequently arrested and has denied the charges.
Zambada, who followed testimony from other ex-cartel members and corrupt former law enforcement officials, echoed descriptions of cocaine shipments by planes, trains and even submarines, abetted by police and officials under García Luna's oversight — and, Zambada said he was told, by García Luna himself.
Zambada described an arm's-length quid pro quo. He said he made payments to García Luna through an intermediary who told him that the security chief would shield the cartel, which the witness' brother, Ismael "El Mayo" Zambada, helped lead.
The relayed message: "He was going to provide protection to my brother. He's not going to bother him. He was going to let him keep on working just as he had been," Jesús Zambada said through an English-language interpreter.
He said he was told that when the cartel wanted friendly police commanders in various locales, García Luna would help. And indeed, the cartel had its preferred commanders placed, Zambada said.
The alleged intermediary died in 2010. Zambada didn't say he personally handed money to or got assurances from García Luna.
Zambada said he quickly excused himself when García Luna showed up earlier than expected for a $2-million meeting with the go-between in a fancy Mexico City restaurant in 2006. Zambada told jurors it had cost $3 million for a similar, earlier meeting.
Mexico City's neglected subway spotlights issues of inequality, poor public services and corruption so flagrant it kills. The mayor sent in troops.
On both occasions, Zambada said, he gave the money to the intermediary, who met with García Luna in a private room at a Mexico City eatery called Champs Élysées. Zambada said he waited in a bar area while the discussions happened and watched the security chief leave with luggage that had been packed with cartel cash.
García Luna indicated Monday that he doesn't plan to testify at his trial. His lawyers haven't had their turn to present witnesses.
The attorneys have argued that the prosecution is relying on mendacious criminals who are cooperating with the government to trim their own sentences or to avenge themselves on García Luna for trying to crack down on the drug trade.
In questioning Zambada, defense lawyer César de Castro emphasized that the witness admitted to conspiring in cartel killings.
"That makes you responsible for these people's deaths, right?" the attorney said.
"Partly, yes," Zambada said.
Zambada was arrested in Mexico in 2008 and extradited to the U.S. four years later. He pleaded guilty to drug and other charges that could have gotten him life in prison.
He was sentenced 12 years after cooperating with the government. He is on supervised release.
De Castro noted that Zambada didn't mention García Luna until he'd met with U.S. prosecutors multiple times.
García Luna led Mexico's Federal Investigation Agency from 2001 to 2005, then served as secretary of public security to then-President Felipe Calderón from 2006 to 2012. In the latter role, García Luna was in charge of fighting drug cartels.
He moved to Miami in 2012 and became a security consultant.
If convicted, the 54-year-old could face decades in prison.
Must-read stories from the L.A. Times
Get the day's top news with our Today's Headlines newsletter, sent every weekday morning.
You may occasionally receive promotional content from the Los Angeles Times.