Canada to deploy naval vessels to Haiti as violence worsens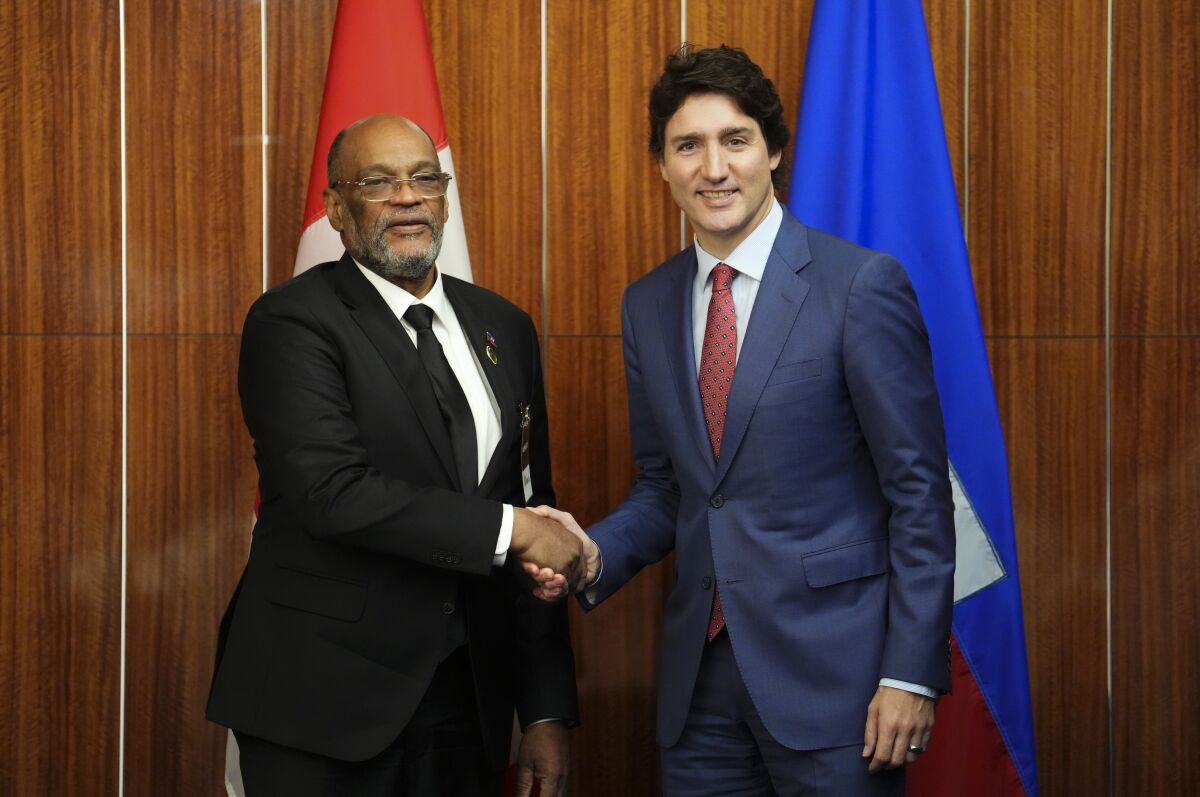 SAN JUAN, Puerto Rico —
Canada will send navy vessels to Haiti for intelligence gathering as part of efforts to quell worsening gang violence in the Caribbean nation, Canadian Prime Minister Justin Trudeau announced Thursday.
Trudeau made the announcement in the Bahamas at an annual meeting of Caribbean leaders where a key topic has been Haiti's surge in killings, rapes and kidnappings blamed on gangs emboldened since the July 2021 assassination of President Jovenel Moise.
Haitian Prime Minister Ariel Henry, also at the meeting, has pleaded for a full-fledged international military intervention to stem the mayhem. His country requested help from the United Nations Security Council in October and has suggested the U.S. and Canada lead a force. No such intervention has come together, and neither country has offered to take the lead.
Canada's move to send ships, announced at the meeting of leaders of the 15-member Caribbean Community, or Caricom, comes shortly after the return of one of its surveillance planes on a similar mission to collect intelligence for Haitian police.
Saudi Crown Prince Mohammed bin Salman wants to diversify the economy and open up the culture of his country. Coffee is part of his strategy.
"Right now, Haiti is confronted with unrelenting gang violence, political turmoil and corruption," Trudeau said. "Now is the moment to come together to confront the severity of this situation."
He said Canada and Haiti's neighbors need to work on long-lasting solutions to restore order and security, allow for essential aid to flow and create the conditions for free and fair elections.
The Canadian leader also announced his government would provide an additional $12.3 million in humanitarian assistance and $10 million to support the International Organization for Migration, to protect Haitian women and children along Haiti's border with the Dominican Republic. The neighboring country has deported tens of thousands of Haitian migrants and those of Haitian ancestry in the last year.
"The toll of human suffering in Haiti weighs heavily on me," Trudeau said.
Earlier Thursday, he met privately with Henry, who told reporters that he urgently wants Haiti to hold elections despite the worsening insecurity.
Since last week's earthquake, refugees of Syria's civil war living in Turkey have faced growing anger from those who see them as a burden and blight.
The number of people reported killed in Haiti last year increased by 35% to 2,183, while the number of reported kidnappings more than doubled to 1,359, according to the U.N.
A report last month from the U.N. Integrated Office in Haiti noted that "gang-related violence reached levels not seen in decades," and that tens of thousands of people have been displaced by the warring gangs.
Canada, the U.S. and other countries already have provided military equipment and other resources, along with training, to Haiti's national police force, which has only 9,700 active-duty officers for a country of more than 11 million people. Gangs control an estimated 60% of the capital, Port-au-Prince.
Trudeau also pledged $1.8 million to fight illegal drug trafficking and strengthen border and maritime security across the Caribbean.
In addition, he said his government will set aside $44.8 million to help the Caribbean region fight climate change.
The Caricom meeting, which has drawn other officials including Brian Nichols, the U.S. assistant secretary of State for Western Hemisphere affairs, began on Wednesday and is scheduled to end on Friday.

Must-read stories from the L.A. Times
Get the day's top news with our Today's Headlines newsletter, sent every weekday morning.
You may occasionally receive promotional content from the Los Angeles Times.