Mexico is riveted by New York trial of its former security chief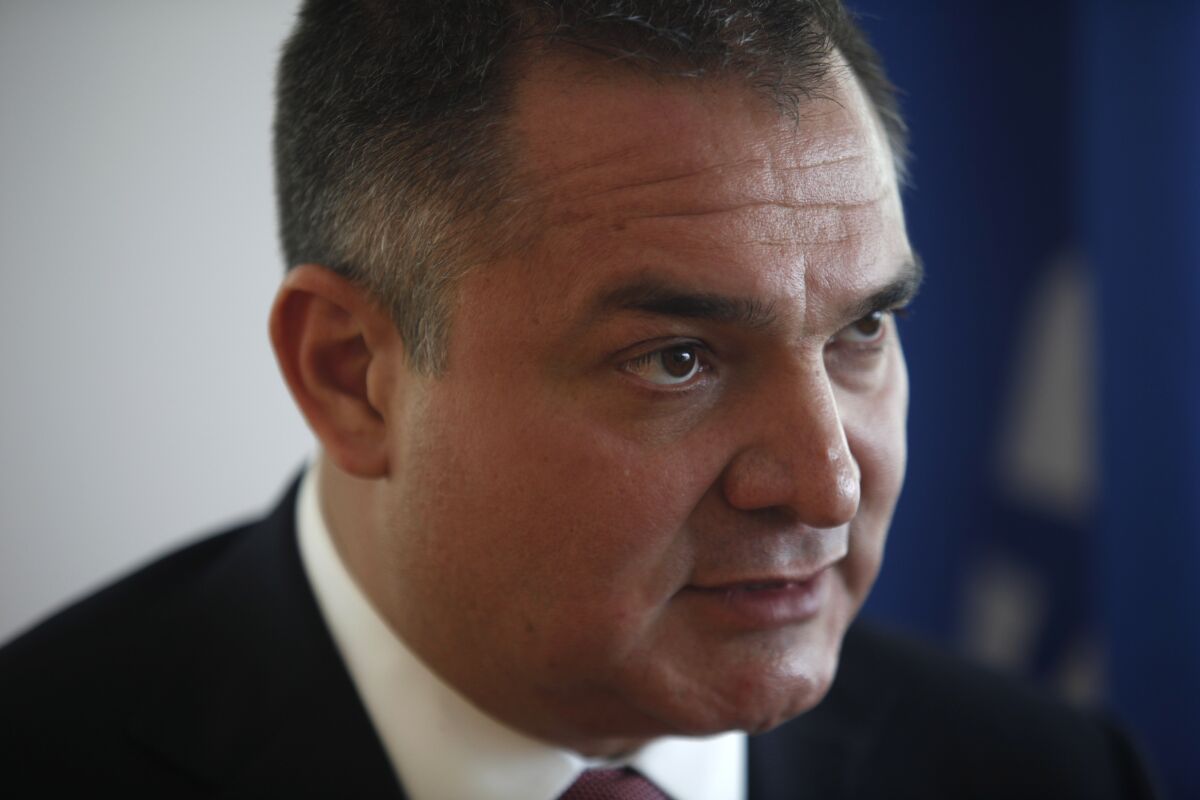 MEXICO CITY —
He has talked about the case for months, likening it to a television crime drama and saying its revelations dramatize the deep corruption of his predecessors.
But Mexican President Andrés Manuel López Obrador says he isn't going to forecast the outcome of the U.S. trial against this country's former top security official.
"What do I expect from the jury? We are going to wait," López Obrador told reporters Thursday. "I don't want to make any prediction. But I am not going to let this be. We are not going to shut up."
On Friday, the Mexican president called on Washington to investigate the role of U.S. law enforcement authorities and other U.S. officials who worked closely with Mexico's ex-security chief.
Following a four-week trial, jurors in U.S. District Court in New York continued deliberations Friday on the fate of Genaro García Luna before going home without reaching a verdict. Deliberations are set to resume Tuesday.
While serving as Mexico's chief law enforcement officer, García Luna is accused of having taken millions of dollars in bribes from the Sinaloa cartel formerly headed by Joaquín "El Chapo" Guzmán, now imprisoned for life in the United States after being tried three years ago in the same Brooklyn courthouse.
Genaro García Luna, a onetime top security official in Mexico, was charged with conspiracy to traffic cocaine and with making false statements.
García Luna was the security secretary in the administration of President Felipe Calderón, who served from 2006 to 2012 and unleashed a bloody war against drug traffickers. The antidrug campaign, which often featured García Luna as its public face, left tens of thousands dead but failed to rein in cartels or reduce cross-border drug trafficking.
The prosecution in New York has drawn intense interest in Mexico, where its sometimes sensational disclosures about links between drug cartels and officials have featured prominently in the news and on social media. Mexican outlets have dispatched correspondents to New York to report on the proceedings.
In court, ex-cartel operatives with nicknames such as "The King," "The Rabbit," "The Devil" and "The Big One" have taken the stand to identify García Luna as a greedy crook who collected a fortune in cash as police and other officials on his watch allowed massive cocaine shipments to flow through Mexico to the United States.
The defense has characterized the witnesses incriminating García Luna as a collection of "murderers, kidnappers and criminals" who fabricated allegations in a bid to attain more lenient sentences from U.S. prosecutors.
For many Mexicans, the case has confirmed their worst suspicions about complicity between government officials and criminal gangs that run amok, profiting from the enormous illicit trade to the United States, along with other rackets. And, in a country where criminal trials are largely secret affairs based on written declarations, the sometimes explosive testimony from a U.S. courtroom has proved riveting.
"From the parade of witnesses of the prosecution we can ... argue that García Luna in reality is a symbol of what the court should be perceiving: Mexico is a rogue state that is rotten," wrote columnist Raymundo Riva Palacio this week in El Financiero newspaper. "One doesn't have to know the verdict on García Luna to suppose that, in the eyes of many Americans — and many others worldwide — we are a nation infiltrated and controlled by criminals."
García Luna, 54, who cooperated closely with U.S. officials during his law enforcement career, has denied cocaine-smuggling and other charges and his lawyers depict him saying he was an exemplary public servant. He could face decades in prison if convicted. He did not testify during his trial.
He was arrested in 2019 in Texas after moving to the United States following his tenure as Mexico's security boss tasked with fighting cartels.
Even Mexico's president has seem stunned at the extent of collaboration exposed during testimony between the Mexican state and multibillion-dollar drug cartels.
"Imagine, why would one go to watch these Netflix series if reality exceeds them?" López Obrador said this month.
His morning news conferences have included frequent updates on the trial, including a slick video Thursday summarizing events to date.
Mexico is also pressing a civil case against García Luna in Florida courts in a bid to recuperate hundreds of millions of dollars allegedly embezzled by the former official.
For the Mexican president, the García Luna trial represents much more than the reckoning of yet another corrupt Mexican official. López Obrador has characterized the case as emblematic of the moral depravity of his predecessors, especially his loathed longtime political adversary, Calderón.
López Obrador has called García Luna the "right arm" of Calderón, questioning how the former president could have been unaware of his top cop's alleged criminal behavior. Calderón has denied any knowledge of García Luna's wrongdoing, though he acknowledged hearing "rumors" of García Luna's purported ties to drug traffickers.
López Obrador has accused Calderón of stealing the 2006 presidential election, in which López Obrador was the runner-up in a close race. López Obrador was elected president in 2018 — his third attempt at the top office — on an anti-corruption platform.
The president regularly asserts that his leadership has largely eliminated the institutional graft that has long plagued Mexico.
For him, the corruption being bared in a New York courtroom is a reminder of a dark era, something far removed from the contemporary reality of his administration — an assertion that many in Mexico have questioned.
"It's important to know that in our government there are no functionaries like García Luna," the president said in November. "The authorities aren't complicit, covering up and carrying out torture and massacres."
Critics say there is little evidence that corruption had diminished under the leadership of López Obrador. The president has, however, greatly bolstered the security and economic portfolio of the Mexican military — a powerful bloc that has frequently been accused of human rights abuses.
In 2020, López Obrador objected vociferously to the White House after U.S. authorities arrested Mexico's former defense secretary, Gen. Salvador Cienfuegos, at Los Angeles International Airport. He was detained on corruption charges similar to those against García Luna.
The arrest of the retired general deeply angered Mexico's military brass, close allies of López Obrador. The Mexican president dismissed the U.S. drug-trafficking allegations against Cienfuegos as "garbage." The Trump administration eventually relented, dropped the charges and returned Cienfuegos to Mexico.
Special correspondent Cecilia Sánchez Vidal contributed to this report.
Must-read stories from the L.A. Times
Get the day's top news with our Today's Headlines newsletter, sent every weekday morning.
You may occasionally receive promotional content from the Los Angeles Times.