Mexican migrant recounts shooting involving Arizona rancher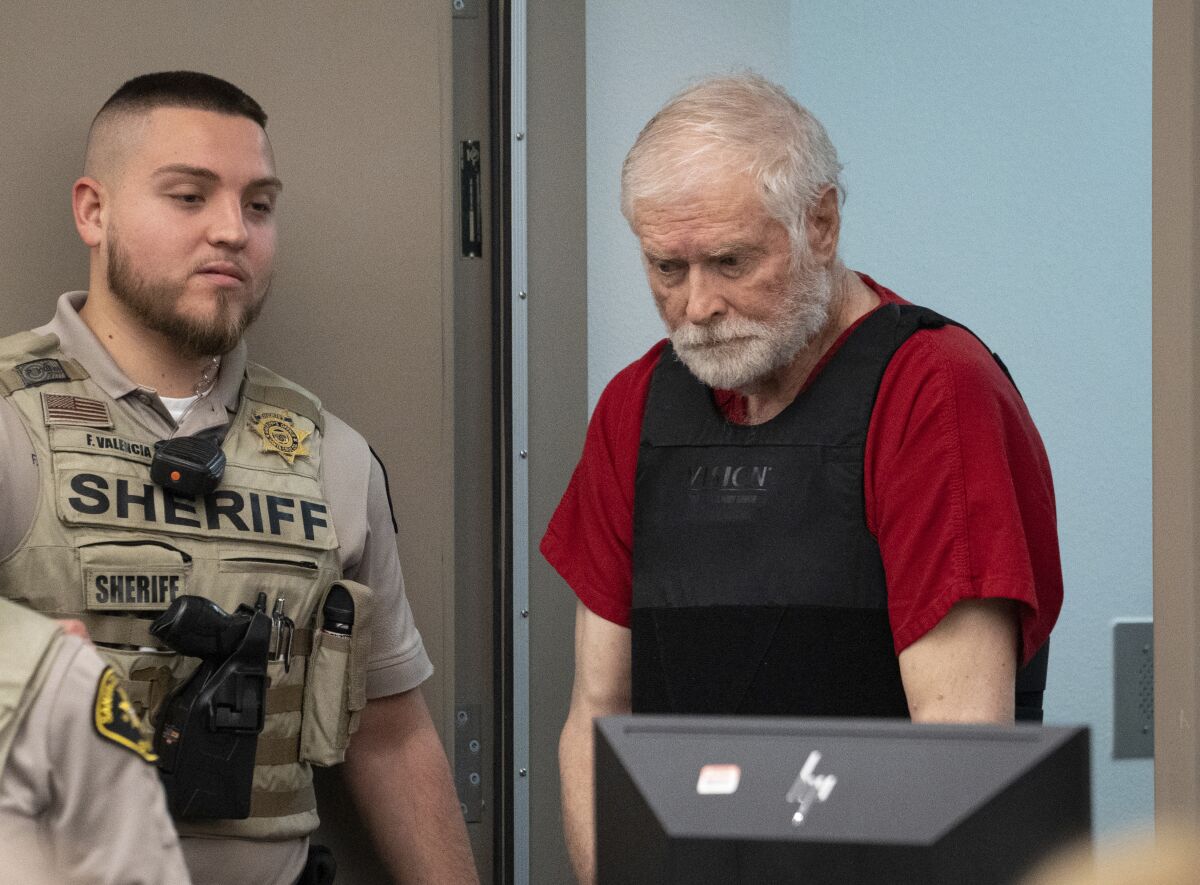 PHOENIX —
A Mexican man testified Friday about the moment when a fellow migrant was shot and killed on an Arizona ranch as they illegally crossed the U.S.-Mexico border.
The man, who was referred to by the initials D.R.R. to protect his identity, said through a Spanish-speaking interpreter that the shots rang out without warning and that because of this, his group didn't know where they were coming from.
"I did nothing. I saw Gabriel," he said, referring to the 48-year-old man who was killed, Gabriel Cuen-Buitimea. "He held his chest and said 'I'm hit.' He rolled his eyes and fell down."
The testimony came during an evidentiary hearing in a Nogales, Ariz., courtroom for George Alan Kelly, the 74-year-old rancher accused of killing Cuen-Buitimea.
Kelly is charged with one count of second-degree murder and two counts of aggravated assault against two migrants, including the one who testified Friday. His attorney, Brenna Larkin, entered a not guilty plea on his behalf.
Kelly was initially charged with first-degree murder, but prosecutors lowered the charge. They didn't explain why during the hearing.
Families seeking asylum are finding themselves confronted with a seemingly impossible decision: Wait indefinitely for enough appointments to open up for the whole family through a new mobile app, or split up.
Larkin asked for a postponement of the hearing so that she could prepare for the new charge, but Justice of the Peace Emilio G. Velasquez denied her request.
The hearing in Santa Cruz County Justice Court was also intended to determine issues of material fact in the case and allow Kelly's defense to call witnesses. As of mid-afternoon, only the migrant D.R.R. and a county sheriff's detective had testified.
D.R.R. testified that he and Cuen-Buitimea had paid for passage across the border on Jan. 30 from Nogales, Mexico, and were heading to Phoenix. He also said neither of them was carrying a weapon. Cuen-Buitimea was wearing a green camouflage backpack as well as a bag on his belt.
According to D.R.R., they were three to four yards from the road when they suddenly heard gunfire. It was around the fourth round that Cuen-Buitimea was wounded, but 15 or 16 shots were fired in all, he testified.
"I ran 20 meters [22 yards] when I turned around to see him [Kelly]," D.R.R. said. "I turned around to see if it was government agents coming after us. I was able to jump and I jumped the wall back to Mexico."
Prosecutors allege that Kelly opened fire with an AK-47 rifle on about eight unarmed migrants he encountered on his ranch outside Nogales, striking the man who died in the back as he tried to flee. Two of the migrants later told authorities that Kelly also shot at them, but that they weren't hit and managed to escape over the fence back into Mexico.
A CAL/OSHA investigation found six violations of state code at an immigrant detention center in McFarland, Calif., leading to $104,510 in fines.
Prosecutors say Cuen-Buitimea lived just south of the border in Nogales. U.S. court records show that he was convicted of illegally entering the U.S. several times and deported back to Mexico, most recently in 2016. D.R.R. also testified that he has crossed the border illegally multiple times.
Kimberly Hunley, chief deputy county attorney, said her office, the court and the sheriff's department "have all received disturbing communications, some threatening in nature, that seem to indicate an ongoing threat to the safety of the victims."
In arguing against a reduction in Kelly's $1-million cash bond, Hunley said earlier this week that the rancher's comments conflicted with what witnesses from the group told law enforcement, and that his story has significantly changed over time.
Larkin has said that Kelly did not shoot Cuen-Buitimea, but that earlier in the day, he fired warning shots above the heads of smugglers carrying AK-47 rifles and backpacks on his property.
Velasquez on Wednesday ordered that Kelly's bond be changed from a cash to a surety bond, which allowed Kelly to put up his ranch and home as collateral rather than come up with the cash. Bond was posted later that day.
Genaro García Luna is the highest-ranking current or former Mexican official ever to be tried in the United States.
The shooting has stirred up emotions as the national debate over border security heats up with an eye toward the 2024 presidential election.
Less than six months ago, a prison warden and his brother were arrested in a West Texas shooting in which one migrant was killed and another was wounded. Michael and Mark Sheppard, both 60, were charged with manslaughter in the September shooting in El Paso County.
Authorities allege that the twin brothers stopped their truck near a town about 25 miles from the border and opened fire on a group of migrants getting water. A male migrant died and a female suffered a gunshot wound to the stomach.
GoFundMe campaigns to pay for Kelly's defense have been shut down and the money was returned to donors because of the seriousness of the charges, according to the platform. But GiveSendGo, which describes itself as a Christian fundraising platform, carries several campaigns collecting defense funds, including one that has gathered more than $300,000.
Kelly apparently drew on his borderlands ranching life in a self-published novel, "Far Beyond the Border Fence," which is described on Amazon.com as a "contemporary novel which brings the Mexican Border/Drug conflict into the 21st century."
Associated Press writer Terry Tang contributed to this report.
Must-read stories from the L.A. Times
Get the day's top news with our Today's Headlines newsletter, sent every weekday morning.
You may occasionally receive promotional content from the Los Angeles Times.