Workers dig carefully in search of 47 people missing after mine collapse in China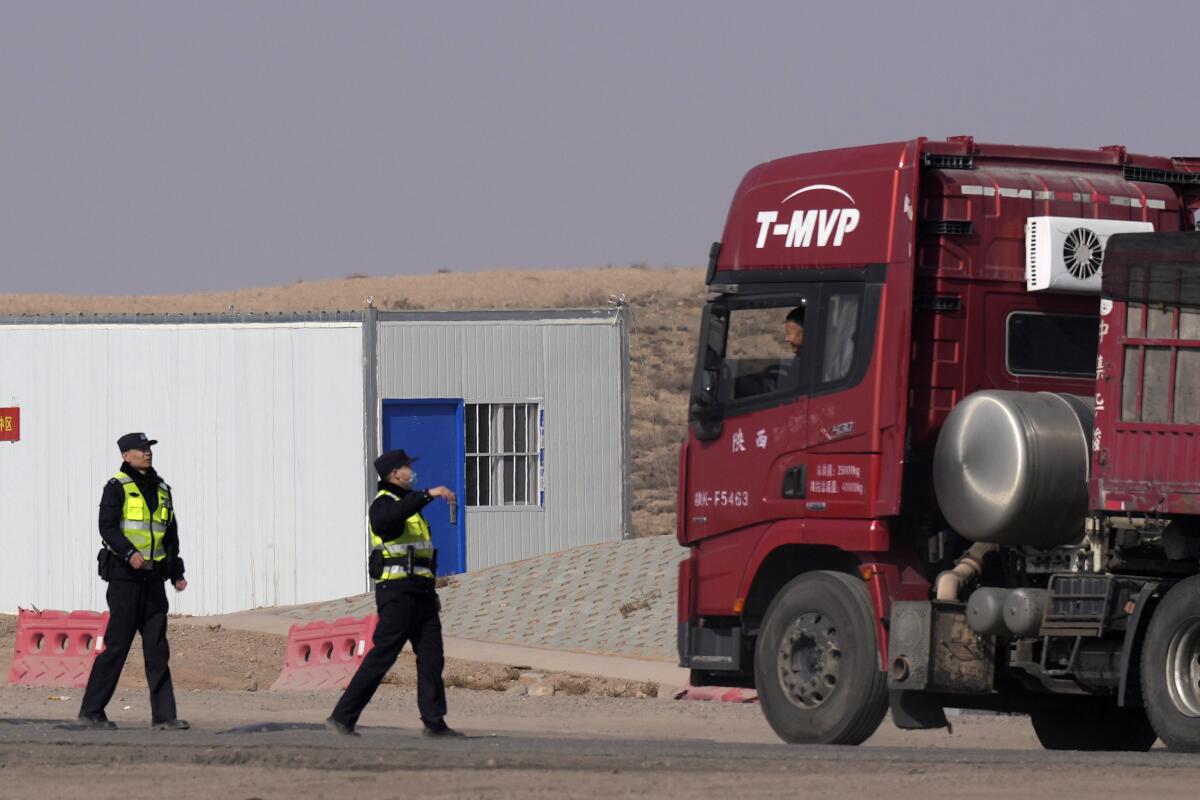 ALXA LEAGUE, China —
Work crews trying to find 47 people missing after a collapse of an open-pit mine in northern China have had to change their excavation methods to avoid causing more landslides, state media reported Friday.
Six people have been confirmed dead, and six injured people have been rescued at the mine in Inner Mongolia's Alxa League as of Thursday night, broadcaster CCTV said.
With a large collapsed area at the mine, the digging done by backhoes and bulldozers carries the risk of more collapses. The crews are excavating by layers and making trapezoid-shaped descents to carry on their search from both sides of the mountain in an adjustment of their rescue plans, the CCTV report said.
On Friday, heavy machines were seen working on the top level of the collapsed site, searching for trapped vehicles and missing persons.
"It is very challenging to conduct rescue work," Li Zhongzeng, head of Alxa League in Inner Mongolia, told CCTV. "Rescue workers from everywhere, including those in neighboring regions, are rushing to the site."
The initial cave-in of one of the pit's walls occurred about 1 p.m. Wednesday, burying people and mining trucks below in tons of rocks and sand. A brief video of the collapse posted on the website of the Beijing Times showed a massive wall of reddish dirt or sand crashing down a slope onto mining vehicles moving below.
Siddharth Kara's 'Cobalt Red' is a powerful exposé of cobalt mining, which powers green technologies even as it destroys Congo's poorest people.
A subsequent landslide about five hours later halted rescue efforts before they resumed Thursday.
CCTV said 1,160 rescuers were currently at the scene. They were seen using heavy machines, shovels and rescue dogs in their search for miners.
Wang Xiangxi, minister of emergency management, said authorities should investigate the disaster and hold accountable anyone who was responsible for it.
Authorities in the Inner Mongolia Autonomous Region also issued an urgent notice asking all districts to perform safety checks and eliminate any hidden risks, according to a local state newspaper. It said every level of the government must learn lessons from the collapse and start planning inspections on open-pit mines in the region immediately. Those who do not comply with the request and cause accidents will be held accountable, it added.
The unmarked graves in a forgotten West Virginia burial ground known locally as Little Egypt contain the remains of dozens of coal mine workers who died in a 1912 mine explosion.
On Friday, security remained tight at a checkpoint between Inner Mongolia and the neighboring region of Ningxia, with two police officers in yellow vests checking vehicles that were trying to get past what one of them called a "restricted" area.
Some trucks were turned away from proceeding farther, but others, including an emergency vehicle driving very fast with a siren blaring, as well as a truck carrying rescue supplies, were let in. The checkpoint appeared quieter compared with a day ago.
The company running the mine, Inner Mongolia Xinjing Coal Industry, was fined last year for multiple safety violations, including insecure routes, unsafe storage of volatile materials and lack of safety training, according to the Paper news website.
Inner Mongolia is a key region for mining of coal, minerals and rare earths that critics say has ravaged the region's landscape of mountains, grassy steppes and deserts.
China overwhelmingly relies on coal for power generation but has tried to cut the number of deadly mine accidents through a greater emphasis on safety and the closure of smaller operations that lacked necessary equipment.
Sign up for Essential California for news, features and recommendations from the L.A. Times and beyond in your inbox six days a week.
You may occasionally receive promotional content from the Los Angeles Times.