At Gabon talks, a debate on who pays to save world's forests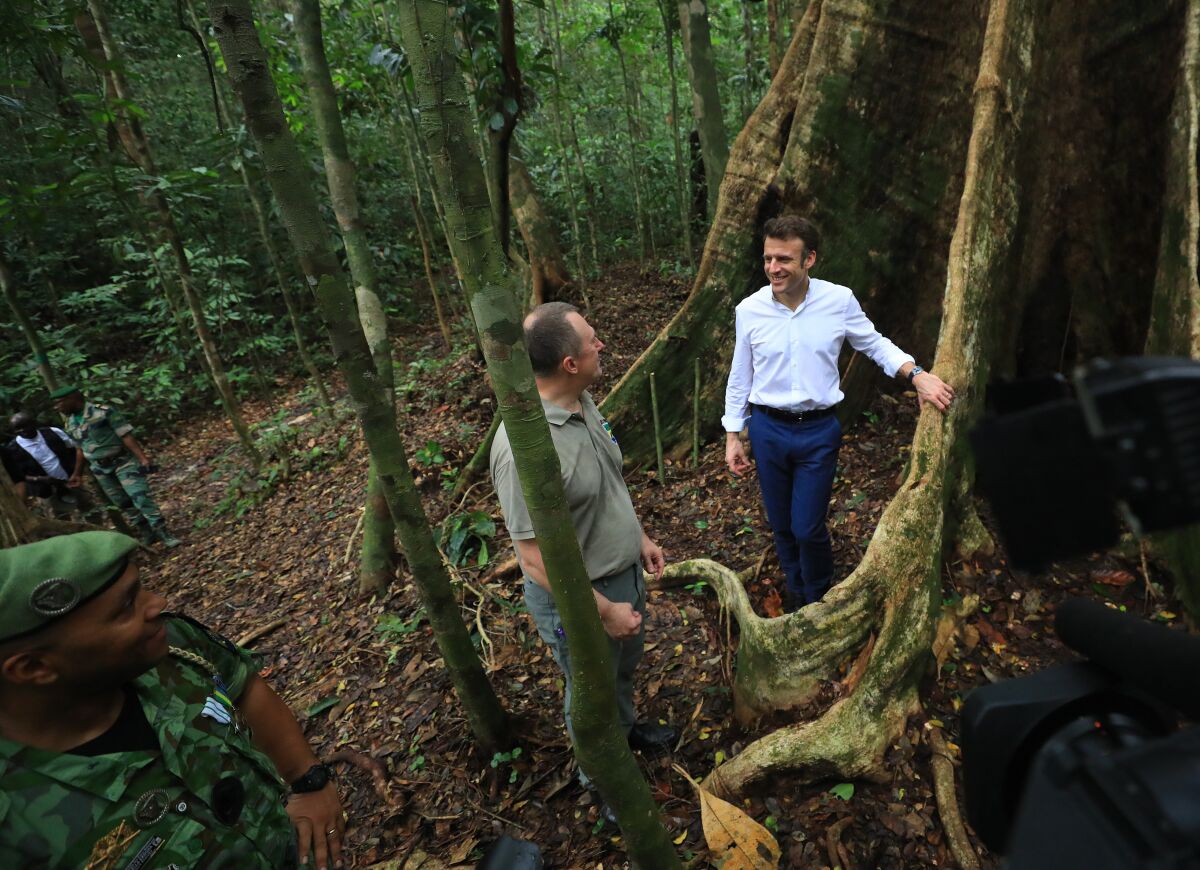 MOMBASA, Kenya —
A summit on how to protect the world's largest forests underway in Gabon is set to be dominated by the issue of who pays for the protection and reforesting of lands that are home to some of the world's most diverse species and contribute to limiting planet-warming emissions.
French President Emmanuel Macron and officials and environment ministers from around the world are attending the One Forest Summit this week in the capital, Libreville, to discuss maintaining the world's major rain forests.
But absence of leaders from key nations like presidents Luiz Inácio Lula da Silva of Brazil and Félix Tshisekedi of Congo is likely to dampen the summit's momentum.
Macron and his Gabonese counterpart, Ali Bongo Ondimba, hope the summit will nevertheless encourage solidarity among the world's three major tropical forests in the Amazon, the Congo Basin and in southeast Asia, where some countries say that protecting the forests needs to be profitable.
"Finance has not materialized at the necessary scale," said Simo Kilepa, Papua New Guinea's environment minister on Wednesday evening. "We need to be able to generate revenue from the protection of wild forests."
An appeals court is urged to reject the former president's "absolute immunity" claim and let lawsuits from injured Capitol police and Democratic lawmakers proceed.
The summit in Gabon follows disagreements over cash for protecting forests at the United Nations' biodiversity summit in Montreal last December. Congo made a last-minute objection to the now-approved framework, urging for rich, industrialized nations to pay lower-income countries to help protect forests. Congo's calls were dismissed on a legal technicality. The country is sending a reduced delegation to Gabon.
Key environmental groups led by Global Witness are also piling pressure on France to exert its influence and rein in major European banks accused of financing deforestation.
"It's incredibly disheartening to still see that French and other EU-based financial institutions are continuing to pump millions of euros into the decimation of climate critical forests," said Giulia Bondi, a senior European Union forests campaigner at Global Witness. Previously, Global Witness found that France's asset managers hold $1 billion in forest-risk bonds and shares.
A report released on the margins of the summit also called for funding to protect nature and safeguard Indigenous peoples and local communities. The Global Environment Facility and the International Institute for Environment and Development suggested that "biodiversity-positive carbon credits," where corporations and governments are paid for conservation efforts, could boost ambitions.
In Africa, protected areas and forests continue to bear increasing pressure from the competing interests of economic infrastructure development needs, environmental protection demands and climate action.
"Biodiversity and climate change are essentially one and the same problem," said marine scientist David Obura. "They must be resolved together and the financial flows to each must be integrated and made dual-purpose."
Must-read stories from the L.A. Times
Get the day's top news with our Today's Headlines newsletter, sent every weekday morning.
You may occasionally receive promotional content from the Los Angeles Times.