Belarus sentences exiled opposition leader Sviatlana Tsikhanouskaya to 15 years in prison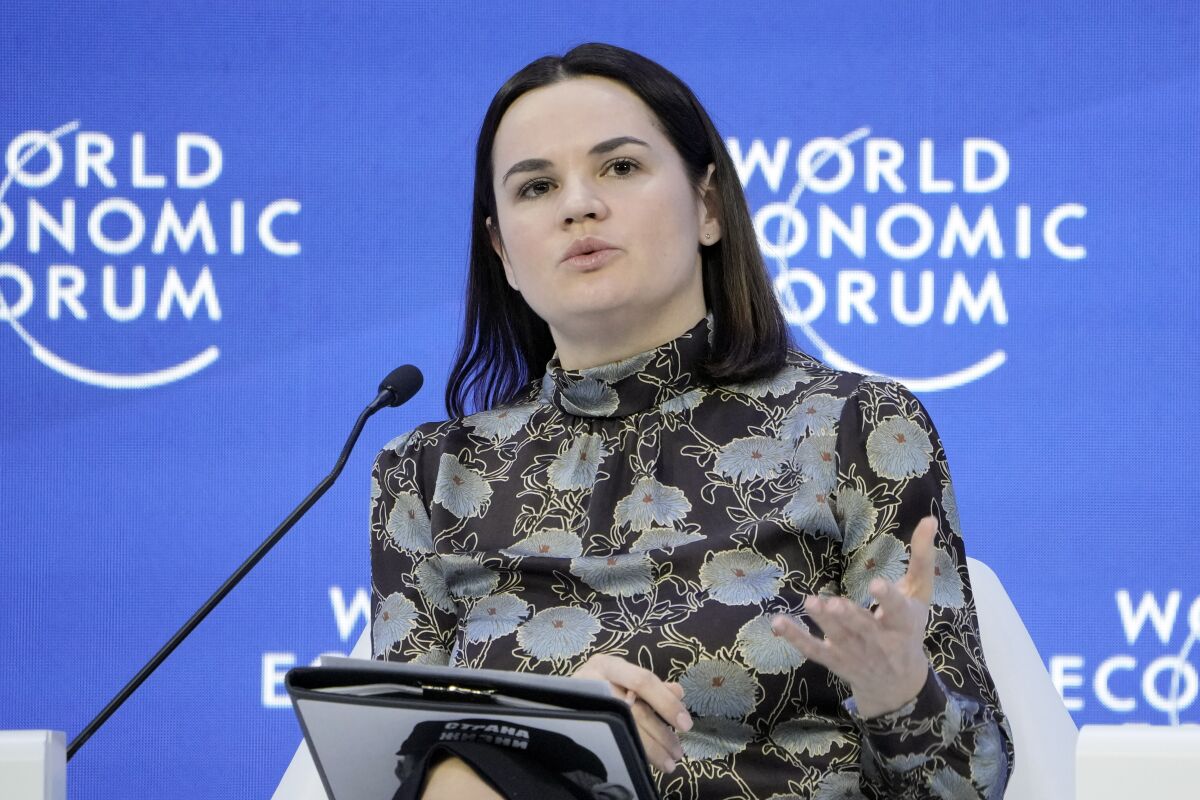 TALLINN, Estonia —
A court in Belarus on Monday sentenced exiled opposition leader Sviatlana Tsikhanouskaya to 15 years in prison after a trial in absentia on charges including conspiring to overthrow the government, the latest move in a months-long effort by Belarusian President Alexander Lukashenko to suppress dissent.
Tsikhanouskaya ran against Lukashenko in an August 2020 election that handed him his sixth term in office and that was widely seen as rigged. She called her conviction and sentence an act of vengeance by Belarusian authorities and vowed to continue to "fight for freedom."
The results of the vote triggered the largest protests in the country's history. Lukashenko unleashed a brutal crackdown on demonstrators, accusing the opposition of plotting to overthrow the government, and Tsikhnouskaya left for Lithuania under pressure.
Other key politicians and activists were either arrested or pressured to leave the country.
Tsikhanouskaya and four other opposition figures were tried in absentia in the Belarusian capital, Minsk. Photos from the courtroom, released by Belarus' state news agency Belta, showed an empty defendants' cage. The charges against them also included creating and leading an extremist group, inciting hatred and harming national security.
Tsikhanouskaya told the Associated Press in an interview that her court-appointed lawyer hasn't been in touch with her once during the trial and has not responded to her requests to review the case files.
Ales Bialiatski and three other human rights advocates are convicted of financing actions violating public order and smuggling in Belarus.
She said that the legal and judicial systems in Belarus no longer work and that the state "has turned into one big KGB."
"The regime takes revenge on me and all Belarusians. It takes revenge for the fact that we chose freedom in 2020, for not resigning, not giving in, but continuing to fight," Tsikhanouskaya said.
"If Lukashenko could, he would have jailed everyone," she added.
United Nations spokesman Stephane Dujarric, asked whether Secretary-General Antonio Guterres had any reaction to Tsikhanouskaya's sentence, said: "This is yet another example of the concern we've expressed of the shrinking space for civil society and for human rights activists in Belarus."
On the Belarusian border, Ukrainian drones monitor a long expanse of marsh and woodland for a possible Russian offensive from the north.
In addition to the prison sentence, Tsikhanouskaya was ordered to pay a fine of about $11,000. Another exiled opposition politician, Pavel Latushka, was sentenced to 18 years in prison. Latushka, who once served as Belarus' minister of culture and then as ambassador in several European nations, was also barred for five years from holding public office.
Maryya Maroz, Volha Kavalkova and Siarhei Dylevski were handed 12-year sentences.
All of them left Belarus after the protests erupted in August 2020. The demonstrations were the largest and the most sustained since Lukashenko assumed office in 1994. He has run the country with an iron fist, and his government unleashed a brutal crackdown against the protesters, detaining more than 35,000 and beating thousands.
Ales Bialiatski, the country's most prominent human rights advocate and the 2022 Nobel Peace Prize laureate, was among those arrested. He was sentenced to 10 years in prison last week.
Must-read stories from the L.A. Times
Get the day's top news with our Today's Headlines newsletter, sent every weekday morning.
You may occasionally receive promotional content from the Los Angeles Times.
Tsikhanouskaya ran against Lukashenko in her husband's stead. Siarhei Tsikhanouski, a popular opposition politician, was arrested in the middle of his campaign in 2020 and has been sentenced to 18 years in prison.
Last month, a court in Belarus added 18 more months to Tsikhanouski's sentence over alleged violations of prison regulations.
Tsikhanouski maintained his innocence during his trial, which was held behind closed doors, according to Belarus' most prominent rights group, the Viasna human rights center. For two months, the politician was held "in inhumane conditions" in an isolation cell, the group said.
Viasna has counted a total of 1,456 political prisoners in Belarus.
Multiple drones target Kyiv in an overnight attack only three days after what Ukraine described as one of Russia's biggest assaults on the capital.
Tsikhanouskaya said that repression in Belarus is intensifying and that every day 15 to 20 people in the country are being jailed, which "shows how little confidence the regime has in itself."
"If Lukashenko thinks that this jailing regime will stop me, will stop the Belarusians, [he] is mistaken — we will continue to fight for freedom all the more actively," she said.
Must-read stories from the L.A. Times
Get the day's top news with our Today's Headlines newsletter, sent every weekday morning.
You may occasionally receive promotional content from the Los Angeles Times.