Austin makes unannounced visit to Baghdad before 20th anniversary of invasion of Iraq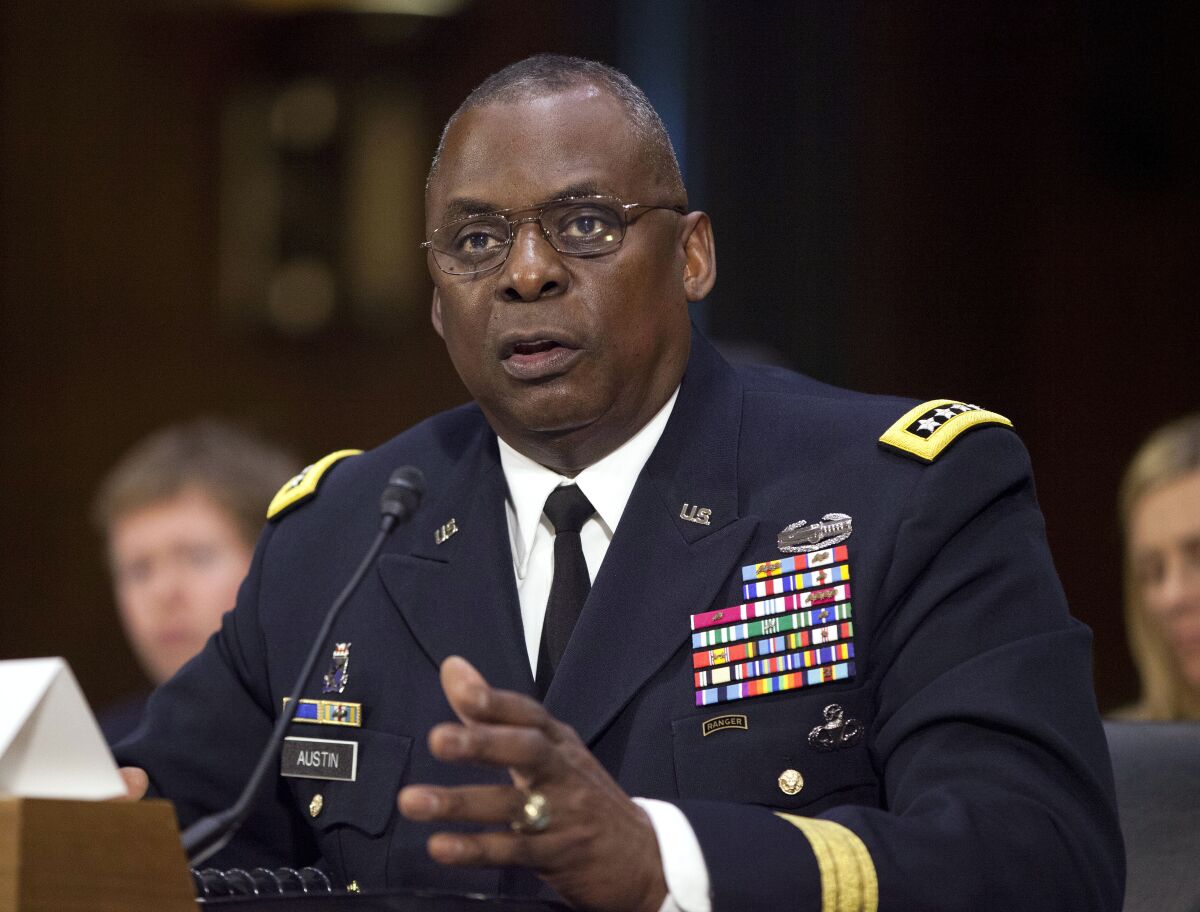 BAGHDAD —
U.S. Defense Secretary Lloyd J. Austin III made an unannounced visit Tuesday to the Iraqi capital, where he vowed to continue the fight against Islamic State until the extremists are defeated.
Austin, whose visit came just days before the 20th anniversary of the U.S.-led invasion that ousted Iraqi dictator Saddam Hussein, said in a statement later that he held talks with Iraqi Prime Minister Mohammed Shia Sudani and Defense Minister Thabet Muhammad Abbasi.
Austin was greeted on touchdown in Baghdad by Maj. Gen. Matthew McFarlane, the U.S. commander in Iraq, which is home to hundreds of American troops helping in the fight against the militant Islamic State group.
"We'll continue working to accomplish this mission together. Through the global coalition to defeat Daesh, we liberated more than 50,000 square kilometers [about 19,300 square miles] from Daesh and freed more than 4.5 million Iraqis from their cruel grip," Austin said, using an Arabic name for Islamic State.
Austin also said that U.S. forces were ready to remain in Iraq at the invitation of its government, adding that these forces were operating in a non-combat and advisory role in support of the "Iraqi-led fight against terrorism."
"This is a critical mission, and we're proud to support our Iraqi partners," said Austin, one of the most senior Biden administration officials to visit Iraq in recent years.
For much of the world, Iraq is a distant tragedy. But for its children raised amid chaos and war, that legacy has defined their generation.
Since the U.S.-led invasion in 2003 that removed Hussein from power, Iraq has been a point of friction between the United States and Iran. Tehran has widely expanded its influence in Iraq over the last 20 years.
"I'm here to reaffirm the U.S.-Iraq strategic partnership as we move toward a more secure, stable, and sovereign Iraq," Austin tweeted upon arrival.
"We continue to believe that Iraq's greater integration with its Arab partners in the region will deliver increased stability, security and prosperity, and it will pay dividends not only for Iraqi citizens, but for all people of the region," Austin said.
Despite their defeat in Iraq in 2017, Islamis State militants and their sleeper cells are still launching attacks in the country, as well as in neighboring Syria. The group has killed and wounded dozens of Iraqi troops over the past months.
An archaeological mission has found the remnants of a 5,000-year-old restaurant or tavern in the ancient city of Lagash, in present-day southern Iraq.
In a related issue, the U.S. has been urging countries around the world to repatriate their citizens from Al Hol camp in northeast Syria, home to tens of thousands of Syrians and Iraqis crowded into tents. Nearly 20,000 of them are children; most of the rest are women, wives and widows of Islamic State fighters.
A separate, heavily guarded section of the camp known as the annex houses an additional 10,000 people — including 2,000 women from 57 other countries, considered the most diehard Islamic State supporters, along with about 8,000 of their children.
Iraq has repatriated more than 500 women and children from Al Hol over the last few weeks.
"Military action alone won't ensure the enduring defeat of Daesh," Austin added. "So let me recognize the Iraqi government's ongoing repatriations of Iraqi citizens from northeast Syria."
Ancient humans are believed to have first begun land cultivation in Iraq. Their modern-day counterparts are giving it up.
Reading out a statement to reporters, Austin said all countries with citizens in the detention facilities and displaced persons camps in northeast Syria "must take similar steps." He said the U.S. stood ready to continue supporting Iraq and all countries working to repatriate their citizens.
Austin did not take questions.
"We are focused on the mission of defeating Daesh, and we are here for no other purpose. Any threats or attacks on our forces only undermine that mission," Austin said, apparently referring to Iran-backed fighters who were blamed for attacks on facilities housing U.S. troops in Iraq.
Austin said that he spoke with Iraqi leaders about the long-term vision "for our defense partnership with Iraq, which will outlast Daesh."
Must-read stories from the L.A. Times
Get the day's top news with our Today's Headlines newsletter, sent every weekday morning.
You may occasionally receive promotional content from the Los Angeles Times.