Hundreds dead as Cyclone Freddy continues to slam Malawi and Mozambique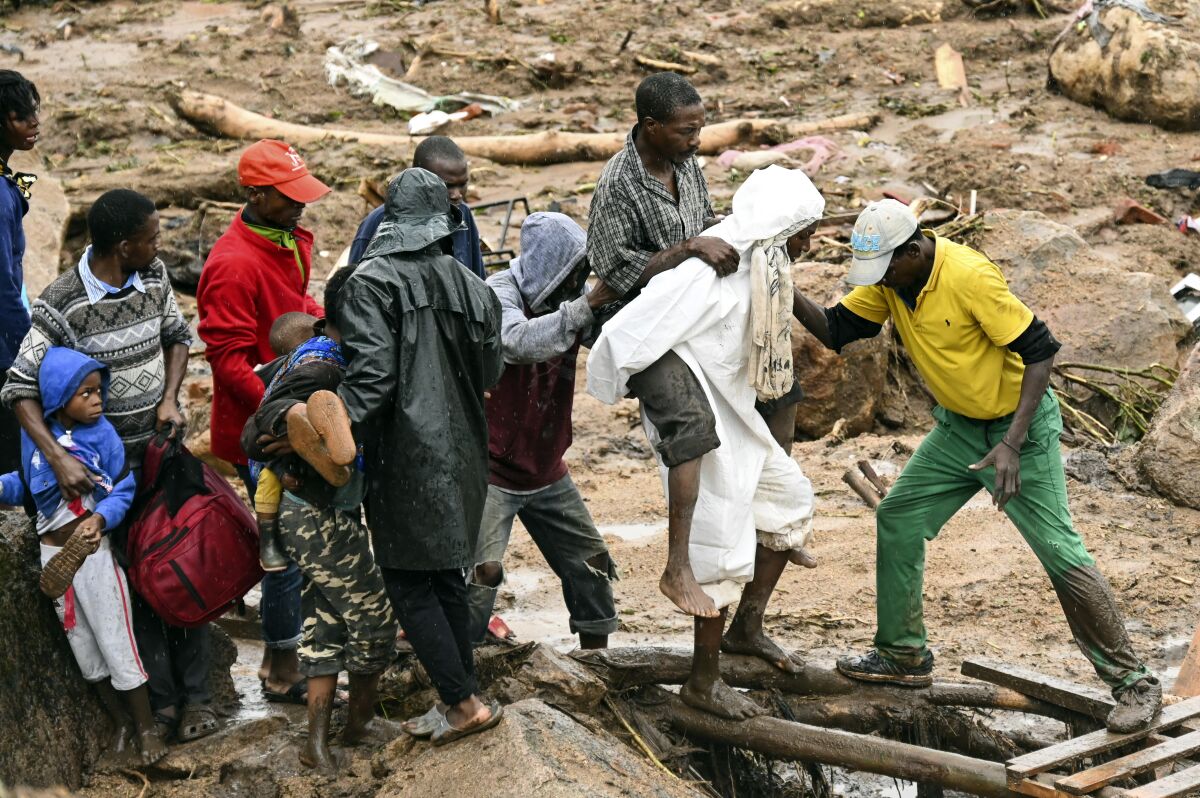 BLANTYRE, Malawi —
The Tropical Cyclone Freddy, which is devastating southern Africa in a rare second landfall, has killed at least 216 people in Malawi and Mozambique since Saturday night, with the death toll expected to rise, authorities said Tuesday.
Heavy rains that triggered floods and mudslides have killed 199 people in Malawi, authorities said. President Lazarus Chakwera declared a "state of disaster" in the country's southern region and the now-ravaged commercial capital, Blantyre. Some 19,000 people in the south of the nation have been displaced, according to Malawi's disaster-management directorate.
"Power and communications are down in many affected areas, hindering aid operations," Stephane Dujarric, the United Nations secretary-general's spokesperson, said at a press briefing Tuesday afternoon. The most affected regions remain inaccessible, so the full extent of the damage remains unknown.
Reports from Mozambique's disaster institute Tuesday confirmed 17 people have died in the country and 1,900 homes have been destroyed in coastal Zambezia province. Tens of thousands of people are still holed up in storm shelters and accommodation centers.
Freddy will continue to thump central Mozambique and southern Malawi with extreme rainfall before it exits back to the sea late Wednesday afternoon, the U.N.'s meteorological center on the island of Réunion projected.
Human rights group Amnesty International has called on the international community to mobilize resources and boost aid and rescue efforts in the two countries. Relief efforts in the nations are strained and were already battling a cholera outbreak when Freddy struck.
"It is clear that the official death toll will rise in both Malawi and Mozambique, as will reports of wrecked infrastructure," said Tigere Chagutah, Amnesty International's eastern and southern Africa director. "The affected countries must also be compensated for loss and damage caused by the cyclone."
The Pajaro River levee failure points to hazards that California has yet to address in many areas where communities are vulnerable, experts say.
At November's global climate change conference, nations agreed to compensate countries affected by extreme weather exacerbated by human-caused climate change. Cyclones are wetter, more frequent and more intense as the planet heats up, scientists say.
"Mozambique and Malawi are among the countries least responsible for climate change, yet they are facing the full force of storms that are intensifying due to global warming driven mostly by carbon emissions from the world's richest nations," Chagutah said.
Cyclone Freddy has been causing destruction in southern Africa since late February. It also pummeled the island states of Madagascar and Réunion last month as it traversed the ocean.
The cyclone has intensified a record seven times and has the highest recorded accumulated cyclone energy, or ACE, which is a measurement of how much energy a cyclone has released over time. Freddy has recorded more energy over its lifetime than an entire typical U.S. hurricane season.
Freddy first developed near Australia in early February and is set to be the longest-ever tropical cyclone. The U.N.'s weather agency has convened an expert panel to determine whether it has broken the record of 31 days set by Hurricane John in 1994.
Must-read stories from the L.A. Times
Get the day's top news with our Today's Headlines newsletter, sent every weekday morning.
You may occasionally receive promotional content from the Los Angeles Times.