Chinese businessman arrested in New York in a $1-billion fraud conspiracy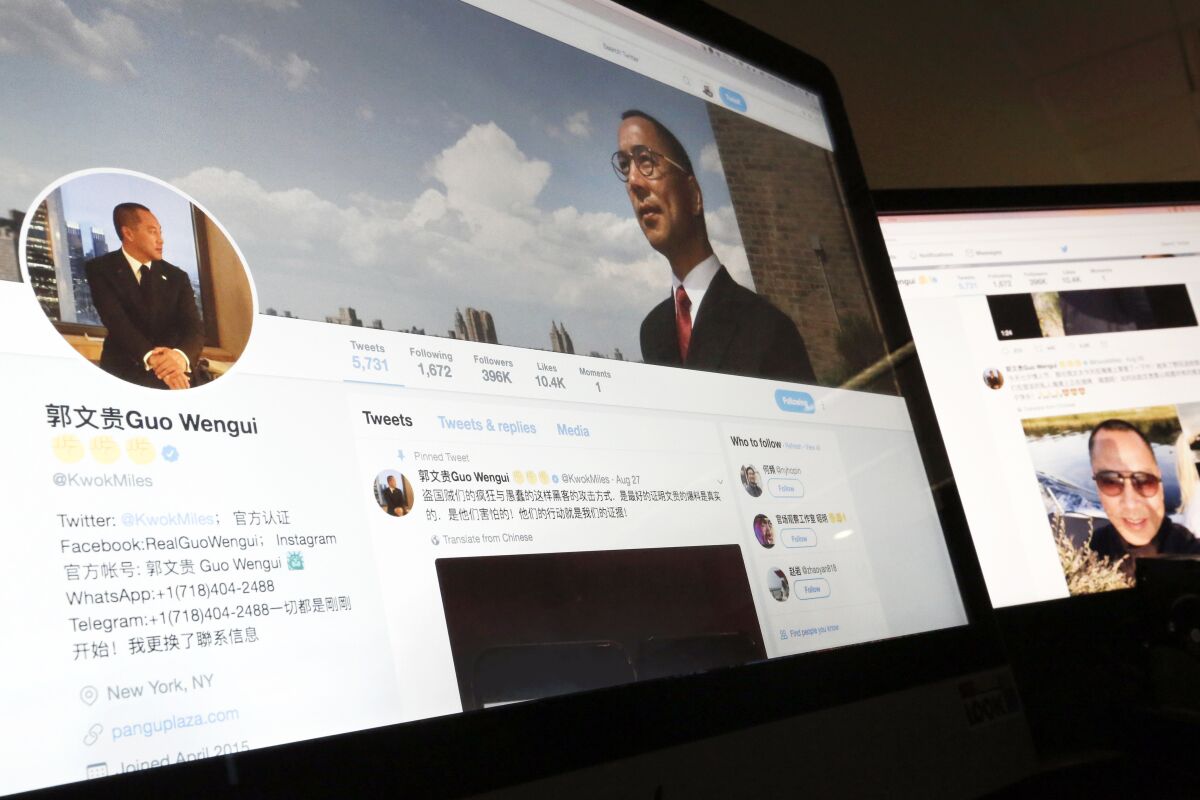 NEW YORK —
A business tycoon, long sought by the government of China and known for cultivating ties to Trump administration figures, including Stephen K. Bannon, was arrested Wednesday in New York on charges that he oversaw a $1-billion fraud conspiracy.
Guo Wengui, 54, and his financier, Kin Ming Je, faced an indictment in federal court in Manhattan charging them with various crimes, including wire, securities and bank fraud. Guo was charged in court papers under the name Ho Wan Kwok.
U.S. prosecutors said the indictment stemmed from a complex scheme, in which Guo lied to hundreds of thousands of online followers in the United States and around the world before misappropriating hundreds of millions of dollars.
Kin Ming Je, 55, has not been arrested. Guo was expected to appear in court Wednesday. His attorney did not immediately comment.
The top federal prosecutor in Manhattan, U.S. Atty. Damian Williams, said in a release that Guo was charged with "lining his pockets with the money he stole, including buying himself, and his close relatives, a 50,000-square-foot mansion, a $3.5-million Ferrari, and even two $36,000 mattresses, and financing a $37-million luxury yacht."
Guo was once believed to be among the richest people in China. He left in 2014 during an anti-corruption crackdown led by President Xi Jinping that ensnared people close to Guo, including a top intelligence official. Chinese authorities have accused Guo of rape, kidnapping, bribery and other offenses.
Chinese leader Xi Jinping was awarded a third five-year term as the nation's president Friday, putting him on track to stay in power for life.
Since then, he has been highly sought by his nation's government, relying on the U.S. for protection.
While Guo lived in New York as a fugitive, he became an outspoken critic of China's ruling Communist Party and developed a close relationship with Bannon, President Trump's former political strategist. Guo and Bannon, in 2020, announced the founding of a joint initiative they said was aimed at overthrowing the Chinese government.
Guo has long argued the allegations against him in China were false, saying they were intended to punish him for publicly outing corruption there and criticizing leading figures in the Communist Party.
For years, his case was the subject of a debate over whether China was abusing international law enforcement cooperation efforts, including Interpol, in seeking his arrest. He sought political asylum in the U.S., saying he feared that if he were forced to leave the country, it might lead to his arrest in a nation with less power to resist Chinese demands.
Stephen K. Bannon, a longtime ally of former President Trump, said Tuesday that he expects to be charged soon in a state criminal case in New York.
It was on Guo's 150-foot yacht that Bannon was once arrested on federal charges. Just before he left office, Trump made the case against Bannon dissolve with a pardon.
U.S. prosecutors accuse Guo of lying to his victims, promising them outsized returns if they invested or fed money to his media company, GTV Media Group, his so-called Himalaya Farm Alliance, G'CLUBS, and the Himalaya Exchange.
Attorney Williams said that between September 2022 and this month, the U.S. government has seized approximately $634 million from 21 bank accounts, representing the majority of the proceeds of Guo's alleged fraud.
Williams said law enforcement on Wednesday also seized assets that were purchased with proceeds of the alleged fraud, including a Lamborghini Aventador SVJ Roadster.
The Securities and Exchange Commission also brought civil charges against Guo on Wednesday, saying in a Manhattan federal court filing that Guo had led others in committing multiple frauds since April 2020.
The SEC said Guo targeted retail investors through online social media posts and videos, deceiving them with lies such as the claim that a crypto asset security called "H-Coin" was backed by gold reserves.
The SEC said Guo and Je raised about $452 million through an unregistered offering of GTV common stock from April 2020 to June 2020, claiming they would "build the most popular and safest social media and transaction platform independent of the Chinese government's censorship and monitoring, allowing the people of China and the world to realize the freedom of speech and trade."
Must-read stories from the L.A. Times
Get the day's top news with our Today's Headlines newsletter, sent every weekday morning.
You may occasionally receive promotional content from the Los Angeles Times.