U.S. aid worker kidnapped in Niger is released after 6 years in captivity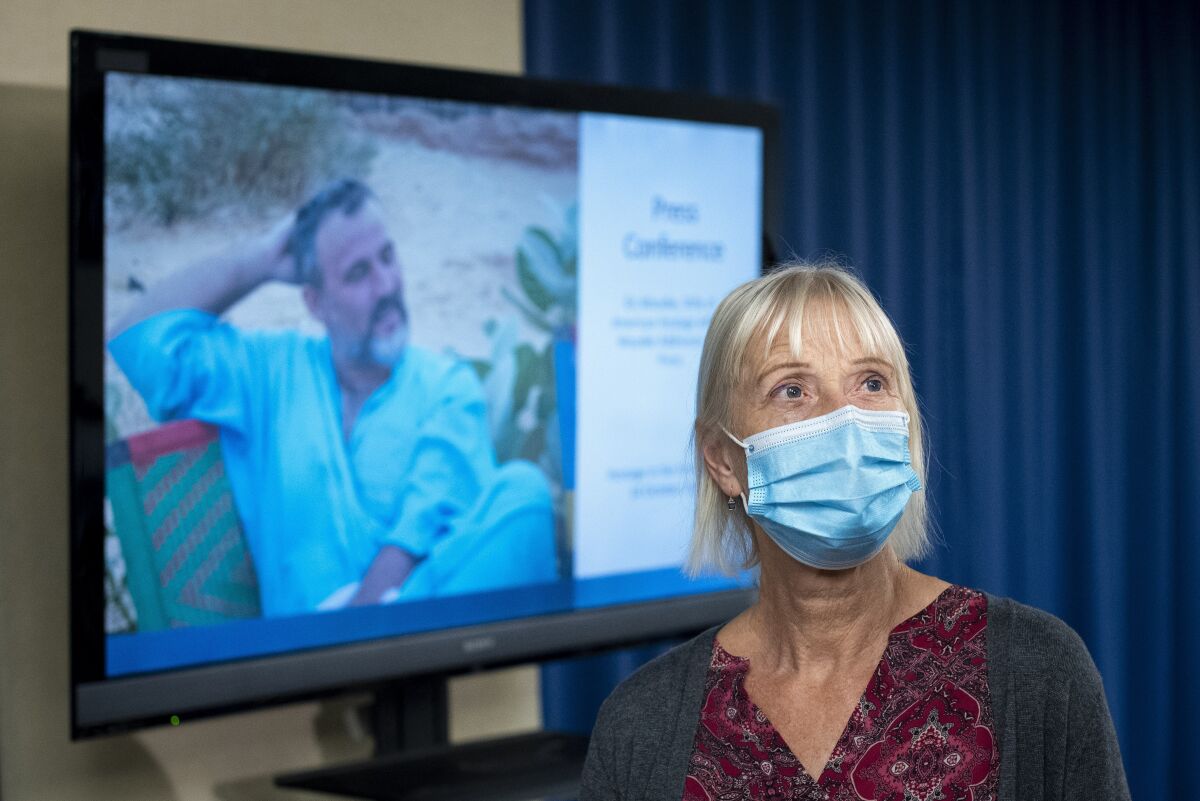 WASHINGTON —
An American aid worker who was kidnapped in the West African nation of Niger more than six years ago has been released from custody, the Biden administration said Monday.
Jeffery Woodke was kidnapped from his home in Abalak, Niger, in October 2016 by men who ambushed and killed his guards and forced him at gunpoint into their truck, where he was driven north toward Mali's border. He had been doing humanitarian aid work in Niger for more than 30 years.
A senior Biden administration official who briefed reporters Monday on condition of anonymity described the release as the culmination of years of efforts, but declined to say what exactly led to him being freed from captivity or where he is now.
The official said no ransom was paid and no concession was made to Woodke's captors.
"I'm gratified & relieved to see the release of U.S. hostage Jeff Woodke after over 6 years in captivity," U.S. national security advisor Jake Sullivan tweeted. "The U.S. thanks Niger for its help in bringing him home to all who miss & love him. I thank so many across our government who've worked tirelessly toward securing his freedom."
Woodke's wife, Els Woodke, said at a 2021 news conference in Washington that her husband's captors had made a multimillion-dollar ransom demand for his release. She said at the time that she believed her husband was in the custody of a West African affiliate of Al Qaeda known as JNIM and, at the news conference, pleaded with the group's leader to release him.
Russia has released a U.S. Navy veteran who crossed the border from Poland into the Russian exclave of Kaliningrad last year and was held there for nine months.
In a statement Monday released through a family spokesman, Els Woodke said she had not yet had the chance to speak with her husband but had been told he was in good condition.
"She praises God for answering the prayers of Christians everywhere who have prayed for this outcome," the statement said.
The Biden administration official did not identify the specific group believed responsible for keeping Woodke in captivity but said there were a number of overlapping and intersecting hostage-holding networks in that part of West Africa. Though Woodke was taken in Niger, officials believe he has also been moved over the years into Mali and Burkina Faso.
A U.S. official credited the government of Niger for helping facilitate Woodke's release, and said that Woodke was freed outside Niger and in the area of Mali and Burkina Faso.
Must-read stories from the L.A. Times
Get the day's top news with our Today's Headlines newsletter, sent every weekday morning.
You may occasionally receive promotional content from the Los Angeles Times.