Rwanda says Rusesabagina of 'Hotel Rwanda' fame to be freed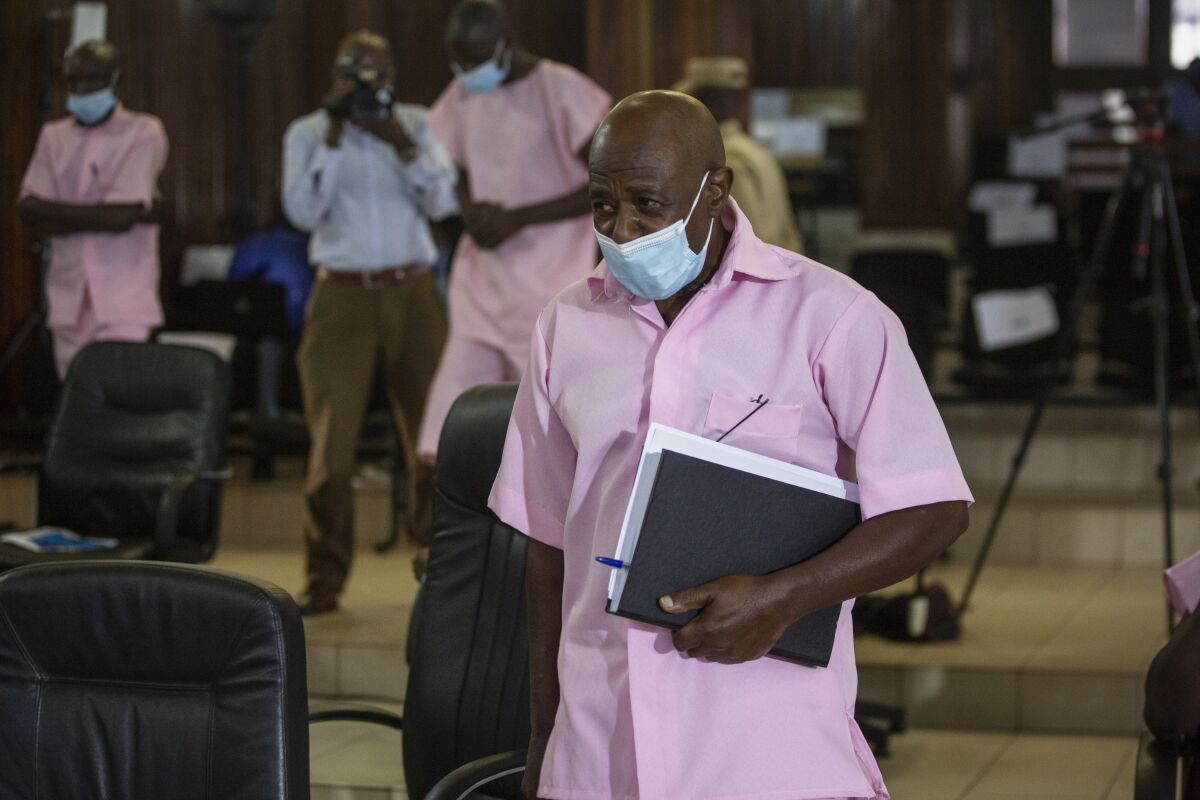 KIGALI, Rwanda —
Rwanda's government has commuted the 25-year sentence of Paul Rusesabagina, who inspired the film "Hotel Rwanda" for saving hundreds of countrymen from genocide but was convicted of terrorism offenses years later in a widely criticized trial.
Government spokeswoman Yolande Makolo told the Associated Press on Friday that the presidential order was issued after a request for clemency on behalf of Rusesabagina, a 68-year-old U.S. resident and Belgian citizen. Senior U.S. officials said Rusesabagina arrived late Friday at the home of the Qatari ambassador in the Rwandan capital of Kigali and was expected to leave the country in the coming days.
President Biden hailed the news, saying, "Paul's family is eager to welcome him back to the United States, and I share their joy at today's good news."
Nineteen others also had their sentences commuted. Under Rwandan law, commutation doesn't "extinguish" the conviction, Makolo added.
"Rwanda notes the constructive role of the U.S. government in creating conditions for dialogue on this issue, as well as the facilitation provided by the state of Qatar," she said. Rwandan President Paul Kagame earlier this month said discussions were underway on resolving the issue.
Qatar Foreign Ministry spokesman Majid Al Ansari said in a statement that "the procedure for [Rusesabagina's] transfer to the state of Qatar is underway and he will then head to the United States of America. This issue was discussed during meetings that brought together Qatari and Rwandan officials at the highest levels."
On his trip through Africa last week, Secretary of State Antony J. Blinken told reporters that the U.S. has 'been clear about our concerns related to Paul Rusesabagina's trial and conviction, particularly the lack of fair-trial guarantees.'
The case had been described by the U.S. and others as unfair. Rusesabagina disappeared in 2020 during a visit to Dubai in the United Arab Emirates and appeared days later in Rwanda in handcuffs. His family alleged he was kidnapped and taken to Rwanda against his will to stand trial.
He was convicted on eight charges including membership in a terrorist group, murder and abduction. But the circumstances surrounding his arrest, his limited access to an independent legal team and his reported worsening health drew international concern.
Rusesabagina has asserted that his arrest was in response to his criticism of Kagame over alleged human rights abuses. Kagame's government has repeatedly denied targeting dissenting voices with arrests and extrajudicial killings.
In a signed letter to Kagame dated Oct. 14, Rusesabagina wrote that "if I am granted a pardon and released, I understand fully that I will spend the remainder of my days in the United States in quiet reflection. I can assure you through this letter that I hold no personal or political ambitions otherwise. I will leave questions regarding Rwandan politics behind me."
A court in Rwanda has convicted the man who inspired "Hotel Rwanda" of terror-related offenses.
Rusesabagina was credited with sheltering more than 1,000 ethnic Tutsis at the hotel he managed during Rwanda's 1994 genocide in which more than 800,000 Tutsis and Hutus who tried to protect them were killed. He received the U.S. Presidential Medal of Freedom for his efforts.
He became a public critic of Kagame and left Rwanda in 1996, first living in Belgium and then the U.S.
Human Rights Watch said he had been "forcibly disappeared" and taken to Rwanda. But the court there ruled he wasn't kidnapped when he was tricked into boarding a chartered flight. Rwanda's government asserted that Rusesabagina had been going to Burundi to coordinate with armed groups based there and in Congo.
Rusesabagina was accused of supporting the armed wing of his opposition political platform, the Rwandan Movement for Democratic Change. The armed group claimed some responsibility for attacks in 2018 and 2019 in southern Rwanda in which nine Rwandans died.
Rusesabagina testified at trial that he helped to form the armed group to assist refugees but said he never supported violence — and sought to distance himself from its deadly attacks.
Paul Rusesabagina disappeared in August during a visit to Dubai and was paraded in handcuffs days later in Rwanda.
Rusesabagina also has said he was gagged and tortured before he was jailed, but Rwandan authorities denied that. His attorney, Felix Rudakemwa, asserted that Rusesabagina's legal papers were confiscated by prison authorities.
After his sentence, Belgium's then-foreign minister, Sophie Wilmès, said that "it must be concluded that Mr. Rusesabagina has not been given a fair and equitable trial."
Last year, U.S. Secretary of State Antony J. Blinken met with Kagame in Rwanda and discussed the case. "We still have conviction that the trial wasn't fair," Blinken told journalists.
"Secretary Blinken's visit to Kigali in August, being the senior-most official to visit Rwanda, played a key role in getting us closer to Paul's eventual release," said a U.S. official who spoke on condition of anonymity to discuss private diplomatic conversations. Blinken and Kagame "spoke a great deal about the road map to Paul's eventual release," the official said.
As the news spread Friday, Rusesabagina's family in a statement said that "we are pleased to hear the news about Paul's release. The family is hopeful to reunite with him soon."
Anna reported from Nairobi. Lujain Jo in Doha, Qatar, and Matt Lee in Washington contributed.
Must-read stories from the L.A. Times
Get the day's top news with our Today's Headlines newsletter, sent every weekday morning.
You may occasionally receive promotional content from the Los Angeles Times.