Russia's Wagner militia says it's handing control of Bakhmut over to Moscow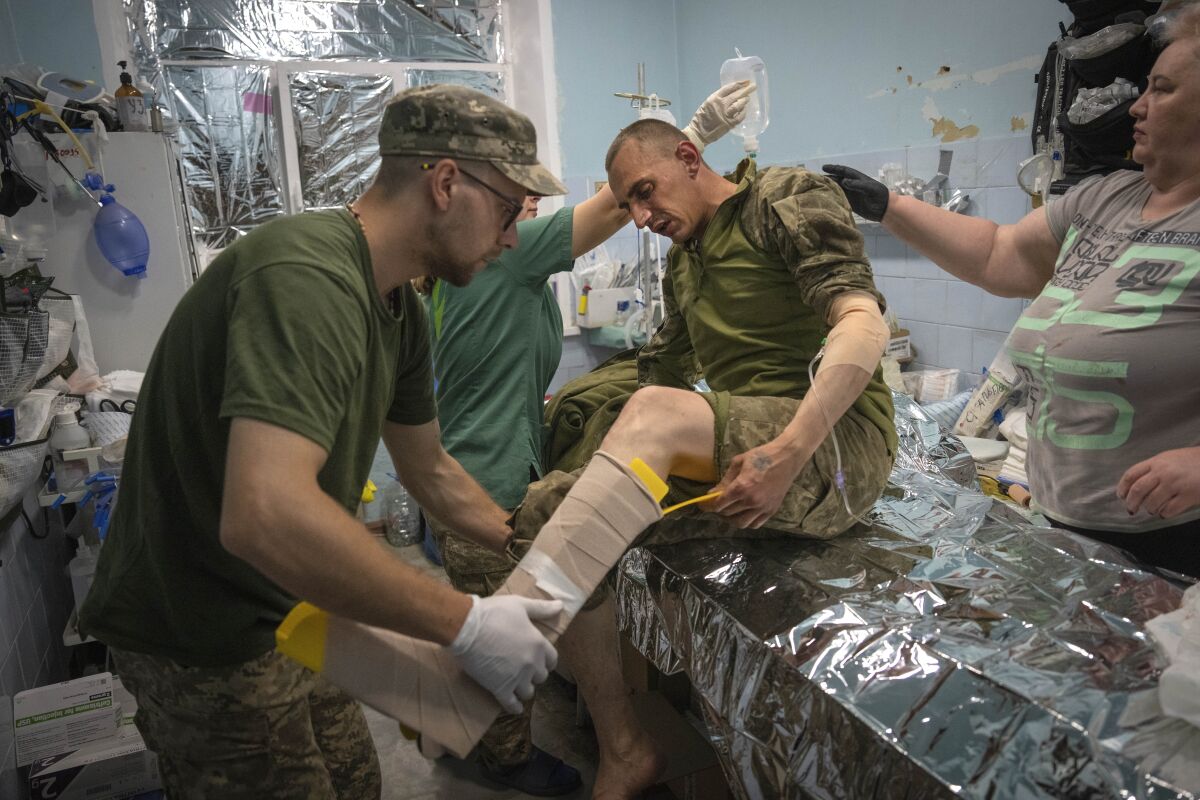 KYIV, Ukraine —
The head of a Russian private army claimed Thursday that his forces have started pulling out of Bakhmut, in eastern Ukraine, and handing control over to the Russian military, days after he said his fighters had captured the ruined city.
Yevgeny Prigozhin, a convicted criminal and the Wagner Group's millionaire owner, who has longtime links to Russian President Vladimir Putin, said in a video on the messaging app Telegram that the handover would be completed by June 1. Russia's Defense Ministry did not provide confirmation, and it wasn't possible to independently verify whether Wagner's pullout from the bombed-out city has begun after a nine-month battle that killed tens of thousands of people. Prigozhin said his troops would now rest in camps, repair equipment and await further orders.
Ukraine's deputy defense minister said Thursday that Wagner units have been replaced with regular troops in the suburbs but that the militia's fighters remain inside the city. Ukrainian forces still have a foothold in the southwestern outskirts, Deputy Defense Minister Hanna Maliar said.
Prigozhin's proclaimed Bakhmut triumph delivered a badly needed victory for Putin, whose invasion of Ukraine in February 2022 has lost momentum and now faces the possibility of a Ukrainian counteroffensive using advanced weapons supplied by Kyiv's Western allies.
Top Ukrainian presidential advisor Mykhailo Podolyak said Thursday that Kyiv's counteroffensive was underway, cautioning that it should not be anticipated as a "single event" starting "at a specific hour of a specific day."
The more meaningful gauge of success for Ukrainian forces has been their ability to keep the Russians bogged down in the prolonged battle for Bakhmut.
Writing on Twitter, Podolyak said that "dozens of different actions to destroy Russian occupation forces" had "already been taking place yesterday, are taking place today and will continue tomorrow."
Prigozhin has a long-running feud with the Russian military leadership, dating to Wagner's creation in 2014. He has also built a reputation for inflammatory — and often unverifiable — headline-grabbing statements from which he later backtracks.
During the 15-month war in Ukraine, he has repeatedly and publicly chastised Russia's military leaders, accusing them of incompetence and failure to properly provision his troops as they spearheaded the battle for Bakhmut, and failure to credit his forces for their successes and sacrifices.
Wagner's involvement in the capture of Bakhmut has added to Prigozhin's standing, which he has used to set forth his personal views about the conduct of the war.
Russian private military contractor Wagner is busy boosting its brand as its fighters try to subdue Ukraine, trading secrecy for war propaganda movies.
"Prigozhin is … using the perception that Wagner is responsible for the capture of Bakhmut to advocate for a preposterous level of influence over the Russian war effort in Ukraine," said the Institute for the Study of War, a Washington think tank.
His frequent critical commentary about Russia's military performance is uncommon in the Kremlin's tightly controlled political system, in which only Putin can usually air such criticism.
Seth Jones, director of the international security program at the Center for Strategic and International Studies, said Prigozhin appears to be pressuring the Russian Defense Ministry to take a more active role and responsibility in Bakhmut, but he questioned whether regular troops are capable of taking over from Wagner.
"If you pull those forces out of Bakhmut, you lose your entire sort of first line of offensive and then defensive operations, because the Russians aren't going to use — haven't used — their seasoned military forces" for major advances, he said. "You don't want to waste well-trained capable forces in areas where they're likely to get killed. So removing them would almost certainly allow the Ukrainians to retake territory."
With Russian forces suffering high casualties and their inability to integrate their forces, he added, they "just look miserable."
Nikolai Petrov, senior Russia and Eurasia research fellow at Chatham House, was skeptical about Prigozhin's claim that the Russian military will take over.
"Nobody knows if that will happen," Petrov said, adding that Prigozhin is a "populist and he's playing the cards of hatred" against ineffective Russian military commanders.
Earlier this week, Prigozhin again broke with the Kremlin line on Ukraine, saying its goal of de-militarizing the country has backfired, acknowledging that Russian troops have killed civilians and agreeing with Western estimates that he lost more than 20,000 men in the battle for Bakhmut.
Meanwhile, Russia unleashed a barrage of Iranian-made Shahed drones against Kyiv in its 12th nighttime air assault on the Ukrainian capital this month, but the city's air defenses shot down all of them, Ukrainian authorities said Thursday.
The long fight for Bakhmut is backed by consumer tech — messaging apps, teleconferencing services, cloud-synced mapping software and drones.
Kremlin forces also launched 30 airstrikes and 39 attacks from multiple-rocket launchers as well as artillery and mortar attacks across Ukraine, the Ukrainian military said.
At least one civilian was killed and 13 others were wounded in Ukraine on Wednesday and overnight, the Ukrainian presidential office said Thursday.
Meanwhile, Russia attacked a dam on the Vovcha River in Karlivka, northwest of Donetsk, destroying it and raising a flooding risk for three villages, Gov. Pavlo Kyrylenko said. The villages might be evacuated, he said on Telegram.
Russia and Belarus have signed a deal formalizing the procedure for deploying Russian nuclear weapons on Belarusian territory. Control of the weapons will remain with Moscow. Putin had announced in March that his country planned to deploy tactical, comparatively short-range and small-yield nuclear weapons in Belarus.
The Russian Foreign Ministry also announced Thursday that five Swedish diplomats are to be expelled from the country.
Must-read stories from the L.A. Times
Get the day's top news with our Today's Headlines newsletter, sent every weekday morning.
You may occasionally receive promotional content from the Los Angeles Times.
According to the statement, the decision is a response to Stockholm's "openly hostile step" of declaring five employees of Russian diplomatic missions in Sweden "personae non grata" in April.
Moscow additionally announced its decision to close its consulate in Gothenburg in September, as well as its "withdrawal of consent" to the activities of the Swedish Consulate in St. Petersburg. Russia and Western countries have often expelled each other's diplomats since the war began.
A total of 106 Ukrainian prisoners of war have been released in another major exchange with Russia, chief Ukrainian presidential aide Andriy Yermak said. The eight officers and 98 soldiers released fought in the battle for Bakhmut. The bodies of two foreigners and a Ukrainian were also returned to Ukraine.
Prigozhin posted a video of himself standing next to two wooden coffins, one draped with an American flag and another with a Turkish flag. He said the bodies were being handed over to Ukrainian forces and provided the American's name but the State Department couldn't confirm it, pending an investigation and due to privacy concerns. Russian officials confirmed the swap, without providing any details on how many Russians were returned.
And a British-based technology firm said that pro-Russia hackers have faked the location data of ships to form a giant letter Z — a symbol of Russia's war in Ukraine — in the Black Sea.
Geospatial intelligence company Geollect said that since May 14, location data for commercial ships have been remotely spoofed so that vessels near Crimea appear to form a 65-mile-long Z on open-source maritime tracking sites.
Russia seized the Crimean peninsula from Ukraine in 2014.
The firm said the hoaxers probably used radio frequency signals to mimic vessels' Automatic Identification Systems without the crews' knowledge. The false location data increased the risk of collisions, it said.
Must-read stories from the L.A. Times
Get the day's top news with our Today's Headlines newsletter, sent every weekday morning.
You may occasionally receive promotional content from the Los Angeles Times.