Trapped by Sudan fighting, dozens of infants, toddlers and children died in Khartoum orphanage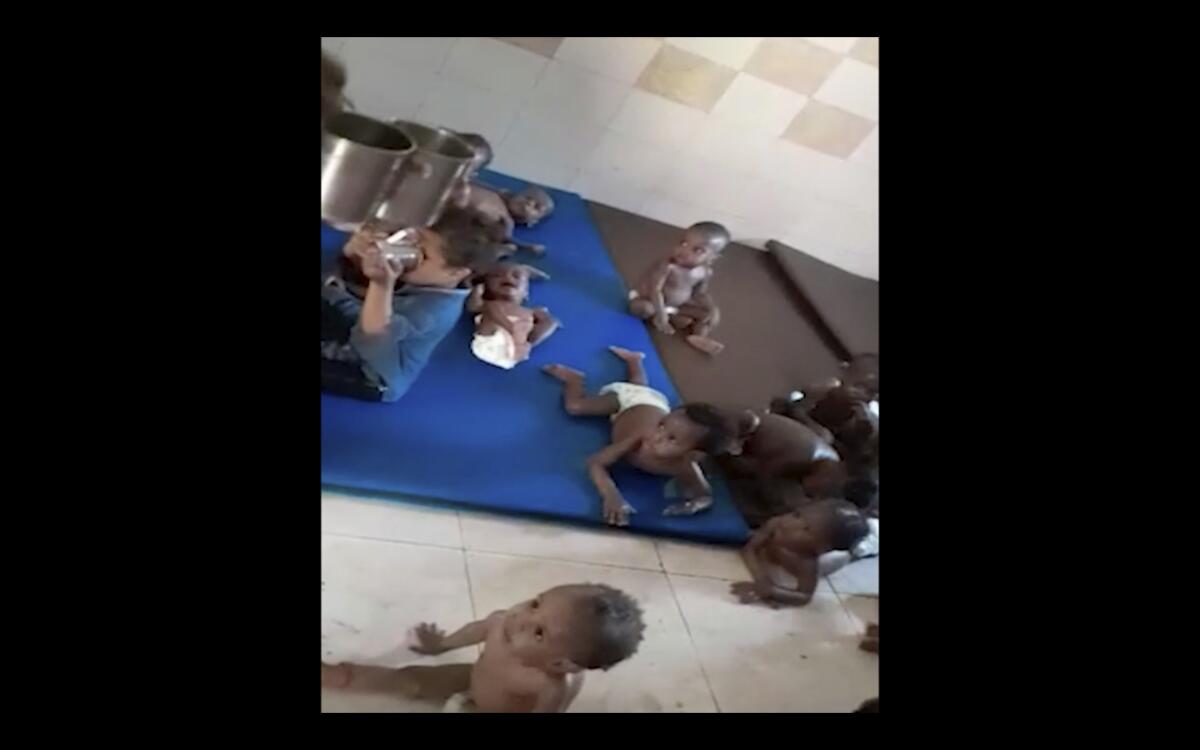 CAIRO —
At least 60 infants, toddlers and older children perished over the last six weeks while trapped in harrowing conditions in an orphanage in Sudan's capital as fighting raged outside.
Most died from lack of food and from fever. Twenty-six died in two days last week.
The extent of the children's suffering emerged from interviews with more than a dozen doctors, volunteers, health officials and workers at Al Mayqoma orphanage. The Associated Press also reviewed dozens of documents, images and videos showing the deteriorating conditions at the facility.
Video taken by orphanage workers shows bodies of children tightly bundled in white sheets awaiting burial. In other footage, two dozen toddlers wearing only diapers sit on the floor of a room, many of them wailing, as a woman carries two metal jugs of water. Another woman sits on the floor with her back to the camera, rocking back and forth and apparently cradling a child.
An orphanage worker later explained that the toddlers were moved to the large room after nearby shelling blanketed another part of the facility with heavy dust last week.
"It is a catastrophic situation," Afkar Omar Moustafa, a volunteer at the orphanage, said in a phone interview. "This was something we expected from day one" of the fighting.
As a bloody battle for supremacy grips Sudan, the passports of thousands of people eager to escape the fighting languish in abandoned embassies.
Among the dead were babies as young as 3 months, according to death certificates as well as four orphanage officials and workers for charities now helping the facility.
Last week was particularly deadly, with 14 children perishing Friday and 12 on Saturday.
This raised alarm and outrage across social media, and a local charity was able to deliver food, medicine and baby formula to the orphanage Sunday, with the help of the U.N. children's agency, UNICEF, and the International Committee of the Red Cross.
Orphanage workers warned that more children could die, and called for their speedy evacuation from Khartoum.
The battle for control of Sudan erupted April 15, pitting the Sudanese military, led by Gen. Abdel-Fattah Burhan, against the paramilitary Rapid Support Forces, or RSF, commanded by Gen. Mohamed Hamdan Dagalo.
The fighting has turned Khartoum and other urban areas into battlefields. Many houses and civilian infrastructure have been looted or damaged by stray shells and bullets.
Foreign governments have been evacuating diplomats, staff and others trapped in Sudan as rival generals battle for control with no sign of a letup.
The fighting has inflicted a heavy toll on civilians, particularly children. More than 860 civilians, including at least 190 children, were killed and thousands of others have been wounded since April 15, according to the Sudan Doctors' Syndicate, which tracks civilian casualties. The tally is likely to be much higher.
More than 1.65 million people have fled to safer areas inside Sudan or crossed into neighboring countries. Others remain trapped in their homes, unable to escape as food and water supplies dwindle. The clashes have also disrupted the work of humanitarian groups.
More than 13.6 million children are in urgent need of humanitarian assistance in Sudan, up from nearly 9 million prior to the war, according to UNICEF.
As of Monday, there were at least 341 children at the orphanage, including 165 infants between the ages of 1 month and 6 months and 48 ranging from 7 to 12 months, according to data obtained by the AP. The remaining 128 children were between the ages of 1 year and 13 years.
Among those at the orphanage were two dozen children who had been sent back from Khartoum hospitals after the outbreak of fighting. The hospitals, where the children received advanced treatment, had to shut down because of lack of power or nearby shelling, said Heba Abdalla, who joined the orphanage as a child and is now a nurse there.
A surge in tuberculosis, partly fueled by global conflicts, is now killing more people worldwide than COVID-19 or AIDS.
Spokespeople for the military, the RSF, the Health Ministry and the Social Development Ministry, which oversees the orphanage, didn't answer requests for comment about the orphanage.
The situation was particularly harrowing in the first three weeks of the conflict when fighting was heaviest. At one point during this time, the children were moved to the first floor away from windows to avoid being hit by random fire or shrapnel, said another nurse, known as Sister Teresa.
"It looked like a prison ... all of us were like prisoners unable to even look from the window. We were all trapped," she said.
During this period, food, medicine, baby formula and other supplies dwindled because caretakers were unable to get out and seek help, Abdalla said.
"On many days, we couldn't find anything to feed them," Abdalla said. The children "were crying all the time because they were hungry."
As the facility became inaccessible, the number of nurses, nannies and other caretakers dropped. Many of the caretakers were refugees from Ethiopia, Eritrea or South Sudan who fled the fighting like hundreds of thousands of others, said Abdalla.
"We ended up [having] one nanny or two serving 20 children or more, including disabled children," said Moustafa, the volunteer.
Children started to die. At first, there were between three to six deaths per week, then the toll increased rapidly, nurses said.
The peak came Friday, with 14 deaths, followed by 12 on Saturday.
The AP obtained 11 death certificates for children at the orphanage, including eight dated Sunday and three dated Saturday. All certificates listed circulatory collapse as a cause of death but also mentioned other contributing factors such as fever, dehydration, malnutrition and failure to thrive.
Even before the fighting, the orphanage lacked proper infrastructure and equipment, said Moustafa. Twenty to 25 children were crammed into each room, many sleeping on the ground. Babies doubled up in pink metal cribs.
The orphanage was established in 1961. Though it gets funds from the government, it depends heavily on donations and assistance from local and international charities.
The orphanage made headlines in the past, most recently in February 2022 when at least 54 children were reported dead in less than three months. At the time, activists launched an online appeal for help, and the military sent food aid and other assistance.
The government-run facility is in a three-story building with a playground in the Daym area in central Khartoum. The area has experienced some of the fiercest fighting, with stray shells and bullets hitting nearby homes and other civilian infrastructure, according to workers and a freelance photographer working with the AP who lives close to the orphanage.
The news of the deaths caused public outcry, with activists appealing for help for the children.
Nazim Sirag, an activist who heads the local charity Hadhreen, has led efforts to provide volunteers and supplies to the orphanage.
Starting Sunday, food, medicine and baby formula reached the facility, he said. The charity also repaired the equipment, electricity lines and a backup generator.
Sirag said the situation remains difficult, and orphanage workers called for the children to be moved out of Khartoum. Otherwise, said Abdalla, "you don't know what will happen tomorrow."

Sign up for Essential California for the L.A. Times biggest news, features and recommendations in your inbox six days a week.
You may occasionally receive promotional content from the Los Angeles Times.