Charges dropped against man who spent 21 years in prison for deaths of 2 hunters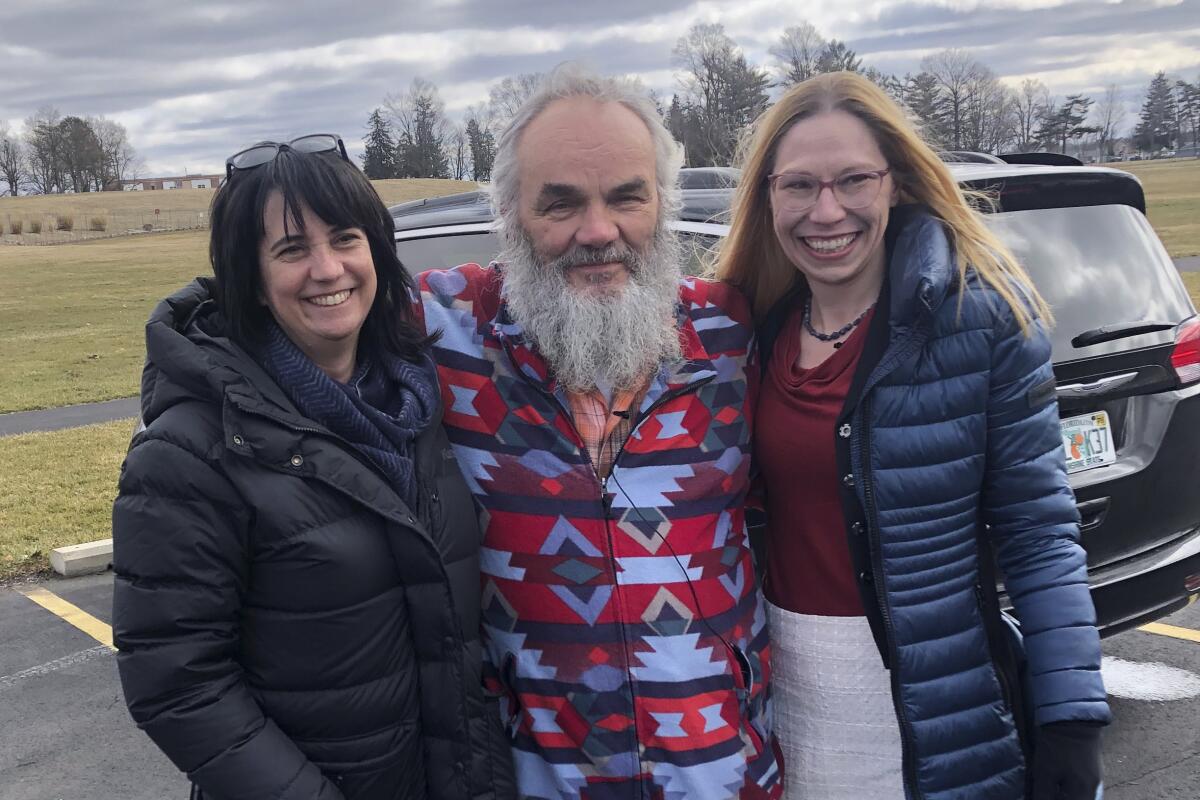 DETROIT —
Prosecutors dropped murder charges Thursday against a man who spent nearly 21 years in prison for the fatal shooting of two Michigan hunters.
Jeff Titus was released in February when authorities acknowledged that critical information in police files about another suspect — an Ohio serial killer — was never shared with his trial lawyer in 2002.
His convictions were thrown out as a result. Now, after reviewing the case for three months, Kalamazoo County prosecutor Jeff Getting said Titus would not face a new trial.
"This is the right thing to do," Getting told reporters.
At the same news conference, Titus, 71, described himself as "truly innocent."
"You can put me on the rack, the truth serum, whatever. I did not do it. ... I did not shoot those people," Titus said.
Daniel Saldana was freed from prison when the Los Angeles County D.A.'s office acted on information provided by the state parole board that pointed to his innocence.
Earlier, expressing relief, he said: "Forgive me if I start crying."
Doug Estes and Jim Bennett were fatally shot near Titus' rural property in 1990. Titus was cleared as a suspect — he had been hunting deer 27 miles away — but murder charges were filed against him 12 years later, after a new team of investigators reopened the case.
There was no physical evidence against Titus, who was portrayed as a hothead who didn't like trespassers.
The Innocence Clinic at the University of Michigan's law school was working to get Titus' convictions overturned when a dusty 30-page file from the original investigation was discovered at the sheriff's office. It was a blockbuster: It referred to an alternate suspect, Thomas Dillon, of Magnolia, Ohio.
Maurice Hastings, 69, was freed after an L.A. County judge vacated his conviction based on DNA evidence. The judge now finds him 'factually innocent.'
That information was never shared with Titus' trial lawyer, a fundamental violation.
Jacinda Davis, at the TV network Investigation Discovery, and Susan Simpson, through the podcast "Undisclosed," had raised doubts about Titus' guilt and aired questions about Dillon's possible role.
Simpson saw the Dillon file at the sheriff's office and informed the Innocence Clinic.
Getting, who was not the prosecutor when Titus was charged, said the trial was deeply flawed, and key people who testified in 2002 now are dead.
As he languished in a Missouri prison for nearly three decades, Lamar Johnson never stopped fighting to prove his innocence.
"I don't know who ultimately murdered Mr. Estes and Mr. Bennett," Getting said. "But I can say with 100% absolute certainty that moving forward with a trial now against Mr. Titus would be absolutely lacking the fundamental fairness that our Constitution requires."
Dillon died in prison in 2011. He was arrested in 1993 and ultimately pleaded guilty to killing five people in Ohio who had been hunting, fishing or jogging, from 1989 to 1992.
Titus could be eligible for more than $1 million under a state program that compensates the wrongly convicted.
Titus is "actually innocent," his attorney, Mary Chartier, said. "Mr. Titus can do a lot of things. But he can't be in two places at once. He could not have committed these murders."
Sign up for Essential California for the L.A. Times biggest news, features and recommendations in your inbox six days a week.
You may occasionally receive promotional content from the Los Angeles Times.