Trial to begin for 3 Tacoma officers in death of Black detainee Manuel Ellis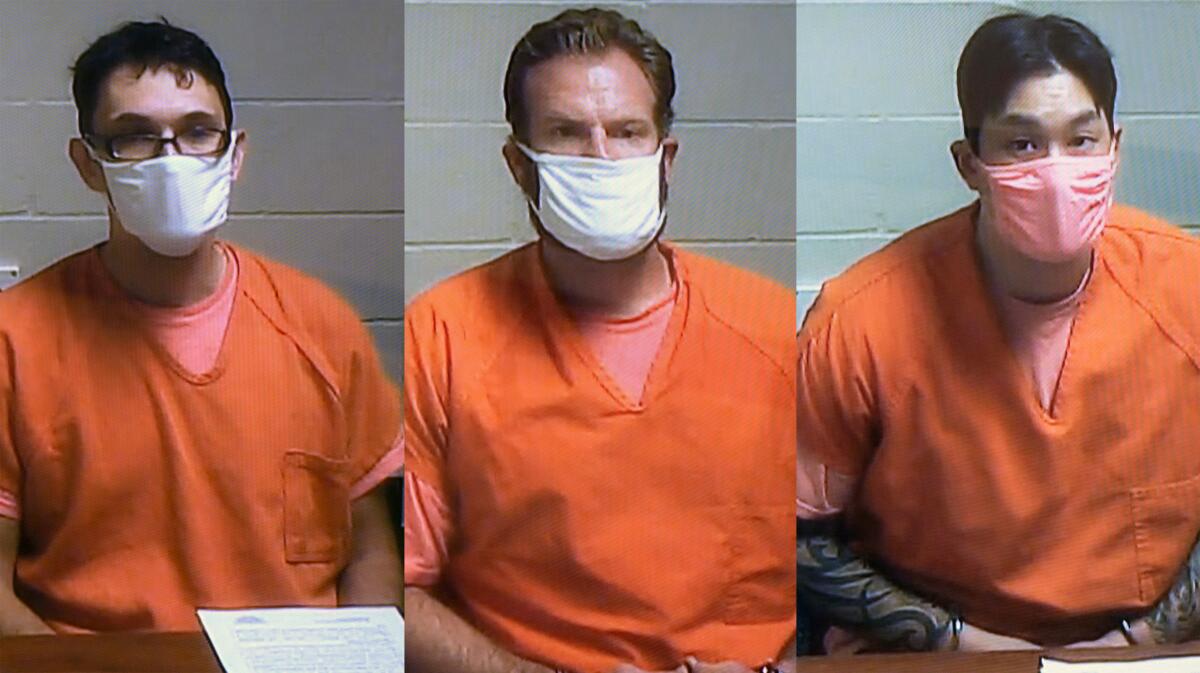 TACOMA, Wash. —
Jury selection is scheduled to begin Monday in the trial of three Tacoma, Wash., police officers charged in the death of Manuel "Manny" Ellis, a 33-year-old Black man who was tackled, punched, shocked with a stun gun and held face down on a sidewalk in March 2020, two months before George Floyd met a similar fate.
Officers Christopher Burbank and Matthew Collins, who are white, have been charged with second-degree murder, and Timothy Rankine, who is Asian American, faces first-degree manslaughter charges. They have pleaded not guilty.
Opening statements are expected to start Oct. 2 in Pierce County Superior Court in Tacoma. The trial is expected to run four days each week until December.
Ellis purchased a box of doughnuts and some water at a convenience store about 11:21 p.m. on March 3, 2020, and walked across the street, where he encountered Burbank and Collins sitting in a patrol car, according to a probable cause statement filed by the Washington attorney general's office.
Burbank and Collins said Ellis tried to get into a stranger's car and then attacked the officers when they confronted him. But witnesses say the officers jumped out of their car as Ellis walked by and knocked him to the ground. Several witnesses recorded the encounter with their cellphones as they screamed for the officers to stop, the document said.
A video taken by a woman sitting in a car behind the officers shows Burbank wrapping his arms around Ellis, lifting him into the air and slamming him onto the pavement, striking him with his fist in the process, the statement said.
Five former Memphis police officers have been charged with federal civil rights violations in the beating death of Tyre Nichols.
"Collins then moves in towards Ellis and brings his weight down onto him," the document said. "With Ellis underneath him, Collins begins striking Ellis's head with his fist. Meanwhile, Burbank draws his Taser gun and walks close in towards Ellis. Collins can be seen on [the witness'] video striking Ellis's head four times, with Ellis screaming after each strike."
Collins wrapped his arm around Ellis' neck while squeezing, and his head fell limply to the sidewalk. The officer also pressed on Ellis' back while pushing his face into the ground, the document said.
A doorbell security camera across the street picked up Ellis saying, "Can't breathe, sir. Can't breathe," and one of the officers responded by saying, "Shut the [expletive] up, man."
The officers then wrapped a hobble restraint device around Ellis' legs and linked it to his handcuffs behind his back in a "hog-tie" position while he remained in the prone position. They also pulled a spit-hood over his head. After the hobble was applied, he stopped moving, the statement said.
The events in France after police shot a teen in a Paris suburb are drawing parallels to the U.S. racial reckoning after George Floyd's murder.
All three witnesses said Ellis was not fighting back during the struggle, the prosecutor said.
Ellis was pronounced dead at the scene.
The Pierce County Medical Examiner said the cause of death was "hypoxia," a lack of oxygen, "due to physical restraint," and found the manner of death was homicide.
Lawyers for the officers filed reports saying that Ellis was resisting and trying to get away and that the officers needed to use force to get him into custody.
Get breaking news, investigations, analysis and more signature journalism from the Los Angeles Times in your inbox.
You may occasionally receive promotional content from the Los Angeles Times.
Experts hired by the officers blamed his death on methamphetamine use and heart problems, calling it an accident.
The Pierce County Sheriff's Office initially investigated the death, but months later, when it was revealed that sheriff's personnel were involved in the detention, Gov. Jay Inslee ordered the Washington State Patrol to take over the investigation and referred the charging decision to the Washington attorney general's office.
Charges were filed May 27, 2021, marking the first time the attorney general's office has charged a law enforcement officer with murder. It was only the second time an officer has been charged with murder in Washington state since voters approved Initiative 940 in 2018, which removed the requirement that prosecutors show an officer acted with malice in order to be charged with murder.
Auburn Officer Jeffrey Nelson was charged in 2020 with second-degree murder and first-degree assault in the shooting death of Jesse Sarey on May 31, 2019. His trial is pending.
Ellis' family filed a wrongful death lawsuit against the county and officers, and the Pierce County Council approved a $4-million settlement agreement in 2022. The deal ended the county's involvement, but Ellis' sister, Monet Carter-Mixon, and mother, Marcia Carter, continue to pursue their wrongful death lawsuit against the city of Tacoma.
Sign up for Essential California for the L.A. Times biggest news, features and recommendations in your inbox six days a week.
You may occasionally receive promotional content from the Los Angeles Times.