Ebola death toll rises to 2,900 as world leaders gather at U.N.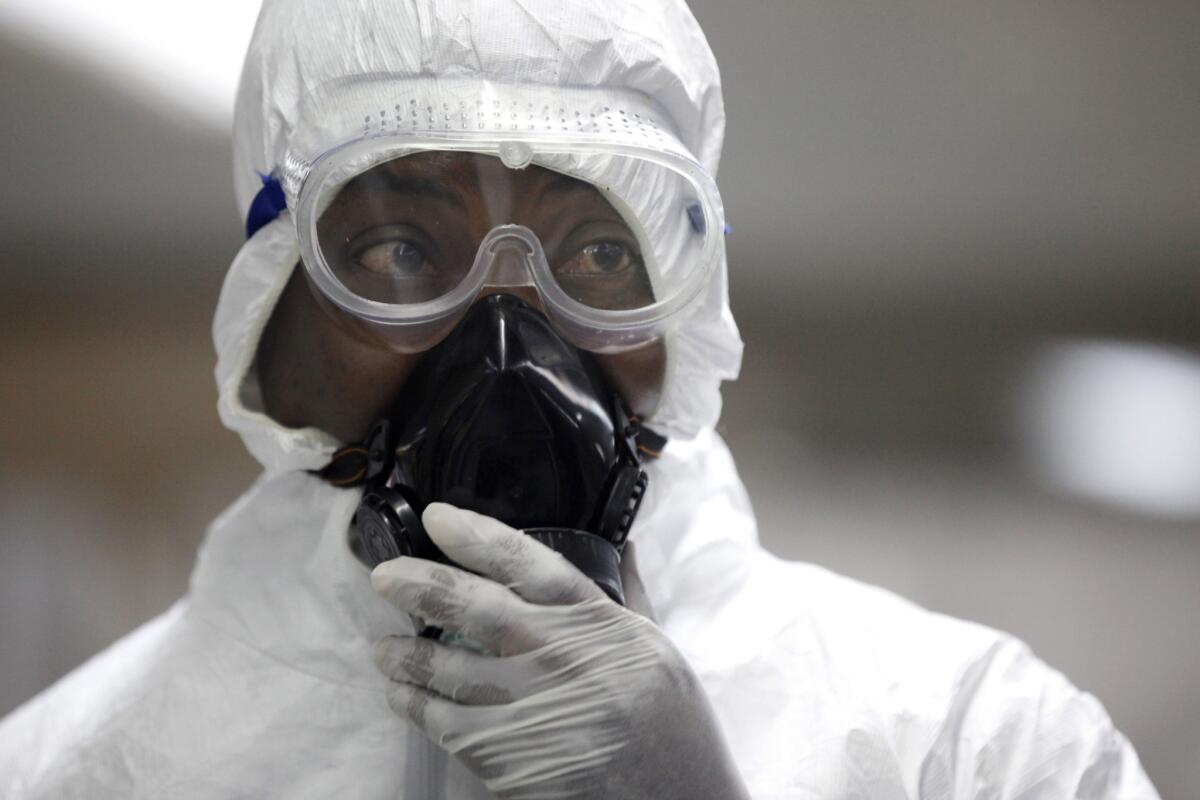 World leaders were gathering in New York on Thursday to spotlight the Ebola outbreak ravaging parts of West Africa, a meeting that will test whether the international community is prepared to bring to bear the resources needed to halt the swiftly spreading virus.
United Nations officials are hoping that leaders will seize the moment to ramp up their response to the outbreak, which is already believed to have killed more than 2,900 people.
Faced with a caseload that is doubling every three weeks, U.N. Secretary-General Ban Ki-moon has called for a "20-fold surge in care, tracking, transport and equipment" to get in front of the epidemic.
Dr. Margaret Chan, director general of the World Health Organization, said Ebola was probably the "greatest peacetime challenge that the United Nations and its agencies have ever faced."
But despite major new commitments by the United States, Britain and others, the response has so far fallen critically short, humanitarian officials say.
The outbreak is the largest the world has ever seen, with more than 6,200 suspected or confirmed Ebola cases in five countries reported to the WHO since March.
The disease has overwhelmed the fragile health systems in the hardest-hit nations – Guinea, Liberia and Sierra Leone.
"We are trying to treat as many people as we can, but there are not nearly enough treatment centers and patient beds," Jackson Naimah, a Liberian aid worker with the international charity Doctors Without Borders, told the U.N. Security Council via videolink last week. "We have to turn people away. And they are dying at our front door."
At least 373 healthcare providers have contracted Ebola and 208 have died of the virus, which is spread through contact with the bodily fluids of patients. Many of their colleagues are now too afraid to work. Patients too are staying away. More people are dying in Liberia from common and treatable ailments than from Ebola, Ban said last week.
The World Bank has warned of a "potentially catastrophic blow" to the economies of the most-affected countries. Trade, transport and other services have been disrupted. Food prices are rising. In Lofa County, once Liberia's breadbasket, fields are lying fallow. Nearly 170 farmers and their family members have died of Ebola in that county alone, according to the WHO.
Fear and confusion about the virus have led to outbreaks of violence. Last week, eight members of a delegation sent to a remote village in Guinea to educate people about Ebola were attacked and killed, and their bodies thrown into latrines.
There is no vaccine or cure for Ebola. Symptoms can include fever, muscle aches, vomiting, diarrhea and bleeding.
The United Nations has been criticized for not responding sooner. When the WHO declared the outbreak an international health emergency in August, the virus had already spread to four countries and the death toll had topped 900.
Last week, the Security Council declared the Ebola crisis a threat to international peace and security, unanimously passing a resolution that calls on member states to urgently send medical personnel, supplies and other help to contain the outbreak. An emergency mission has been set up to coordinate the response.
President Obama, who is sending 3,000 military personnel and equipment to West Africa to help fight the epidemic, is among a number of heads of state scheduled to address Thursday's meeting, which was convened by the U.N. secretary-general while the General Assembly is meeting in New York.
The United Nations says the effort will cost nearly $1 billion, a figure that could increase if the outbreak isn't quickly brought under control. Dr. David Nabarro, Ban's special envoy on Ebola, was optimistic that the U.N. would reach its target.
"We seem to be at least 30% of the way there, which is very, very good, seeing that the appeal is quite recently launched," he told the Los Angeles Times on Wednesday. "But for me the absolute requirement is strong coordination, so that we're not going to end up with imbalances and blockages in the system. Blockages because of supplies arriving and nowhere to put them, which we've had in certain kinds of disasters. Or blockages in terms of volunteers coming in and not being properly trained, or going into service and getting themselves sick."
Among his priorities is establishing an evacuation system for local and international responders who become ill, which officials say is important to encourage volunteers.
"By evacuation, I mean taking them to a place where they can get well treated," Nabarro said. "We're not far away from that in Liberia. It's certainly in the plan, and it's going to happen also in Sierra Leone. But we haven't got that yet."
The U.N. is also asking for help training thousands of personnel, new facilities to treat Ebola and non-Ebola patients, helicopters and vehicles, mobile laboratories and about 3.3. million pieces of protective equipment.
"This is going to be done, and it is going to be done as well as we possibly can with every single asset that we've got at our disposal," Nabarro said. "That is important for people to know, because although it's very bad news what we're hearing, we also have the people and the assets that will help to turn the corner."
For more international news, follow @alexzavis on Twitter
Sign up for Essential California for news, features and recommendations from the L.A. Times and beyond in your inbox six days a week.
You may occasionally receive promotional content from the Los Angeles Times.