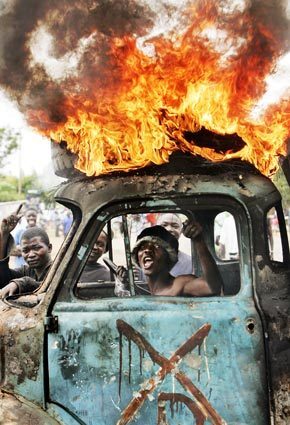 7 Images
Jan. 2008: Rioting continues in Kenya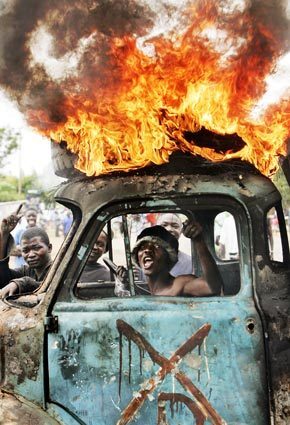 Kenya
Mobs in Kisumu, Kenya, armed with makeshift weapons have erected burning roadblocks, including this truck, and continue to search for the few Kikuyu targets remaining in the city. In Nairobi, the slaying of an opposition lawmaker triggered a new flare-up of the ethnic fighting that has gripped Kenya since its disputed presidential election.
(Ben Curtis / Associated Press)
Kenya
Family members and friends of opposition politician Mugabe Were lament his slaying early Tuesday. Were was shot dead in a murder the police believe is linked to the dispute that erupted over last month's presidential election. He was among a slew of opposition members who won seats in the legislative vote held at the same time as the presidential election.
(Tony Karumba / AFP / Getty Images)
Kenya
A member of the Kikuyu tribe throws items he and others ransacked from homes reportedly owned by rival Luos during ethnic clashes in the Rift Valley town of Naivasha. The slaying of a Kenyan opposition lawmaker sparked riots across the east African nation already reeling from weeks of deadly ethnic clashes set off by disputed elections.
(Roberto Schmidt / AFP/ Getty Images)
Kenya
Supporters of the opposition Orange Democratic Movement armed with machetes, clubs and axes scatter as Kenyan paramilitary police fire tear gas and live ammunition over their heads in the Kibera slum in Nairobi.
(Jon Hrusa / EPA)
Kenya
The words "Darfur" and "South Sudan" are scrawled on destroyed trucks used by Kenyans mainly from the Luo tribe as a makeshift roadblock in Kisumu, Kenya.
(Ben Curtis / Associated Press)
Kenya
Opposition supporters run from police in the Kibera slum of Nairobi. Kenya's main opposition party appealed for calm after one of its lawmakers was killed, as the protagonists in a dispute over last month's election prepared to start formal talks to end the crisis.
(Boniface Mwangi / Bloomberg News)
Kenya
A Kikuyu living in Nairobi's Kibera slum is carried to safety after being attacked by members of an opposing tribe during ethnic clashes in Kenya's capital city.
(Simon Maina / AFP/ Getty Images)