Without mentioning Trump by name, Obama takes aim at 'strongman politics'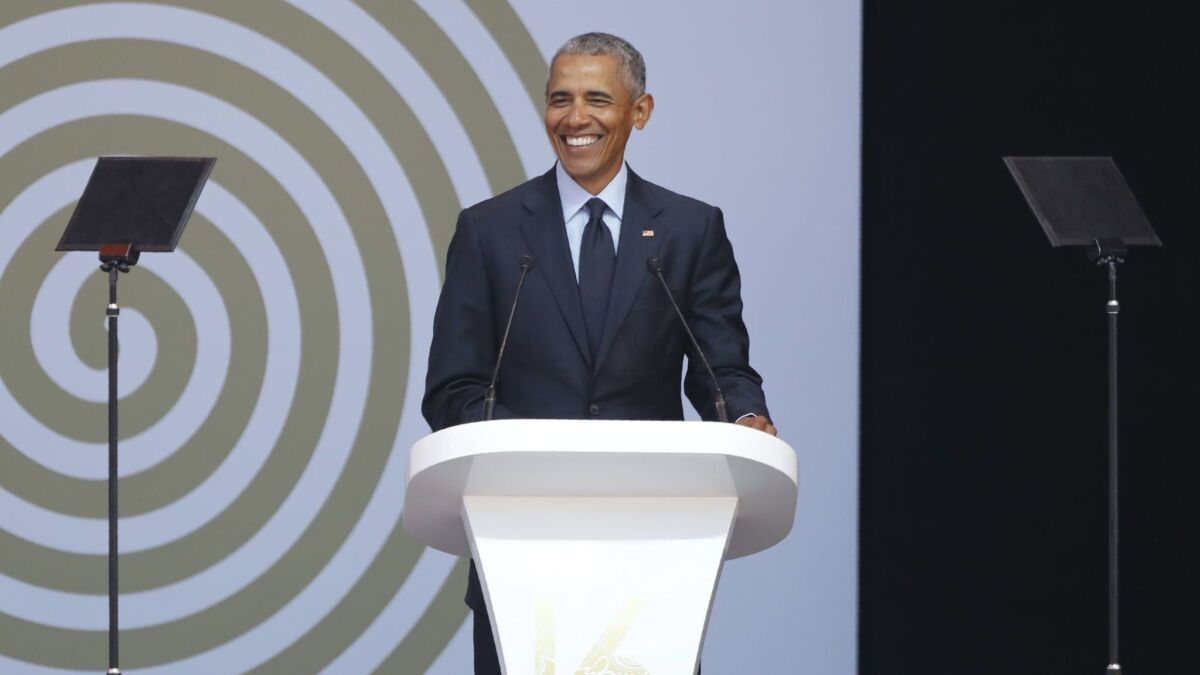 Reporting from JOHANNESBURG, South Africa —
Without mentioning President Trump by name, former President Obama on Tuesday took direct aim at "strongman politics" and spoke of the "strange and uncertain times" in the world during an impassioned speech marking the 100th anniversary of anti-apartheid leader Nelson Mandela's birth.
"The politics of fear, and resentment, and retrenchment" are on the move "at a pace that would have seemed unimaginable just a few years ago," Obama cautioned during one of his most high-profile appearances since leaving office.
"I am not being alarmist. I am simply stating the facts," he said. "Look around. Strongman politics are ascendant, suddenly, whereby elections and some pretense of democracy are maintained, the form of it, those in power seek to undermine every institution or norm that gives democracy meaning,"
The address at a packed stadium in Johannesburg, South Africa, came as the world was still digesting Trump's summit with Russian President Vladimir Putin, which drew bipartisan and global criticism as the U.S. president appeared to accept Moscow's denial of interfering in the 2016 U.S. elections.
Obama lashed out at climate change skepticism, deepening anti-immigrant sentiment, populist politics and a fluid relationship with facts — all frequent criticisms aimed at the Trump administration.
The free press is increasingly under attack, he warned, and censorship and state control of media are on the rise. The politics of the right, he said, often push an agenda based partially on "barely hidden racial nationalism" and use fear and resentment as their political weapons.
"Unfortunately, too much of politics today seems to reject the very concept of objective truth. People just make stuff up.… We see the utter loss of shame among political leaders where they're caught in a lie and they just double down and they lie some more.
"You have to believe in facts. Without facts there is no basis for cooperation," Obama said. "If I say this is a podium, and you say this is an elephant, it's going to be hard for us to cooperate."
His target seemed clear.
"He never said Trump by name, but you just knew," said Zakithi Buthelezi, a Johannesburg media analyst.
Chanting "Yes We Can," Obama's 2008 campaign slogan, several thousand South Africans cheered wildly as the former president began with vintage deadpan humor, joking about forgetting it was winter in the Southern Hemisphere. "I didn't bring a coat, and this morning I had to send somebody out to the mall, because I'm wearing long johns," Obama said. "I was born in Hawaii."
But his tone darkened as he quickly shifted gears and spoke about shrinking freedoms and creeping authoritarianism in parts of the world that threaten to undo the social progress and democratic gains of the 20th century.
"We see much of the world threatening to return to a more dangerous, more brutal way of doing business," he cautioned.
Obama framed that critique against the legacy of Mandela, a leader in the decades-long fight for democracy and the end to white minority rule in South Africa. Mandela spent 27 years as a political prisoner before becoming the nation's first democratically elected president in 1994. He died in 2013 at age 95.
"On Madiba's 100th birthday, we now stand at a crossroads — a moment in time in which two very different visions of humanity's future compete for the hearts and the minds of citizens around the world," Obama said, using Mandela's nickname.
"We have to follow Madiba's example of persistence and of hope," he said. "We have been through darker times. We have been in lower valleys."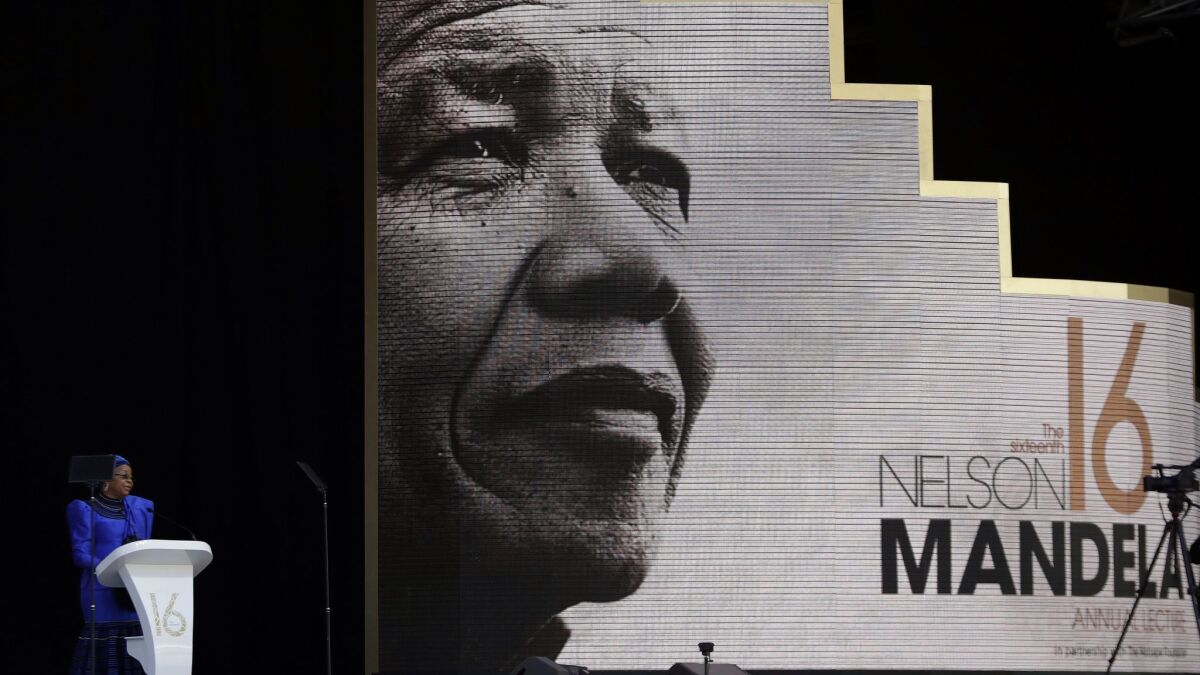 Mandela's centenary celebrations, which include Obama's speech, have sparked a period of reflection in South Africa as many wonder whether their so-called Rainbow Nation is living up to his lofty vision nearly a quarter of a century after the country's first free vote.
Inequality in South Africa has worsened since the end of apartheid, according to a recent report by the World Bank. It is now the most unequal country in the world. Unemployment hovers around 27%, with young South Africans bearing the brunt of that soaring rate. Though overall poverty levels are lower than they were in 1994, more than half the country still lives below the national poverty line.
Obama came to South Africa after visiting Kenya on Sunday and Monday, where he helped open a sports and training center founded by his half sister and met with Kenyan President Uhuru Kenyatta. In Johannesburg, Obama was also set to meet with a group of 200 emerging African leaders selected by the Obama Foundation.
The African National Congress, the party Mandela once led and which has governed South Africa since 1994, lost support on the watch of former President Jacob Zuma, whose tenure was dogged by corruption scandals. President Cyril Ramaphosa, who took over after Zuma was forced to step down in February, has promised to get the country back on track by cleaning up the government and kick-starting the economy.
Several spectators said the global problems Obama spoke about — racial discrimination, economic disparity, gender inequality — were at the heart of South Africa's woes.
"I think it spoke to the challenges in the country right now," said Ofentse Rapoo, a sales manager at a South African entertainment group. "I'm just hoping the new regime heeds the call."
Though Mandela and Obama share the historic distinction of being their nations' first black leaders, they met only once, briefly in 2005, when Obama was a junior senator and dropped by Mandela's hotel room in Washington.
Years later, during his second term as president, Obama made a moving speech at Mandela's memorial service, eulogizing the liberation icon for his determination and the human face he presented to the world.
"Yesterday we had Trump and Putin standing together," said John Stremlau, professor of international relations at the University of the Witwatersrand in Johannesburg. "Now we are seeing the opposing team: Obama and Mandela."
Mahr is a special correspondent.
---
UPDATES:
2:05 p.m.: This article was updated with more remarks from Obama's speech, reaction to his speech and ANC background.
10:45 a.m.: This article was updated with additional remarks from Obama's speech.
10:05 a.m.: This article was updated throughout with Times reporting.
8:30 a.m.: This article was updated following former President Obama's speech.
This article was originally published at 7:25 a.m.
---
Must-read stories from the L.A. Times
Get the day's top news with our Today's Headlines newsletter, sent every weekday morning.
You may occasionally receive promotional content from the Los Angeles Times.