Gunmen storm hotel in Mali; one American among at least 20 killed
Malian troops take position outside the Radisson Blu hotel in Bamako. Gunmen went on a shooting rampage at the luxury hotel in Mali's capital, seizing 170 guests and staff. At least three people are dead.
(Habibou Kouyate / AFP/Getty Images)
A video frame grab shows Malian police officers guarding the Radisson Blu luxury hotel during a hostage situation in Bamako, Mali.
(Africable Television / Handout / EPA)
Malian security forces evacuate a man from an area surrounding the Radisson Blu hotel in Bamako.
(Habibou Kouyate / AFP/Getty Images)
A video frame grab shows an armed security official in civilian clothes as he takes up position near the Radisson Blu hotel in Bamako, Mali.
(Africable Television / Handout / EPA)
Malian troops take positions outside the Radisson Blu hotel in Bamako.
(Habibou Kouyate / AFP/Getty Images)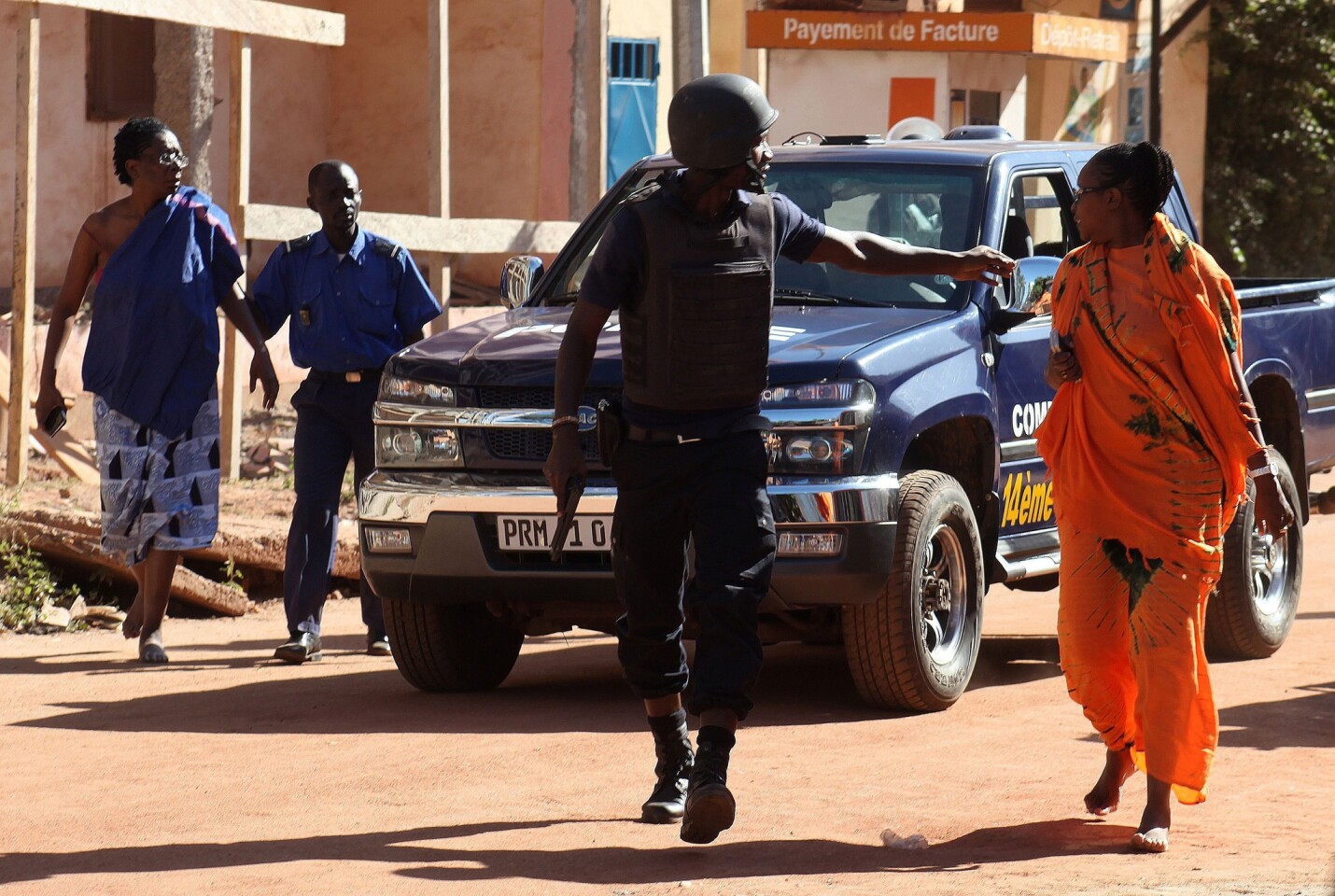 Malian security forces evacuate two women from an area surrounding the Radisson Blu hotel.
(Habibou Kouyate / AFP / Getty Images)
Reporting from Bamako, Mali —
Suspected Islamist gunmen stormed a luxury hotel in the Malian capital of Bamako early Friday, killing 20 people or more and taking scores of hostages during a terrifying daylong siege.
Attackers swept into the lobby shouting "Allahu akbar!" after exchanging gunfire with security guards and began moving room to room, looking for guests. Those who could recite Koranic verses were freed, military officials told reporters.
Gunfire and explosions continued late into the afternoon, as Malian security forces, backed by French special operations troops, surrounded the Radisson Blu hotel and hunted for attackers inside.
Malian troops in full combat gear escorted guests from the building, some of them injured.
Mali army fighting back at hotel hostage takers
Islamic extremists attack hotel in Mali
Mali attack: Nation's recent history of violence
Mali attack: What is France's role in the nation?
Security ministry officials said about 20 people were killed, including one member of the Malian forces, but it was thought the toll could go higher.
At least one American was among the dead. The State Department identified the woman as Anita Ashok Datar, who reportedly was from Takoma Park, Md.
Datar's family issued a statement saying she was born in western Massachusetts and grew up in northern New Jersey. She worked in Senegal for two years in the late 1990s with the Peace Corps "and has spent much of her career working to advance global health and international development, with a focus on population and reproductive health, family planning, and HIV," the statement said.
"We are devastated that Anita is gone — it's unbelievable to us that she has been killed in this senseless act of violence and terrorism," the statement said. "Everything she did in her life she did to help others — as a mother, public health expert, daughter, sister and friend. And while we are angry and saddened that she has been killed, we know that she would want to promote education and healthcare to prevent violence and poverty at home and abroad, not intolerance."
At least two gunmen were killed during the rescue operation, the security ministry said, though officials at the scene said it appeared that a third attacker was also dead.
A local Islamist extremist group, Al Mourabitoun, said it carried out the attack in coordination with Al Qaeda's local affiliate.
If true, it would appear to be another deadly assault on French interests after last week's bombing and shooting rampage in Paris. France has taken a leading role in the fight against Islamist militants in Mali and its other former colonies in West Africa
The hotel, popular among foreign visitors, was seen as a prime target for extremists in Bamako but was lightly secured.
There were 170 people, including 30 staff members, inside when the attack began about 7 a.m., according to the Malian presidency. They included guests from France, Belgium, Germany, China, India, Canada and Turkey.
The gunmen drove up to the hotel at the same time as a car with diplomatic plates and opened fire on it, according to Malian officials. Two hotel guards were hospitalized and later died of their wounds, they said.

One hotel guest, Guinean singer Sekouba Bambino Diabate, told Reuters news agency he heard the attackers speaking English.
"I heard them say in English, 'Did you load it?', 'Let's go,'" Diabate said.
Youssouf Tolo, a hotel cook, said he arrived just as the attack was beginning. "I saw people running. They said, 'There's an attack! There's an attack!'" he said.
Tolo ran downstairs and hid in the basement with colleagues, until someone ran in shouting, "Save yourself!" The group ran upstairs and managed to escape from the lobby while the gunmen were on the upper floors.
About a dozen Americans escaped from the hotel, including several U.S. embassy employees, said John Kirby, a State Department spokesman. Five Defense Department personnel also made it out safely, according to U.S. officials who were not authorized to speak publicly about the incident.
Mark R. Cheadle, spokesman for the U.S. Africa Command, said American troops did not directly participate in the operation to end the assault. But one U.S. special operations forces service member, who was at the hotel at the time, helped first responders move civilians to secure locations while Malian troops went after the gunmen.
Another U.S. service member passed along information to French forces from a nearby joint operations base, defense officials said. The U.S. military also launched an unarmed MQ-9 Reaper drone to the area to provide surveillance, but the siege had ended by the time it arrived.
American forces in Mali routinely help the French military with intelligence gathering, aerial refueling and other operations.

The assault came amid a deteriorating security situation in Mali, with Islamist militant groups from the north increasingly infiltrating the south and launching attacks.
Al Mourabitoun has claimed responsibility for previous attacks, including a March attack on a Bamako restaurant that killed two French nationals, a Belgian and two Malians.
French President Francois Hollande pledged to help and dispatched an elite paramilitary unit to Bamako.
"Once again, terrorists want to make their barbaric presence felt everywhere where they can kill, where they can massacre. So we should once again show our solidarity with our ally, Mali," Hollande said.
Times staff writers Dixon reported from Johannesburg, South Africa, and Zavis from Los Angeles. Special correspondent Guindo reported from Bamako. Staff writers W.J. Hennigan and Brian Bennett in Washington contributed to this report.
ALSO
Israeli spy Jonathan Pollard released from U.S. prison after 30 years
Syrians' arrival at U.S. border crossing raises concern of a flood of asylum seekers
House votes to block Syrian refugees despite White House veto threat
---
Must-read stories from the L.A. Times
Get the day's top news with our Today's Headlines newsletter, sent every weekday morning.
You may occasionally receive promotional content from the Los Angeles Times.