How a London PR firm was forced to apologize for sowing racial division in South Africa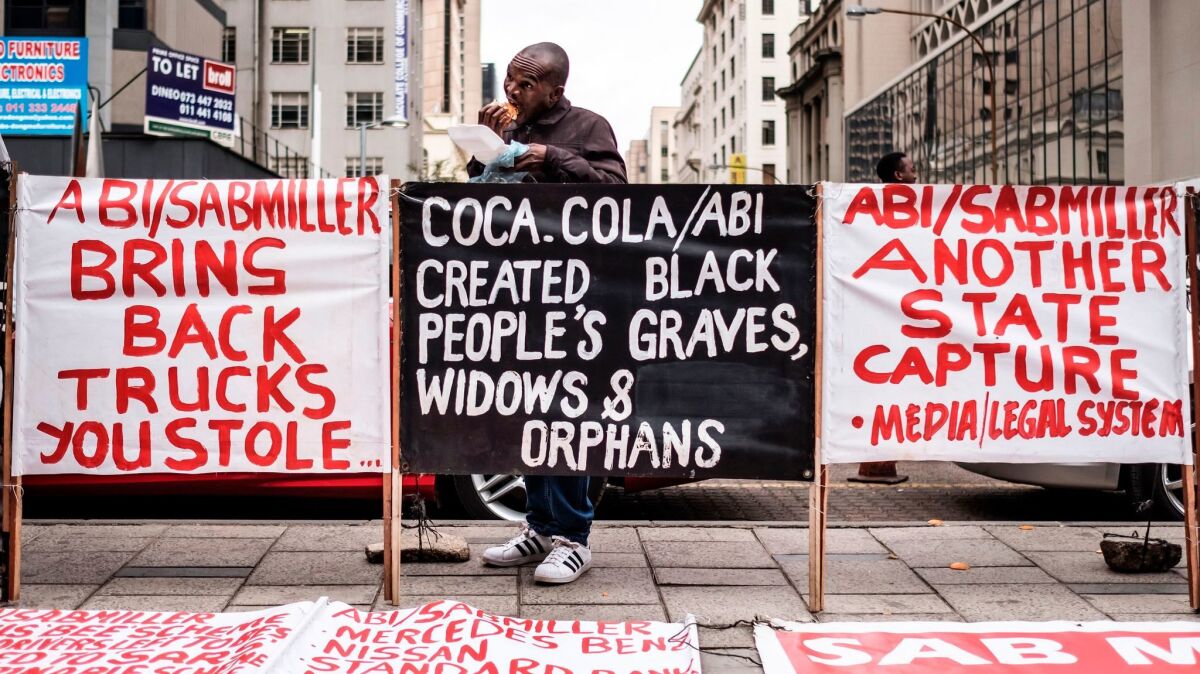 Reporting from Johannesburg, South Africa —
This year, an army of Twitter bots emerged in South Africa, firing off a barrage of tweets that carried the same basic message: White capitalists had replaced one form of apartheid with another and were conspiring to hold black people down through economic, rather than legal, means.
The basic premise — that black South Africans remain overwhelmingly disadvantaged economically — was undeniable. But the bot campaign went considerably further.
Hundreds of Twitter accounts — all retweeting the same messages in the same order at the same moment — carried out a sexual smear campaign against editors, journalists and business executives, many of them critics of the powerful Gupta family, which is closely aligned with President Jacob Zuma. The tweets included lewd images of a prominent black female news editor, Ferial Haffajee, and a wealthy white businessman, Johann Rupert.
Targets of the campaign were accused of being agents of #WhiteMonopolyCapital or #WMC.
Last week, the source of the Twitter campaign was revealed, and the repercussions are still rocking South Africa.
For months, Bell Pottinger, a London-based public relations company with a reputation for patching up the images of controversial clients, had denied claims that it was behind the campaign and said it was the victim of a political smear campaign.
But on Thursday, one day after a British PR industry group announced that it was looking into the allegations, Bell Pottinger acknowledged that some of the allegations against it were true and that its campaign, which had whipped up the country's racial tension, had been offensive and inappropriate.
It confessed "work was being done which goes against the very core of our ethical policies." The company apologized, fired a partner and suspended another partner and two other employees.
The company, however, did not spell out in detail how it may have controlled the Twitter bots and the crude images circulated on Twitter, nor did it respond to a Times request to clarify its role.
The campaign was widely seen as intended to deflect criticisms from Zuma and the Gupta family, which has been accused of using corrupt influence to get favorable government deals. The family denies any wrongdoing.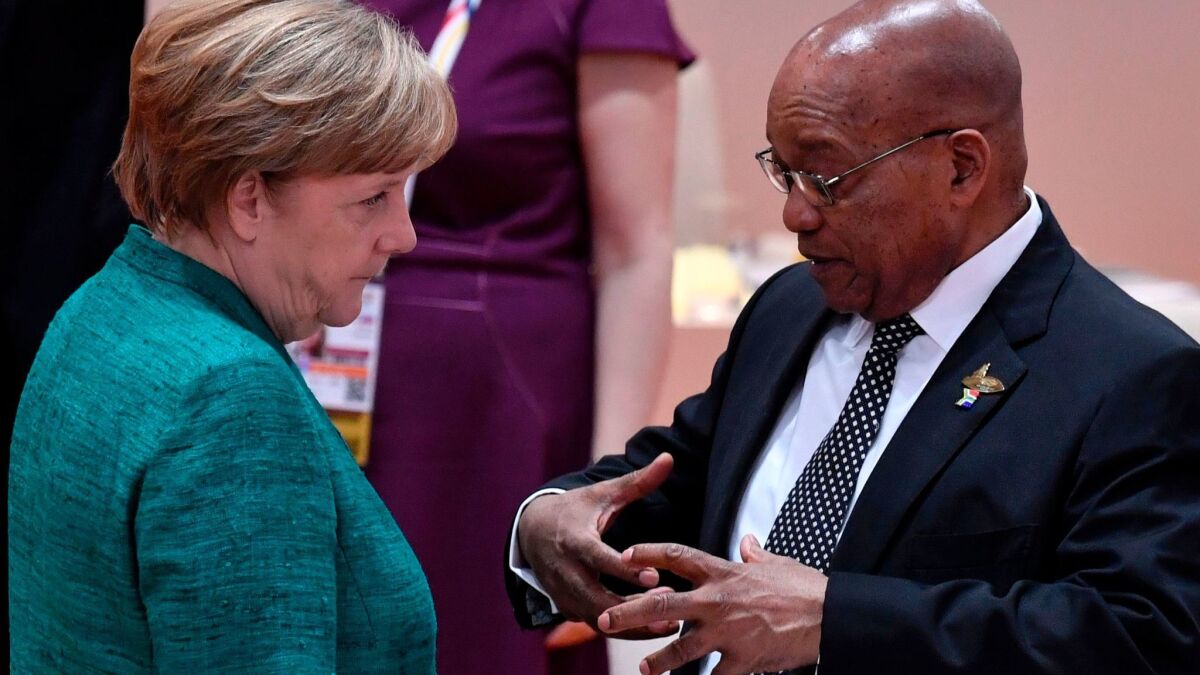 A Gupta-owned company, Oakbay, had hired a Bell Pottinger partner, Victoria Geoghegan, to plan the spin campaign. Implicit was the unlikely notion that the wealthy family, which migrated from India in the 1990s, somehow represented the struggle of black businesses trying to overcome white, apartheid-era capitalists.
The campaign blew up when the South African opposition, the Democratic Alliance, accused the PR firm of sowing racial divisions and complained to the British PR industry group, the Public Relations and Communications Assn., which is investigating the complaint.
The company faced a massive backlash and recently switched its Twitter account to private to stop furious South Africans from posting criticisms and attacks.
Bell Pottinger severed ties with Oakbay in April, saying that attacks on it prevented it from representing the company properly, and soon afterward it hired a law firm to review the work done for the Gupta company.
The law firm presented Bell Pottinger's management with evidence "which dismayed us," a statement from Chief Executive James Henderson said. Although some allegations against the company were not true, he said, "enough of it is to be of deep concern. There has been a social media campaign that highlights the issue of economic emancipation in a way that we, having now seen it, consider to be inappropriate and offensive."
Bell Pottinger's role emerged after about 200,000 Gupta company emails were leaked to local media. In a country with lingering racial tension, a divided government and deep economic rifts, Bell Pottinger wanted to create a political narrative designed to rally the masses around the Guptas and Zuma.
The Gupta family is controversial because of accusations that it has enriched itself through a massive web of patronage and corruption in South African government agencies. A report by a government ombudsman last year found the Guptas had in effect "captured the state," influencing government appointments and offering bribes to officials.
According to leaked emails, Geoghegan met with Zuma's son, Duduzane, a close Gupta business associate, in January 2016 after outlining a five-month, $647,000 campaign via email. The plan included using an activist group to tweet and agitate about "economic apartheid."
Bell Pottinger would generate material to "illustrate the apartheid that still exists," she wrote, referring to the system of legally mandated segregation and repression of blacks before 1994.
The main organization that emerged at the center of the campaign was a radical Marxist group named Black First Land First, formed in 2015, which has repeatedly defended the Gupta family and Zuma.
The emails published in local media contain no evidence the organization was paid, but its campaign gained force, including recent protests outside the houses of journalists who have written critically about the Guptas, and an alleged assault on a white editor. On Thursday, members of Black First Land First threw stones at a bank, ABSA, during a protest, injuring a customer.
A court last week ordered Black First Land First not to intimidate or threaten 11 journalists or ABSA customers.
On Twitter, many South Africans expressed skepticism and disgust about the #WhiteMinorityCapital campaign.
On Friday, the Democratic Alliance, or DA, called on Bell Pottinger to disclose all its dealings with the Gupta family and Zuma.
"Until then, their apology is nothing but a PR stunt brought on by the public pressure applied by the DA and the South African public," the party said in a statement.
Twitter: @RobynDixon_LAT
ALSO
This abandoned chimp was chained to a tree for two years. The risky escape to get her to safety in Africa
For years, African women scarred by female genital mutilation had no hope. A California doctor is changing that
They're killing babies and torching villages: Who is behind the Democratic Republic of Congo's ugly new war?
In parts of Africa, people with albinism are hunted for their body parts. The latest victim: a 9-year-old boy
Must-read stories from the L.A. Times
Get the day's top news with our Today's Headlines newsletter, sent every weekday morning.
You may occasionally receive promotional content from the Los Angeles Times.