Corruption charges reinstated against former South African President Jacob Zuma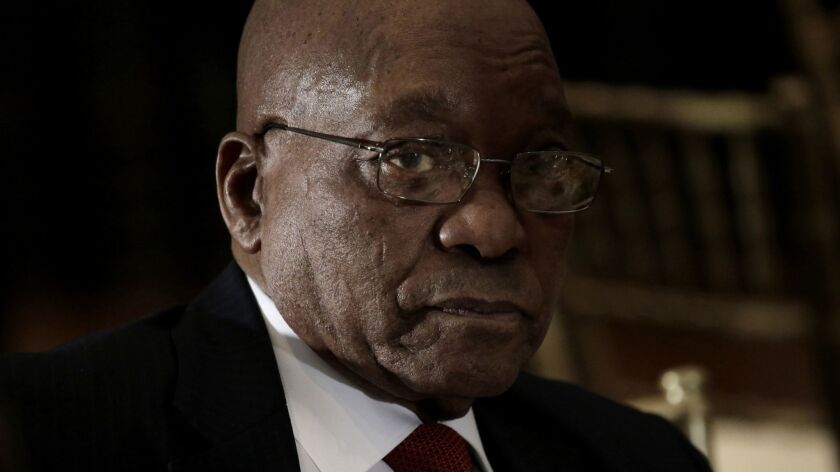 Reporting from Johannesburg —
Not long ago, South Africa's Jacob Zuma seemed untouchable, but the corruption case he escaped on the eve of the 2009 parliamentary election resurfaced Friday as prosecutors reinstated charges against the former president and gave new life to a case that has haunted him for years.
Zuma's party, the African National Congress, went on to win the 2009 elections and voted him in as president, ushering in nearly nine years of chaotic governance and corruption.

For the record:
2:25 p.m. March 16, 2018A previous version of this article said a statement by the Democratic Alliance was issued by the district attorney.
He was ousted by his party last month as president, and state prosecutors on Friday announced that charges against Zuma, relating to a $2.5-billion arms deal in the late 1990s, would be reinstated.
National prosecutions chief Shaun Abrahams said the charges against Zuma had a reasonable chance of succeeding. The former leader faces 16 criminal counts related to 783 payments that have been challenged as corrupt. Abrahams said Zuma denies wrongdoing.
Friday's announcement follows more than a decade of controversy over the arms deal and many twists along the way — including a court case brought by the opposition Democratic Alliance contesting the 2009 decision by state prosecutors to drop the charges.
Some saw the ANC's decision to elect Zuma as its party president in 2007 — despite swirling allegations of corruption against him — as a misstep that led to years of poor governance, political patronage and deepening corruption.
As president, Zuma was criticized for allowing a powerful business family, the Guptas, to land government deals and contracts benefiting their businesses. The Guptas boasted they had the power the hire and fire ministers, according to ANC lawmakers who said they were offered posts and bribes in return for favoring Gupta business interests.
The Gupta brothers, Ajay, Atul and Rajesh, now wanted by South African authorities for questioning, have fled the country. Local media report that arrest warrants have been issued for all three. The Guptas, business associates of Zuma's son Duduzane, have denied any wrongdoing.
The Hawks, a special South African police unit that investigates high-priority cases such as fraud and corruption, are investigating 30 cases involving national government departments and 360 cases involving provincial government officials, Parliament's Public Accounts Committee said this week.
The charges against Zuma have a long and twisted history. He was deputy president in 1999 when the arms deal was made.
Zuma was fired as deputy president in 2005 after his financial advisor, Schabir Shaik, was found guilty of fraud and corruption, related to the arms deal and his relationship with Zuma.
He was charged in the corruption case in 2007, two years after Shaik's conviction, a development that seemed to close out his chances of becoming South Africa's president.
But just weeks before the 2009 parliamentary election, the charges against Zuma were abruptly dropped. Later that year, the opposition Democratic Alliance asked that the decision to drop the charges be reviewed by the courts.
In 2016, the High Court found that the decision to drop the charges was irrational and ordered that they be reinstated. Last year, the Supreme Court of Appeal upheld that ruling.
The Democratic Alliance welcomed the decision to reinstate the case.
"It is a fight that we have been waging in the Courts for almost nine years and today's decision is a vindication of the decision to challenge the dropping of the charges. Now there must be no further delay in starting the trial. The witnesses are ready, the evidence is strong, and Jacob Zuma must finally have his day in court," the opposition party said in a statement.
Zuma, who has maintained his innocence, has been fighting allegations of corruption related to the arms deal since around 2004, when Shaik's case went to trial.
The claims against Shaik zeroed in on payments made to Zuma that prosecutors said were bribes relating to the arms deal. Shaik argued that he made the payments as a friend. He ultimately was convicted and sentenced to 15 years in jail.
Zuma has mounted repeated court actions and appeals, designed to stave off the charges, and South African taxpayers have spent $1.26 million on Zuma's legal fees, according to comments made by President Cyril Ramaphosa.
Under the deal, Zuma would be responsible only for his legal costs if he were acting in a personal capacity or in his own interests.
The prosecutor's office said Friday it would fight to make sure that taxpayers would not have to carry Zuma's legal costs in a forthcoming trial.
Shaik served only two years of his 15-year term before he was freed on medical parole. He told South African media last year he would be willing to testify should Zuma go to trial.
Zuma's fortunes faltered when he and his supporters lost their bid to have his former wife, Nkosazana Dlamini-Zuma, elected as Zuma's successor at the ANC's national conference in December. Instead, Ramaphosa was narrowly elected party leader, and last month, Zuma was forced to resign after being recalled by the ANC's national executive committee.
Zuma resisted the efforts to force him from office, accusing Ramaphosa and his supporters of acting unfairly.
Twitter: @RobynDixon_LAT
---
Must-read stories from the L.A. Times
Get all the day's most vital news with our Today's Headlines newsletter, sent every weekday morning.
You may occasionally receive promotional content from the Los Angeles Times.