Zimbabwe military warns it will act against those who do not cooperate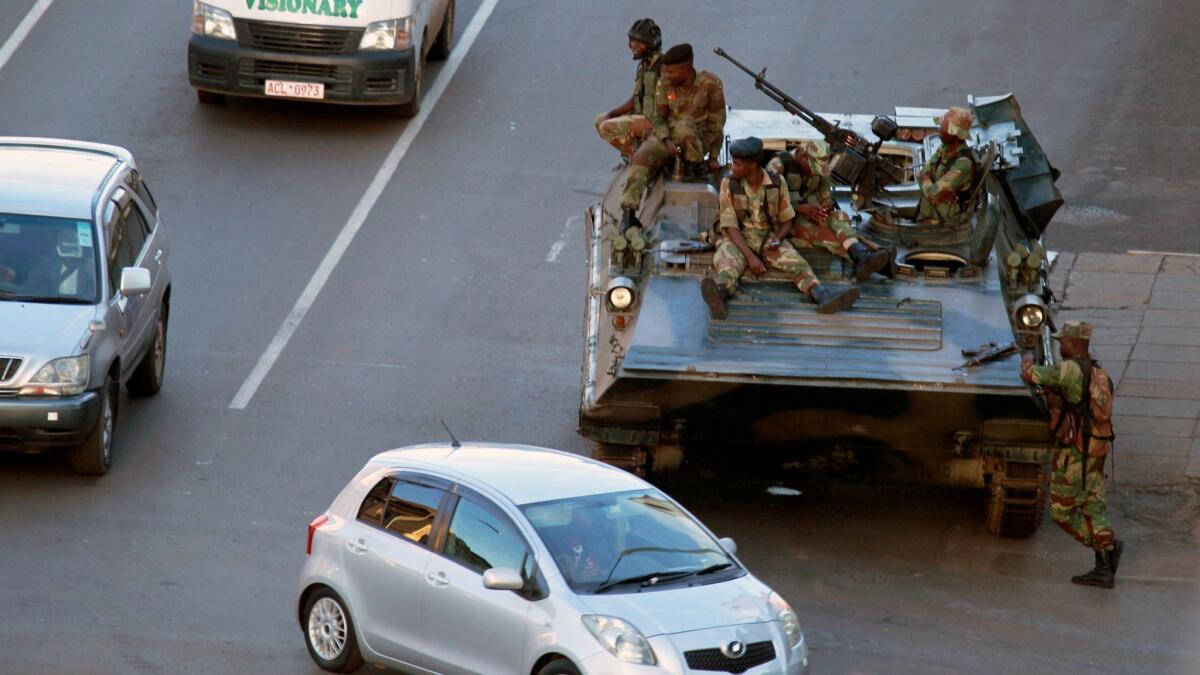 Reporting from HARARE, Zimbabwe —
Zimbabwean President Robert Mugabe, whose 37 years in power make him one of Africa's longest-serving leaders, faced his end game Wednesday, after the military placed him under house arrest and seized control of the country to end a prolonged succession crisis.
The 93-year-old ruler was being held with his wife, Grace, whose own presidential ambition and insistence that he fire his top deputy, Vice President Emmerson Mnangagwa, angered military leaders to the point at which they decided to take charge.

For the record:
11:20 a.m. Nov. 16, 2017An earlier version of this story attributed information about talks with the Zimbabwe military to South African President Jacob Zuma. Zuma did not provide details on the negotiations.
South African President Jacob Zuma confirmed Mugabe was being detained at home by the military and sent two senior officials as envoys to Zimbabwe to negotiate with the country's generals.
The Southern African Development Community was also involved in the talks, which will probably focus on a compromise deal to avert violence and move toward a democratic election to pick Mugabe's successor.
Without such an arrangement, the landlocked southern African nation, which is already facing international alienation and economic collapse, would almost certainly be subjected to further sanctions and divestment.
The military said it was acting to target "criminals" around Mugabe and end a deteriorating political situation that was heading toward violence. It has strongly denied that its takeover is a coup, which would violate the nation's constitution.
The military's plan appears to involve a dignified exit for Mugabe. The president intended to run for another term in elections scheduled for early next year, but his age, frailty and failure to organize an orderly succession sparked an intense power struggle within the ruling party, the Zimbabwe African National Union-Patriotic Front, or ZANU-PF. That battle has destabilized the country for months.
Leaders in southern Africa, where elections may be flawed but military takeovers are rare, have been watching the events in Zimbabwe with shock.
The language used by Zimbabwe's military to justify its actions suggests it hopes to appease its neighbors. The stated aim is to restore normality, an independent judiciary and a democratically elected parliament as soon as a group of "criminals" close to Mugabe are removed to face justice.
Zuma said he had spoken to Mugabe on Wednesday "and he is fine but confined in his home."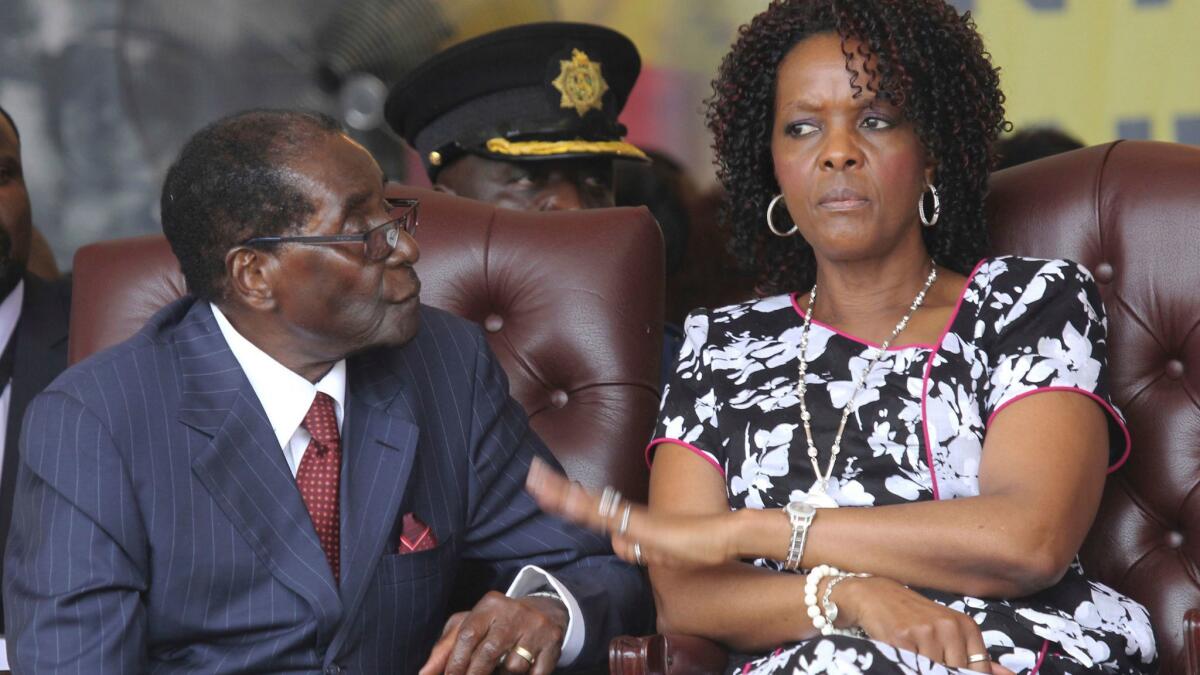 "We would like to call for calm and restraint, particularly to the defense force and all security forces in Zimbabwe," Zuma said. "I am hoping that the defense forces will be able to respect the Constitution of Zimbabwe as well as the people of Zimbabwe so that this situation does not go beyond where the situation is now, particularly because we are now in contact with them, as well as the president."
"We are hoping that this situation is going to be controlled so that peace and stability comes back to Zimbabwe," he said.
Mugabe was once a respected statesman and liberation fighter, having led Zimbabwe to independence from Britain in 1980 after a seven-year bush war.
During the colonial era, when the country was known as Southern Rhodesia, he spent 10 years in jail for his fierce opposition to white minority rule. He fled to neighboring Mozambique upon his release and established ZANU-PF.
At independence, Mugabe defeated rival liberation leaders to become the new nation's first prime minister. He introduced free education and healthcare, built new roads, opened the doors to blacks in the formerly whites-only economy and promised reconciliation with former enemies.
"What he's done for this country, he is a liberation hero no matter what came afterwards," Harry Davies, the managing editor of the independent Harare News, said in an interview Wednesday.
What came afterward was ugly.
In 1987, Mugabe became president after rewriting the country's independence constitution, and he consolidated power by crushing an armed rebellion. A political deal led to the creation of a virtual one-party state.
As the country descended into economic ruin, Mugabe became an international outcast for his misrule. He blamed the problems on whites and political enemies.
In the early 2000s, Mugabe sanctioned the invasion of hundreds of white-owned farms by black veterans of the liberation war and other government supporters, a land grab that resulted in the deaths of farmers and political opponents. Supporters praised him for standing up for the black majority against Western imperialists.
But in recent years, Mugabe has been abandoned by even some of his most ardent supporters, including South Africa's Economic Freedom Fighters party, which wants South Africa to confiscate land from whites.
"The EFF appreciates that some of the pain caused in Zimbabwe was due to imperialist actions, but a significant component of this was self-inflicted," it tweeted Wednesday as it called on Zuma to offer Mugabe political asylum. "President Mugabe cannot insist on remaining in power even when he is physically incapable of doing so."
If Mugabe does step down, the key question is who becomes acting president in the period leading up to an election. Mnangagwa, the vice president until Mugabe fired him, has close links to the military and security organs, making him a likely choice.
Grace Mugabe made no secret of her desire to succeed her husband as president, a prospect that horrified most Zimbabweans. The military put an end to that possibility.
There were rumors that key figures associated with a faction in the ruling party close to Grace Mugabe had been arrested, but there was no confirmation. Among the key figures in the faction known as G40 was Jonathan Moyo, the higher education minister, a normally prolific tweeter whose account has been silent since Tuesday.
The state-owned Herald newspaper initially reported that the head of the armed forces, Gen. Constantino Chiwenga, had been accused of treason by the ruling party. But in a hastily redesigned front page Wednesday morning, the newspaper reported "No military takeover," citing the Zimbabwean military.
The party's youth wing said its spokesman, Kudzanai Chipanga, was in custody but also denied there had been a coup.
"Contrary to international reports the gallant Zimbabwean army has not staged a coup. There is no coup in Zimbabwe. Neither is there a crisis," the youth league tweeted. It said Chipanga had called on Zimbabweans to "comply with the National Democratic Project which is underway."
Zimbabwe's war veterans association, which includes people who fought in the liberation war against white minority rule, described the military action not as a bloodless coup, but a "bloodless correction."
Zimbabwean reactions to the military intervention were surprisingly positive. Many saw it as an opportunity for change after a prolonged period of drifting misrule.
Opposition figure and former Finance Minister Tendai Biti tweeted: "It has happened. It's not a dream. It's not a nightmare. This is it. This is the now and as Martin Luther King would say, today's day is the first day in the rest of our lives. Cheer up compatriots."
But London-based political analyst Alex T. Magaisa cautioned Zimbabweans that a military intervention was unlikely to protect the constitution and democracy.
"I cannot, for the life of me, fathom why any reasonable person would welcome military rule and its consequences such as martial law," he tweeted. "Be careful not to let the genie out of the bottle."
Times staff writer Ann M. Simmons in Los Angeles and special correspondent Tawanda Karombo in Harare contributed to this report.
Twitter: @RobynDixon_LAT
---
UPDATES:
4:25 p.m.: This article was updated to include the history of Mugabe's rule in Zimbabwe.
3:10 p.m.: This article was updated throughout with details of the military action and statements from the president of South Africa.
This article was originally published at 11:30 a.m.
Sign up for Essential California for news, features and recommendations from the L.A. Times and beyond in your inbox six days a week.
You may occasionally receive promotional content from the Los Angeles Times.