At start of major Muslim holiday, Afghanistan's president calls for cease-fire with Taliban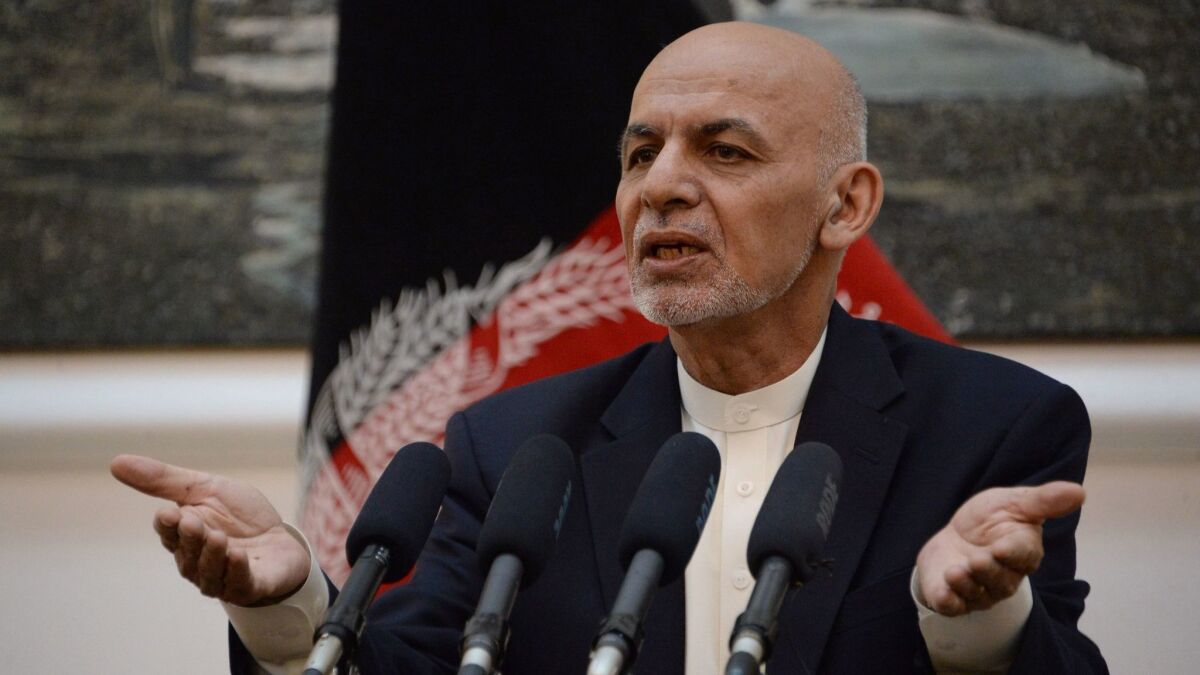 It might seem like an inauspicious moment to try for a truce.
But Afghan President Ashraf Ghani did so Sunday, declaring a cease-fire to coincide with this week's Eid al-Adha holiday, one of the most important occasions on the Muslim calendar, and then be extended for up to three months.
The only catch: The Taliban must sign on too.
"I announce a conditional cease-fire starting from tomorrow, Monday, until Nov. 21, birthday of the prophet Muhammad," Ghani said in a nationally televised address marking Afghanistan's Independence Day, according to news agencies.
There was no immediate word on whether the Taliban would agree to the cease-fire, which was called despite a recent burst of bloodshed and came on the heels of a truce that proved short-lived.
Secretary of State Michael R. Pompeo welcomed Ghani's move, provided the Taliban cooperate, and added that Washington stood ready to support direct peace talks between the Afghan government and the Taliban.
"This plan responds to the clear and continued call of the Afghan people for peace," Pompeo said in a statement.
But the secretary also alluded to the collapse of the most recent truce attempt.
"The last cease-fire in Afghanistan revealed the deep desire of the Afghan people to end the conflict, and we hope another cease-fire will move the country closer to sustainable security," Pompeo said.
In June, the Afghan government announced a unilateral cease-fire with the Taliban during the last major Muslim holiday, Eid al-Fitr. It largely held, but the insurgents spurned a call to extend that truce.
Then, this month, the Taliban launched a major offensive on the southeastern city of Ghazni, which the government said killed at least 100 members of the Afghan security forces and some two dozen civilians, along with scores of Taliban fighters.
Five days of fierce fighting in a city just 80 miles from the capital, Kabul, was finally quelled after U.S. airstrikes and the dispatch of American military advisors to aid the Afghan government side. Afterward, whole neighborhoods had to be painstakingly cleared of explosives laid by the Taliban.
Ghani's cease-fire call came during ceremonies commemorating the 99th anniversary of the Anglo-Afghan Treaty of 1919, which is marked as the country's Independence Day.
Recent signs, though, have been ominous. Ghani's overture came only a day after Taliban leader Mullah Haibatullah Akhundzada declared that there could be no peace as long as foreign troops remained in Afghanistan.
With the Afghan conflict in its 17th year, the Trump administration is said to be weighing a controversial proposal to use private contractors to shoulder much of the burden borne by U.S. troops in the country, who now number some 15,000, down from a high of 100,000 in 2010, during the Obama administration.
The privatization plan is being pitched by Erik Prince, the founder of Blackwater and brother of President Trump's Education secretary, Betsy DeVos. Prince claims it would save billions of dollars and help bring an end to the conflict, but the idea has drawn heavy criticism from military and foreign policy experts.
Prince has vehemently denied that the proposal would usher in a mercenary-driven conflict.
"It is not a private army," he told NBC last week. "It is a very clear delineation of who's in charge, OK? Afghan government, working for a U.S. government official, funded by the United States — at a fraction of the cost we're spending now."
National security advisor John Bolton, asked about the idea of essentially outsourcing the U.S. military role in Afghanistan, said in an interview aired Sunday on ABC's "This Week" that he was "always open to new ideas" but that any privatization move would be up to Trump.
"I don't rule out that we'd have a change in some of the things we're doing there," Bolton said.
The national security advisor cited indications that contacts between the insurgents and the Afghan government were "moving in the right direction," adding that the administration had looked at "several different possibilities to get the Taliban and others directly engaged with the government of Afghanistan."
Conditions in the field, though, appear grim. Territory held by Afghan forces has been shrinking over the last two years, and Taliban fighters in recent months have carried out a number of major assaults.
Afghanistan has also been shaken by a separate insurgency by the Afghan affiliate of Islamic State, which claimed responsibility for a suicide bombing Wednesday in Kabul targeting Shiite Muslims that killed at least 34, mainly high school students, and injured nearly 60 others, according to the Ministry of Public Health.
The attack took place in a neighborhood that is mainly home to Hazaras, a Shiite ethnic minority. Shiites are considered heretics by Islamic State.
The day after that bombing, the capital was rattled by an hours-long standoff between police and gunmen who tried to overrun a compound belonging to Afghanistan intelligence. Such attacks tend to shake public confidence that government forces are capable of securing even relatively safe areas of the capital.
Twitter: @laurakingLAT
---
UPDATES:
4:45 p.m.: This article was updated throughout with Times staff reporting.
This article was originally published at 12:20 p.m.
---
Must-read stories from the L.A. Times
Get the day's top news with our Today's Headlines newsletter, sent every weekday morning.
You may occasionally receive promotional content from the Los Angeles Times.