Bing comes back online in China, but there are more questions than answers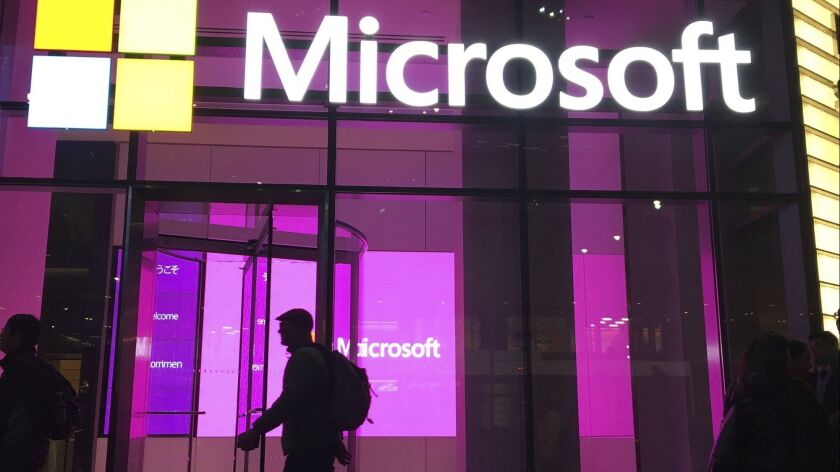 Reporting from Beijing —
Access to Microsoft Bing has been restored in China a day after users reported the site was down — sparking fears that it had been blocked by the government amid a crackdown on popular streaming platforms and news sites.
The search engine's Chinese site, cn.bing.com, went down Wednesday, but Microsoft said in a statement Thursday that access had been restored, without providing details about what had transpired. The Remond, Wash., company previously acknowledged that Bing has been temporarily taken down by the government over censorship disputes in the past.
Two unnamed sources told Bloomberg, however, that the access problems were the result of an "accidental technical error" and the Chinese government had no intention Wednesday of blocking the site, which Microsoft has been able to operate because it complies with Chinese censorship rules.
The two sources with knowledge of the matter asked not to be identified because they were discussing confidential information. China's cyberspace administration declined to comment Wednesday.
Concerns that the government may have been involved were heightened by an intense internet crackdown in recent weeks — in tandem with continuing harsh repression of human rights activists, dissidents, writers, lawyers and others.
The crackdown was launched Jan. 3 by China's cyberspace authority, according to a brief statement on its website Wednesday. In less than three weeks it closed down more than 700 websites, regulated or "cleared" more than 9,000 apps, scrubbed out more than 7 million online pages and deleted more than 308,000 accounts that it deemed illegal.
The six-month campaign is focused on 12 kinds of "negative" information, including "vulgar" and "crude" information. One social media discussion on China's microblogging site Weibo, with the hashtag #BingHasBeenWalled, was deleted late Thursday.
The government measures come as the Chinese economy sharply slows amid the trade dispute with the United States. The U.S. also is applying regulatory pressure on Chinese tech giants such as Huawei over fears their technology could jeopardize national security.
Several days ago, President Xi Jinping warned China's provincial leaders and ministers at a meeting that the country was facing serious risks relating to stability and reforms. Also looming this year are several sensitive anniversaries, including the 30th anniversary of pro-democracy protests in Tiananmen Square on June 4.
Microsoft President Brad Smith has acknowledged that Bing "periodically" goes down after disagreements with the Chinese government, which aside from the crackdown operates an Internet censorship apparatus known as the Great Firewall.
"Yeah, periodically there are issues that arise, and sometimes those issues do lead to our service or some other services being blocked," Smith said in a Jan. 19 interview on Fox Business News. "And it is an area where we understand we don't have the same legal freedom that we do in other countries, but at the same time, we stick to our guns."
Bing competes in China with other search engines, including dominant search site Baidu, which had 70% of the market in December, according to Statcounter. Bing commands only 2% of the Chinese search market, but it has a user base that relies on it for global news.
Comments on Chinese microblogging site Weibo grew as Bing users realized there was a problem, including some who said they wanted to study foreign academic research online.
"Do I now need to use a ladder to visit Bing?" one user asked, referring to the Great Firewall and adding: "I am so sick of this."
"No way! Has Bing been walled?" another complained.
"You can't do this all the time! You really want to seclude the country from the outside world," another posted.
There was also speculation that Baidu or internet service providers might have something to do with the Bing outage. Baidu has faced sharp criticism from users in recent days for prominently featuring its own platforms, including content aggregator Baijiahao, in search results to drive advertising revenue to itself.
Kecheng Fang, an expert on China's web and media at the Annenberg School for Communication at the University of Pennsylvania, published a post Tuesday titled "Baidu the search engine is dead" in which he complained that Baidu search results highlighted services offered by Baidu companies.
Baidu dismissed the complaint, but Fang's post led many in China to link Bing's shutdown with the controversy over Baidu's quality.
"Suddenly can't visit Bing. It looks like something big is going on behind the scenes. Is Baidu doing it?" one Weibo user posted Thursday morning.
Microsoft launched its search-engine website in 2009, offering results in a "more logical, user-friendly" format" versus results based on popularity.
Bing has failed to effectively compete in the United States, where its market share is 7.5%, paling in comparison with Google's 86%, according to Statista. Although Bing serves only a fraction of Chinese internet users, China has the largest number of internet users in the world — more than 800 million.
Rival Google operated its search engine in China, censoring its results according to Chinese government requirements, until 2010. Google abandoned the massive China market after it found the Gmail accounts of Chinese human rights activists were hacked during a cyberattack from within China.
Recently, Google has been considering trying to regain access to China by agreeing to the same terms as Microsoft. But critics, including hordes of employees, have called on the company to abandon the project.
Twitter, Facebook and Google are among the services made inaccessible by China's Great Firewall.
In 2018, Facebook obtained a license to set up an office in China after years of being closed off from the market. Facebook Chief Executive Mark Zuckerberg has made attempts to appeal to the government, once braving the toxic air pollution and taking a "smog jog" through Tiananmen Square for a photo op in 2016.
Dixon reported from Beijing and Pierson from Singapore. Times staff writer Melissa Gomez in Los Angeles contributed to this report.
---
Must-read stories from the L.A. Times
Get the day's top news with our Today's Headlines newsletter, sent every weekday morning.
You may occasionally receive promotional content from the Los Angeles Times.