China's parliament opens amid possibility of lifelong rule by President Xi Jinping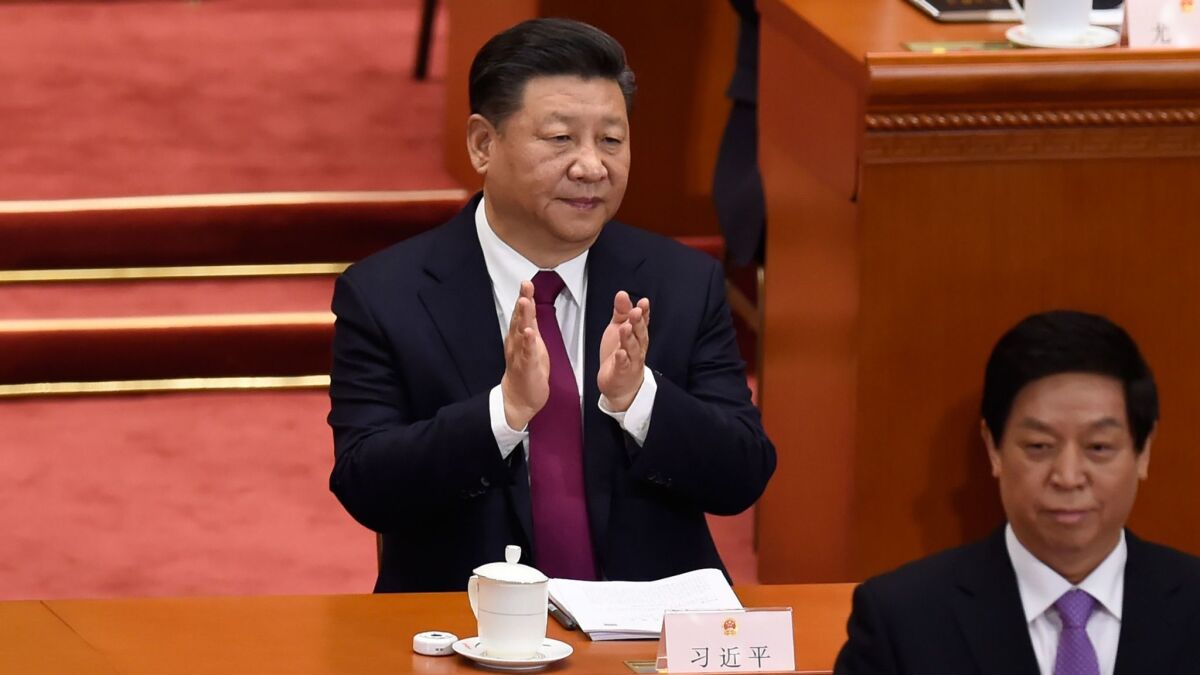 Reporting from BEIJING —
China has decided to endow its president, Xi Jinping, with the power to rule for life. And over the next two weeks, its parliament will almost certainly enshrine that power into law.
The National People's Congress opened its annual session Monday with an expected show of unity, loyalty, and pomp — nearly 3,000 handpicked delegates met at the Great Hall of the People, a massive edifice flanking Tiananmen Square, to display their allegiance to the Communist Party and its leader.
But the routine belied anxieties coursing through some levels of Chinese society about the possibility of a return to dictatorship after decades of collective leadership and institutionalized transfers of power.
Chinese officials have proposed scrapping a two-term limit for the country's president from the nation's constitution, paving the way for Xi to rule for decades. This could thrust the country into a new era of deepening repression and ideology — or greater uncertainty, as the idea of one-man rule, cast off in the late 1970s after decades of atrocities under Mao Tse-tung, returns to the fore.
"You have a political system in China in which the party's legitimacy rests on its being able to deliver a better tomorrow than today, for its citizens," said Steve Tsang, an expert on Chinese politics at the School of Oriental and African Studies at the University of London. "And that just grows so much harder with Xi Jinping narrowing the scope for internal policy debate."
Premier Li Keqiang launched the session with a nearly two-hour reading of his annual state of the nation address, which offered a rosy summary of the last five years under Xi. He acknowledged "formidable" challenges this year in issues such as financial risk and reducing pollution, but vowed China would "rally even closer" around the party and the president.
Li predicted the GDP would hit about 6.5% this year, keeping in line with last year's target and making it one of the world's strongest. Chinese officials have said growth reached 6.9% last year.
The government also reported Monday that China's defense budget will grow 8.1% this year to about $175 billion, up from 7% last year. The number, which some experts question, still falls far below the Pentagon's $700-billion budget for 2018.
Xi has overhauled the military in an attempt to create a streamlined, modern force able to defend its interests, including in the contested South China Sea.
"We will stick to the Chinese path in strengthening our armed forces, advance all aspects of military training and war preparedness, and firmly and resolvedly safeguard national sovereignty, security and development interests," Li said in his report.
Officials also used the opening session to explain proposed changes to China's Constitution that carry extraordinary implications for the country's future. The constitution was last amended in 2004.
Abolishing the term limit will "maintain the authority and strong leadership" of the party, said Wang Chen, a top leader of the Congress. Delegates and others who saw the "massive achievements" under Xi recommended the amendments, he said, to hurried applause.
Delegates, in addition to abolishing term limits, will vote to enshrine Xi's ideological slogan — "Xi Jinping Thought on Socialism with Chinese Characteristics for a New Era" — in the state Constitution's preamble. (It was already included in the Communist Party's charter in October.) The changes need two-thirds approval to pass and are all but assured in this rubber-stamp parliament.
Eliminating term limits "is good for the stability and prosperity of the country," said Huang Chao, a delegate from Guangxi.
Chinese politics are notoriously opaque, and experts are sifting through vague clues to understand why a leader who already runs the Communist Party and military wants to keep the ceremonial title of president.
They have more questions than answers: Why will this year's National People's Congress last 16 days, when previous congresses lasted about 10? Why did Xi push for a term-limit abolition at the beginning of his second term? Was the move a marker of the party's relative strength, or weakness?
"When we see all this hoovering up of different titles and things, it's always been just as easily explained as someone not feeling super secure as someone feeling powerful and strong," said Kerry Brown, professor of Chinese studies at King's College in London and author of a biography of Xi. "It's as much a sign of uneasiness and weakness as strength."
Mao's campaigns from the 1950s to the '70s — the Great Leap Forward, the Cultural Revolution — killed millions of people, and after his death in 1976, Chinese leaders established a system for orderly succession to avoid the perils of strongman rule. Xi's predecessors Jiang Zemin and Hu Jintao left the presidency at the end of two five-year terms, although Jiang kept his grip over the military for longer.
Although the decision-making process unfolded in the shadows, it followed certain formalized, public procedures. Normally, the top leader would designate a clear successor at the end of his first term and spend the second term grooming him for the top post.
Xi spent his first term dismantling these institutional norms. The warning signs appeared at the twice-a-decade party congress in October, when he didn't appoint a clear successor.
"People in China are very allergic to anything having to do with the return of Mao," Tsang said. "Mao destroyed the party. Whatever Xi Jinping is guilty of, he's not guilty of trying a Maoist restoration. He's guilty of something else."
The current congress will fill key government posts, probably with Xi allies.
Xi still enjoys a high degree of public support. Many ordinary Chinese laud his wide-ranging anti-corruption drive, which has "punished" more than a million high- and low-level officials accused of malfeasance. They also praise his hard line on environmental polluters and his pledge to eliminate extreme poverty in the country by 2020.
"We are ordinary people — what we care is whether our lives will get better," said a 31-year-old office clerk in Beijing who gave only her surname, Li. "Whoever can achieve that should be our leader."
But Xi has intensified the role of the party in China's society, economy and military, and woven it through woven it through universities, the media, the internet and other spaces that once allowed relatively open debate.
The term-limit change prompted unusual shows of dissent. Li Datong, a former senior editor at the state-run China Youth Daily newspaper, begged delegates to vote against the change.
"It planted the seeds for China to once again fall into turmoil," he said in a public letter.
Young Chinese, both at home and abroad, were divided over the prospect of a president for life.
"I saw this coming, but still can't handle it," said a Chinese software engineer based in San Francisco, who requested anonymity to speak candidly about a sensitive situation. "It's a big step back, a sign of dictatorship — a reminder for me to not ever go back."
Gaochao Zhang and Nicole Liu in The Times' Beijing bureau contributed to this report.
For more news from Asia, follow @JRKaiman and @jessicameyers on Twitter
ALSO
China proposes to scrap presidential term limit, clearing way for Xi Jinping to stay in power
'Good morning, it's the Communist Party': Loudspeakers in China take Xi's ideological campaign to new levels
China's Communist Party elders picked Xi Jinping because they thought they could control him. They were wrong
---
UPDATES:
6:30 p.m.: This article has been updated to revise wording at the beginning of the story.
It was first published at 8 a.m.
---
Must-read stories from the L.A. Times
Get the day's top news with our Today's Headlines newsletter, sent every weekday morning.
You may occasionally receive promotional content from the Los Angeles Times.