Chinese court upholds professor's life term; journalist goes on trial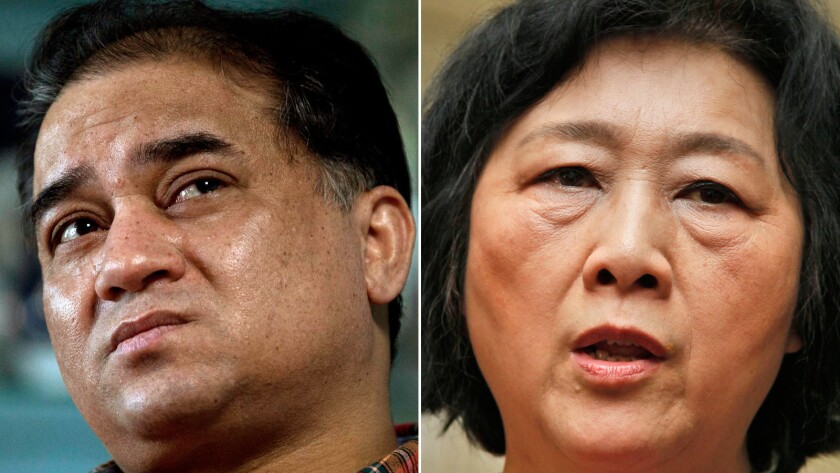 Reporting from Beijing —
Chinese courts on Friday took up two cases followed closely by international human rights watchdogs, with judges upholding a life sentence for an outspoken scholar convicted of separatism and a trial beginning for a veteran journalist charged with leaking state secrets.
Ilham Tohti, an economics professor and outspoken advocate for minority Uighurs, failed in his bid to overturn a life sentence handed to him in late September. The court did not grant a hearing, instead simply reading a prepared written statement of its final verdict to him in the detention center in Urumqi, the capital of Xinjiang province, where he is being held, his lawyer, Liu Xiaoyuan, said in a phone interview.
Liu said he met with Tohti on Monday in Urumqi. According to Liu, Chinese law allows courts to simply issue a written decision in an appeal if judges believe that the facts were clearly presented in the first trial. The life sentence for Tohti has been widely denounced by human rights groups as excessively harsh.
"We still have many questions about the evidence presented in Tohti's first trial," Liu said. "He only posted some comments on Chinese government's ethnic policies through articles on his website. He was not involved in nor triggered any separatist activities. But the court refused to explain why they would not allow another hearing in the appeal."
Under Chinese law, a defendant is only given one chance to appeal to a higher level court, which means Tohti's sentence is now final.
Meanwhile, Gao Yu, a dissident journalist known for supporting Chinese students' protests in Tiananmen Square in 1989, was put on trial at the Third Intermediate People's Court in Beijing.
Gao, 70, has been charged with leaking state secrets after authorities said she passed "Document No. 9" -- a set of internal ideological guidelines distributed to Communist cadres last year by the Party's Central Committee -- to overseas media including the Chinese-language website of German broadcaster Deutsche Welle.
China Central Television, the state broadcaster, aired a recorded confession by Gao in early May during which she admitted breaking the law. In the video, Gao was wearing an orange prison vest, and her face was digitally blurred.
Gao's lawyer, Mo Shaoping, said she confessed under duress, hoping to protect her son from criminal charges, the U.S.-based Chinese language website Boxun reported.
After Gao was arrested in April, her son was also taken into police custody, then released on bail. Gao insisted that she didn't know the interrogation was being recorded and that it would be broadcast on national TV, Mo added, saying the confession was obtained illegally and should not be used as evidence against her in court.
Gao pleaded not guilty in Friday's closed-door hearing, Chinese activist Su Yutong said in an update on her Twitter account. A verdict was not immediately forthcoming.
Gao's family members, including her brother and her son, were not allowed to attend the trial. Foreign journalists were barred from the courtroom and were chased away by police when some tried to report from outside the courthouse in north Beijing.
In a third case that has drawn the scrutiny of watchdogs, Mo told the South China Morning Post that the case of another human rights lawyer, Pu Zhiqiang, is moving toward trial, with two more charges -- subversion and inciting radical hatred – apparently being brought against him.
The Communist Party has been emphasizing "the rule of law" in China in recent months and pledged reforms to improve the judicial system during a high-level, four-day meeting in late October. But authorities have taken a harsh line with dissidents and activists, and lawyers complain that their clients have been denied fair trials.
Human rights groups have condemned the proceedings against Tohti and Gao.
"Trials of two leading activists on Friday will lay bare the Chinese authorities' duplicity over the rule of law," London-based Amnesty International said in a statement Thursday.
"If Gao Yu and Ilham Tohti were to receive genuinely fair hearings, the charges against them would be dismissed as blatant political persecution," added William Nee, China researcher at Amnesty Internationa;.
Meanwhile, New York-based Human Rights Watch called on the Chinese government to drop all criminal charges against Gao. "Gao Yu's case is a frontal assault on the freedom of expression and access to information," said Sophie Richardson, China director of the organization. "China should drop the charges immediately or face widespread international condemnation."
Beijing-based attorney Li Xiongbing said he regarded the recent moves by Chinese authorities to actually press specific charges against political dissidents and conduct trials under the guise of "rule of law" as a step backward for the legal system.
"Before when they detained the activists without any formal charges, at least they didn't bring their dirty politics into China's legal system," said Li, who represented Chinese human rights lawyer Gao Zhisheng. Gao was recently released following a years-long prison term.
"Now, with all those formal trials against the activists and harsh sentences against them, they have removed the last shred of dignity from the country's legal system."
Tommy Yang in the Times' Beijing bureau contributed to this report.
---
Must-read stories from the L.A. Times
Get the day's top news with our Today's Headlines newsletter, sent every weekday morning.
You may occasionally receive promotional content from the Los Angeles Times.