50 years later, China hasn't faced the lasting mark the Cultural Revolution left on society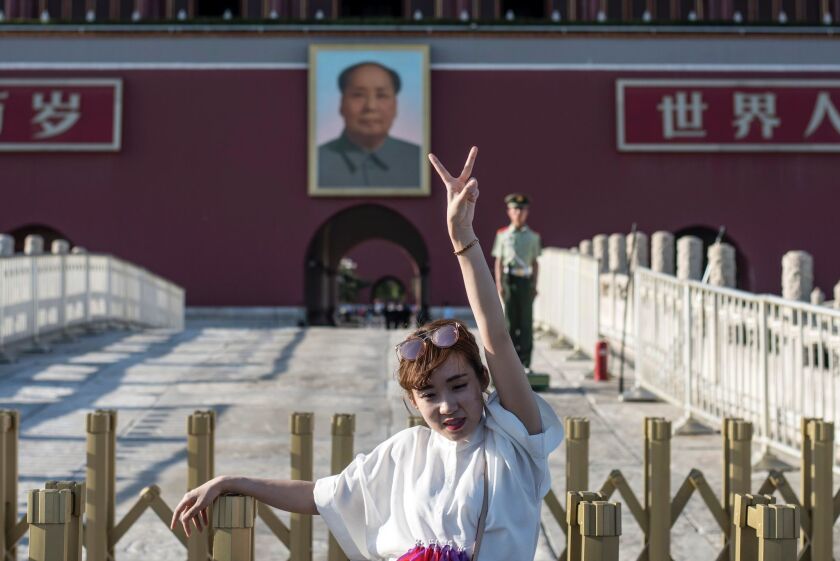 Reporting from Beijing —
During China's decade-long Cultural Revolution, from 1966 to 1976, an estimated 1.7 million people died amid a frenzy of ideologically driven violence, more than three times the death toll of the Syrian civil war. And that's just the official estimate — independent historians say the real number may be millions more.
Yet on Monday, China marked the 50th anniversary of the movement's beginning not with solemn reflection, but with silence. The Communist Party, which oversaw the movement, is still in power today, and officials believe that a truth and reconciliation effort could damage its historical claim to legitimacy.
On Monday, Chinese newspapers barely mentioned the anniversary. Instead, the China Daily ran stories on fast food, organ transplants and panda bears. The People's Daily, a party mouthpiece which effectively launched the movement in 1966 with a front-page call to "seize the power of the capitalist roaders," reported on President Xi Jinping's use of the term "political ecology."
Experts say that although the party has consigned the Cultural Revolution to history — top authorities condemned the movement in 1981 — its legacy of cruelty still pervades Chinese society.
See more of our top stories on Facebook >>
In the late 1960s, bands of Maoist "Red Guards" beat intellectuals to death; armed factions clashed in major cities; and countless cultural relics were destroyed.
Today's China is almost unrecognizable from even a few decades ago -- it's much wealthier, and generally stable; violent crime is rare. Yet experts say that many of the era's tensions -- the extreme volatility, the breakdown of public trust -- still simmer beneath the surface, and occasionally boil over into violence.
"If you compare Stalin's era at its worst, the brutality and the inhumanity that was inflicted on Soviet citizens were generally inflicted by the party-state," said Steve Tsang, an expert on Chinese politics at the University of Nottingham. "The cruelty that was imposed in the Cultural Revolution did not come from Mao [Tse-tung]. He never said, 'Be cruel to the people you struggle against.' … Mao never said, 'Beat the hell out of them until they die.' Mao didn't ask for these things. He created the environment, an atmosphere that encouraged and sustained excessive behavior."
"The way the Cultural Revolution changed peoples' mindsets has never really been faced," he said. "And so you continue to see this kind of cruelty."
Online forums and social media sites carried slightly more information on the movement, but also showed signs of heavy censorship.
Searches for "Cultural Revolution" on Baidu, China's leading search engine, brought up several results, including a slideshow of propaganda posters during the movement and a forum exploring why some people recall the era with nostalgia. None examined the era's violence or reflected critically on its historical legacy.
Yet Sina Weibo, the country's most popular microblog, was peppered with recollections of the movement's horrors.
NEWSLETTER: Get the day's top headlines from Times Editor Davan Maharaj >>
"During the Cultural Revolution, my parents and grandma had been in Beijing for years but their house was raided, as they were classified as 'landlords,'" wrote Hu Xijin, editor in chief of the state-run Global Times tabloid, which issued no stories about the anniversary.
"My most terrifying memory is from when I was 6," he continued. "Red Guards pushed my grandma to the ground and called her 'landlord,' and slapped her. She cried. And then grandma left Beijing and was sent back to her hometown. My father is her only son, so my mother had to take care of her. After that I had to write 'landlord' every time I filled out forms for myself, and I felt humiliated … It's so painful to look back at the Cultural Revolution."
The broadcaster Phoenix Television — which is controlled by the party but broadcasts from Hong Kong — published a long online story declaring that young Chinese citizens have largely forgotten the movement. The report did not mention the anniversary; two Chinese journalists, both from other outlets, said in interviews that propaganda officials forbade it. Both requested anonymity due to the subject's sensitivity.
"Do you talk about the Cultural Revolution with your friends?" a Phoenix reporter asked young passerby.
"I'm not interested in it," said one.
"I majored in science. I don't know much about it," said another. ¿"It's not that I'm not interested in it — it's that people are not allowed to talk about it," said a third.
The article has since been deleted.
ALSO
An elderly Buddhist monk is the latest slaying victim in Bangladesh
What it was like to be a foreign exchange student in Beijing at the end of the Cultural Revolution
Former top Chinese official indicted on corruption charges
Yingzhi Yang and Nicole Liu of the Times' Beijing bureau contributed to this report
---
Must-read stories from the L.A. Times
Get the day's top news with our Today's Headlines newsletter, sent every weekday morning.
You may occasionally receive promotional content from the Los Angeles Times.