Beijing's wai mai drivers: Delivering dumplings and living to tell about it
Reporting from BEIJING —
He Zhigang's eyes pleaded with the elevator dial as he stood waiting on the ground floor.
The red numbers wouldn't budge. He glanced at his phone. The elevator. The phone.
He pushed back his helmet, lifted the delivery bag of steamed buns and prepared to run up 20 flights of stairs. The elevator doors opened. He exhaled.
The hungry office worker probably won't remember who brought him lunch on a Friday afternoon, or that it was 11 minutes and 20 seconds before the allotted time. Maybe he'll notice the colorful uniforms that flood Beijing streets and think of the beef noodle soup that came still too hot to eat, or the deliveryman who screeched past on an electric scooter and nearly took out his driver's side mirror.
Young migrant workers like He, a shy 29-year-old from Henan province, are fueling a new industry in China, part of a thriving e-commerce market that tethers cheap labor through increasingly sophisticated technology and the ubiquity of smartphones.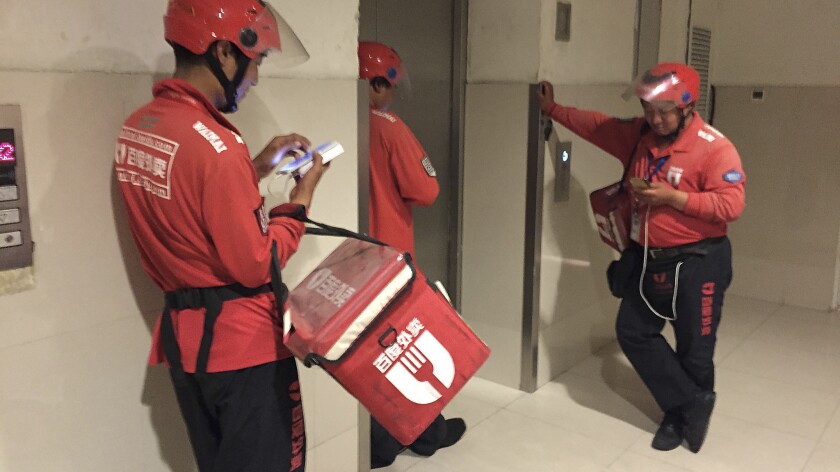 These wai mai, or take-out, drivers symbolize China's transformation from a poor society dedicated to manufacturing to a more affluent one driven by consumption. They cater to a burgeoning middle class that will pay for convenience.
And they're everywhere — helmeted kids in oncoming traffic, at restaurants, blazing down sidewalks on their scooters. Baidu Waimai, where He works, employs about 20,000 in Beijing alone.
These modern-day mailmen — and they're usually men — pick up prescriptions, flowers, laundry, coffee, condoms and groceries, and carry someone's desires through congested city streets.
"I'm free when I'm on the road," said He, who wears his work ID card like a necklace and carries a fanny pack full of small change. "Nobody tells me what to do."
Every day, he covers northwest Beijing's tech hub, his red uniform zipping past Internet start-ups and high-rise apartments on a customized Du Shi Feng scooter. He counts about 30 customers in his daily dance between canteen and office, restaurant and residence. He knows the shop that reeks of black vinegar and the apartment building with the yappy dog.
The young driver remembers the day the rain turned the streets to rivers and he couldn't make any of his deliveries on time. A woman opened the door and handed him a towel. He doesn't usually tell stories; this one he repeated twice.
Since starting the job a year ago, "I've become more chatty," he said, before drifting into silence.
He tried his luck in Beijing when a gold-mining business back home fell through. A friend told him about the wai mai "knights," the term Baidu labels its drivers. He left his wife and 4-year-old son in Henan, a densely populated central province about 385 miles south of Beijing. Now he delivers from 9:30 a.m. to 9 p.m., with a three-hour break in the afternoon.
Chinese generally don't tip, so He relies on Baidu for his paycheck. Employees start at about $520 a month, but can earn more than double that, as He does, with incentives for speed and service. The average monthly income for China's migrant workers last year was about $460, according to the National Bureau of Statistics.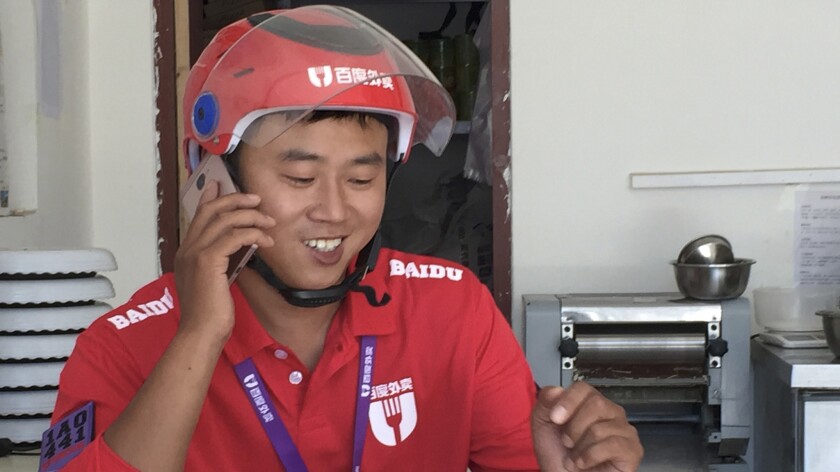 The lunchtime rush that Friday morning began at 11 o'clock. He grasped his phone in one hand and his scooter's handlebars in the other. A Styrofoam container in the front held spots for hot drinks; he delivers more Starbucks than dumplings.
He watched an order pop up on his phone, then darted down the street to a noodle shop in an unmarked office complex. He grabbed the food, tucked it in an insulated pouch and traveled three blocks to an identical office complex, an orchestra of efficiency guided by algorithms.
Security kept him outside, standing in the sun. He checked his phone. More orders popped up.
Eventually, a woman came out, took the soup, muttered thanks, and walked away.
China's e-commerce market, the world's largest, will hit $1.1 trillion in four years, according to technology research firm Forrester. That will mean even more drivers on Beijing streets, a kind of motorcycle gang except with bright colors and helmet requirements. Meituan Waimai drivers sport canary-yellow T-shirts with kangaroo logos. Couriers for Ele.me, which means "hungry?" in Chinese, wear deep blue.
"Where offline services didn't meet certain standards, online took off," said Gong Zhenbing, chief executive of Baidu Waimai.
They meld into the chaos of the street, where cars make U-turns in the middle of the road, bicycles ride on sidewalks and motorcycles play chicken with oncoming traffic. Eye contact acknowledges defeat.
Electric scooters like He's only add to the scramble.
Delivery drivers are "high risk" because they run red lights and drive against traffic, said Fang Libin, a 40-year-old taxi driver on his afternoon break, whose legs dangled out the passenger side window.
The dinner crush had commenced by 6 p.m. when He walked into a west Beijing mall. He'd just passed a bag of noodles to the hand that emerged from an apartment door. Now he needed to pick up a plate of sashimi, which he'd never eaten.
Lines of Japanese, Korean and Yunnan restaurants occupied the mall's top floor, begging for customers who weren't there. Instead, red-shirted wai mai drivers poured out of the elevator. Blue shirts came from the right. Yellow took the escalators.
These drivers may not benefit from China's economic rise as much as their customers, but they've secured a spot in a country where opportunity comes and goes quickly.
There was pride in He's voice when he told the waiters: "I'm the deliveryman."
He picked up the sushi, nodded at the other drivers, and got back on his bike. Hungry people were waiting.
Meyers is a special correspondent. Nicole Liu and Yingzhi Yang in The Times' Beijing bureau contributed to this report.
ALSO:
Here's why China refuses to block North Korea's nuclear ambitions
China once struggled to feed its people. Now it's seeing a rise in eating disorders
Duped into selling his kidney, this 23-year-old exposed an illegal organ racket in India
---
The Latinx experience chronicled
Get the Latinx Files newsletter for stories that capture the multitudes within our communities.
You may occasionally receive promotional content from the Los Angeles Times.