'Good morning, it's the Communist Party': Loudspeakers in China take Xi's ideological campaign to new levels
Reporting from NANMIAO, China —
The loudspeakers crackle on soon after sunrise, bathing the village of Nanmiao in Communist Party dictates.
As China's leaders hold a twice-a-decade party congress in Beijing, hamlets such as this one have turned on rusty speakers, or installed new ones, to spread the word directly to the people. But this town, a 2 1/2-hour drive south of the capital, stands out in its party euphoria.
The main road is festooned with red Chinese flags. White walls on either side depict freshly painted scenes of party history, from the formation of the People's Liberation Army to Mao Tse-tung's proclamation of a new nation. A television screen as wide as a garage door occupies the basketball court, where villagers gathered last week to hear President Xi Jinping open the conclave with a 3 1/2-hour speech.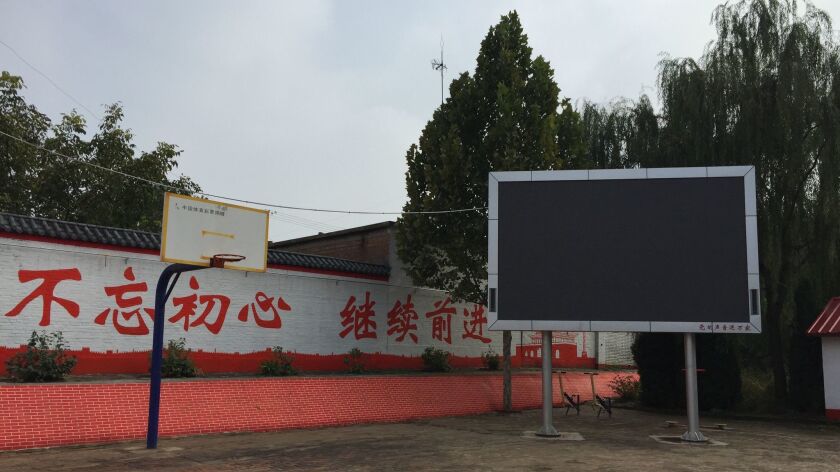 Local officials want this village to serve as a model, the actualization of Xi's aim to embed the party more deeply into society. It's also the latest example of an ideological campaign reminiscent of Mao's days.
"Remain true to our original aspiration," a red slogan near the entrance reads, echoing the theme of the congress.
All 5,700 villages in this section of Hebei, an industrial province surrounding Beijing, heard the new party policies on loudspeakers, according to the state-run New China News Agency.
"We've paid huge attention," a 70-year-old Nanmiao resident with a toothy grin said in an interview outside his one-story home. "Now we can tell the party is leading us and making life better."
He declined to provide his full name when a local official approached, calling himself only Mr. Zhao. She, too, declined to be identified, citing a need to follow rules. "It's a new era," she said, taking a key line from Xi's marathon address.
Communist Party propaganda officials would agree with both of them. The 96-year-old organization regularly takes credit for lifting more than 700 million people out of poverty since opening to the world in the 1970s. It also controls all publications and broadcasts.
The local party official referred questions to a county delegate, who soon appeared and spoke proudly of the village as a regional example. But he lacked authorization, he said, to elaborate on the vision. He referred questions to prefectural higher-ups in Cangzhou, who didn't return calls.
Cangzhou officials were more forthcoming to state media about the loudspeaker throwback, saying the devices bring the party and people together. Leaders in neighboring Shandong province credit them with reaching elderly rural residents who aren't technologically savvy.
Nanmiao's 300 villagers can listen to Su Yanru's voice flow through a cluster of loudspeakers strung to electricity poles. The local radio announcer, who broadcasts from a building nearby, told a Cangzhou television station that he aimed to "thoroughly pass the spirit of Xi's report to the people."
Loudspeakers started appearing in factories and playgrounds in the early 1970s and quickly became a common sight. They fell silent later in the decade, with the death of Mao and the rise of television. Their return, to mountainous villages in the country's south and smoggy towns in the frigid northeast, is an old-school strategy for what's become a highly sophisticated propaganda apparatus.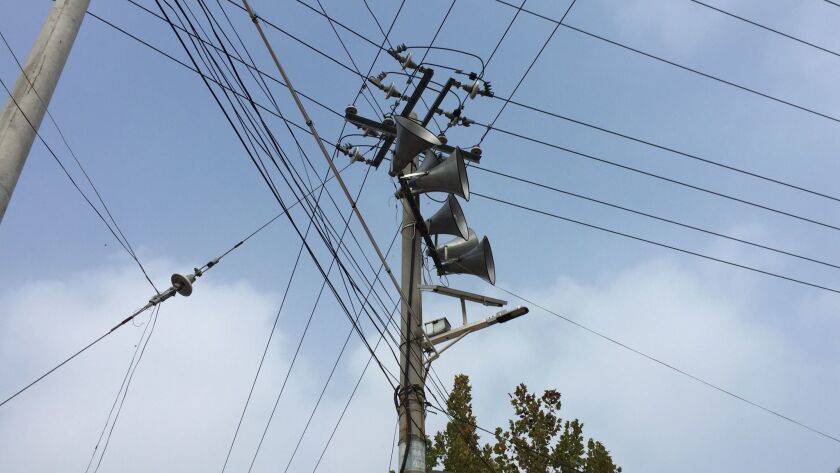 "Putting the loudspeaker system back means the party wants to impose its own will on people, no matter if they want to listen or not," said Zhang Lifan, a Beijing historian and political commentator. "It's moving backward."
Xi rarely evokes Mao, whose brutal Cultural Revolution set China back decades. The government tends to block comparisons. But Xi has not avoided Mao's legacy in the same way as his predecessors. Instead, he's encouraged a firmer embrace of China's red past.
He's decried Western values in education and media, silenced civil liberties advocates, tightened censorship and purged internal foes through an otherwise popular anti-corruption campaign to clean up gross party extravagance.
So great is this ideological push — and Xi's consolidation of power — that his ideas on the "success of socialism with Chinese characteristics for a new era" may be enshrined this week in the party constitution, along with his name. That's an honor bestowed only on Mao and his successor Deng Xiaoping, whose opening of the economy underpinned decades of economic growth.
Xi, in contrast to years of collective leadership ushered in by Deng, has stamped his name on just about everything.
Although Twitter, Facebook and YouTube are blocked in China, propaganda authorities are using those conduits to roll out increasingly slick campaigns to the world. Videos with the production level of Super Bowl ads show the glory of the country's achievements — and inevitably lead to Xi.
The party newspaper, People's Daily, mentioned Xi nearly 5,000 times in his first 18 months on the job, according to the University of Hong Kong's China Media Project, nearly twice as much as it did his immediate predecessor Hu Jintao and more than any other leader since Mao.
Xi may not hold fond memories of Mao, Kerry Brown, a professor of Chinese studies at King's College in London, wrote in his 2016 biography of Xi. "But the propagandist, the master of Chinese symbolic politics, the person in modern China who could be said to have most truly understood where power was located, how to use it and how to keep it — his was an inheritance worth tapping into."
Xi wasn't the first official in recent years to take lessons from the Mao era. Bo Xilai, the popular former party secretary of Chongqing, a hilly mega-city in southern China, encouraged "red songs" and ordered officials to the countryside.
"In many ways, what Xi is doing is ripping off what Bo Xilai did," said Jude Blanchette, a researcher at the Conference Board in Beijing who is writing a book about Mao's legacy. "Bo Xilai was one of the first people to show this very maudlin type of nostalgic memory, a very selective memory, that was often viewed as the good times and solidarity. He showed that still had a deep reservoir."
Bo's wife was accused of murdering a British businessman just before Xi took over, and the rising party star was destroyed by scandal.
Xi's first five years have focused on building a reinvigorated party that avoids such fates, one that fills what he sees as a spiritual void in society. He indicated plans last week to continue that campaign through his next five years — or possibly longer.
"Loudspeakers feel like a part of that broader search to find what someone once eloquently called the usable past," Blanchette said. "I don't think there are many options for the party. They have to pull from what they know and what they have."
Just up the street from Nanmiao, its northern counterpart, Beimiao, is a mess of mud roads and strewn garbage. The contrast is not lost on southern residents. The red edicts, the thrice-daily loudspeakers, some say, are a worthwhile exchange.
"I think about when we had no food or clothing," Mr. Zhao, the elderly villager, said. "That time is gone. I'm happy now that things are good. I'm happy with the party."
Meyers is a special correspondent. Gaochao Zhang and Nicole Liu of The Times' Beijing bureau contributed to this report from Nanmiao and Beijing, respectively.
Twitter: @jessicameyers
ALSO
China's Communist Party elders picked Xi Jinping because they thought they could control him. They were wrong
Xi Jinping lays out vision for stronger China, with Communist Party at the center
China's rising authoritarianism has a stark human cost
---
Must-read stories from the L.A. Times
Get all the day's most vital news with our Today's Headlines newsletter, sent every weekday morning.
You may occasionally receive promotional content from the Los Angeles Times.