The 'world's saddest' polar bear is trapped in a tiny cage at a shopping mall in China
Reporting from Beijing —
The burgeoning animal rights movement in China may have found a poster child in Pizza, a forlorn-looking polar bear dubbed "the world's saddest."
At a news conference in Beijing on Tuesday, the Humane Society International presented a letter signed by 50 Chinese animal rights groups urging Guangzhou Gov. Zhu Xiaodan to close the city's Grandview Mall Ocean World, where Pizza is among the 500 species exhibited in a shopping center, and secure a better home for the bear.
The groups join several international organizations — the Humane Society, Care2, the Born Free Foundation and the Animals Asia Foundation — that have collected more than a million petition signatures calling for action.
In China, activists have seized on the global attention to Pizza's plight as an opportunity to raise public awareness about animal captivity in the country, which has yet to pass animal rights laws.
"Pizza is really not the saddest polar bear in the world," said Hu Chunmei of the Chinese Green Development and Endangered Species Fund. "He reminds us of the many captive wild animals in China that are worse off."
Three-year-old Pizza was famous even before his despondent countenance was splashed across the Internet. The polar bear has been Grandview's main attraction since its opening in January, with visitors flocking from far and wide to glimpse him in his enclosure — a Spartan, blue-walled room with artificial snow, a shallow pool and little else. The enclosure measures 430 square feet; Pizza has only a 33-foot length of concrete to walk on.
But after a social media post about Pizza's seeming desolation went viral, animal rights groups went to assess the facilities. Cao Jinwei, a representative from Beijing's Capital Animal Welfare Assn., recounted his August visit to Grandview.
"Pizza is a superstar," Cao said. "There was a large crowd around his enclosure, and children had their faces against the glass to get a good look at him. But he is a celebrity without freedom."
A recently recorded video showed Pizza clambering around the pen, occasionally dipping a paw into the pool and lying by a vent in the corner, seeming to peer through it. The last habit indicates an unhealthy mental state, according to Yu Hongmei, an Anhui Agricultural University professor of psychology and business.
Yu noted that Pizza used his front paws to bang on the wall above the vent, as if trying to find what lay beyond it.
The advocacy groups said in their letter that the aquarium's high temperatures, small spaces, lack of windows and the rowdy behavior of the mall's shoppers are harmful to not only Pizza but also to the other animals on display, such as arctic foxes, belugas and walruses.
In a statement released Friday, Grandview Mall Ocean World disputed these claims.
"Grandview Mall Ocean World has always operated with an 'animals first' philosophy, focusing from the outset on animal protection, scientific discovery and education," the statement said.
The aquarium elaborated that its designs and everyday operations were developed under the guidance of scientists, doctors and animal specialists from around the world, ultimately producing an innovative approach toward the protection of endangered species.
Although the aquarium welcomes feedback from the public and other organizations, the statement said, "some groups acting on ulterior motives and personal vendettas will be reported to the relevant government authorities, and [Grandview Mall Ocean World] reserves the right to take legal action."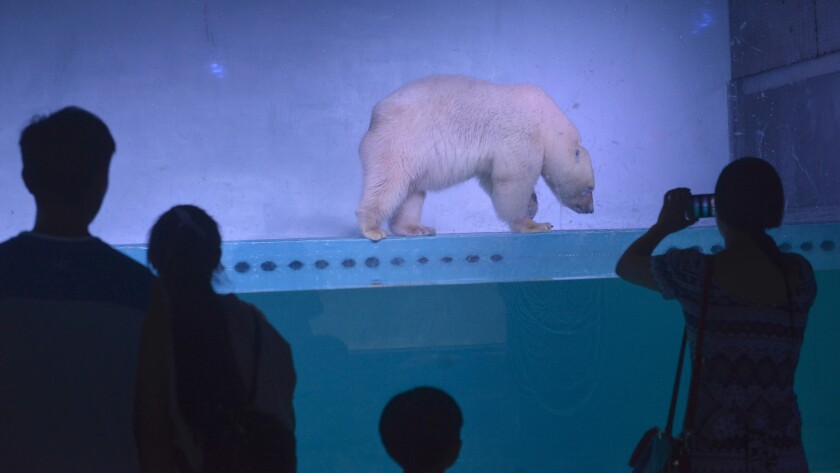 Grandview is planning its second phase of development, slated to include a zoo with pandas and tigers. The announcement of the phase was met with public disapproval, but the mall maintains it is moving forward while "taking into consideration suggestions from the public."
It is the only shopping mall in China with permanent live animal exhibits, though temporary shows and displays have become popular as online shopping makes customers less willing to trek to physical stores.
Chinese authorities rejected a proposal from a zoo in Britain that offered to adopt Pizza and place him in a large enclosure with other polar bears, stating that Pizza must remain in the country.
While the Ministry of Agriculture has guidelines for how captive animals should be raised, they are broad and vague enough that no legal recourse exists to force Grandview Mall Ocean World to shut down.
So Chinese animal rights activists are targeting public opinion in the hope that the tides of shifting societal values may push new laws forward.
Convincing people of the importance of protecting animals can be difficult in a country where hundreds of millions lived in poverty mere decades ago. Qin Xiaona, president of the Capital Animal Welfare Assn., called for a renewed focus on traditional Chinese values.
"Some people say that animal rights are a Western concern, but that dismisses centuries of Chinese history," Qin said. "We can't forget the principles that our culture was built on, which is to never do harm to our natural surroundings and value every form of life. Through the vigorous struggles of these recent years, we've sold out our traditions — we must return to them."
Wang is a special correspondent.
ALSO:
Many in China see the U.S. as a greater threat than Islamic State, new report says
American football is gaining traction in China
Many in Thailand want a princess to ascend to the throne, but her scandal-plagued brother is next in line
---
UPDATES:
6:08 p.m.: This story was updated with the dimensions of the polar bear's enclosure.
This article was originally published at 11:35 a.m.
---
Must-read stories from the L.A. Times
Get the day's top news with our Today's Headlines newsletter, sent every weekday morning.
You may occasionally receive promotional content from the Los Angeles Times.