UCLA basketball players, reportedly accused of shoplifting, await their fate in scenic Chinese town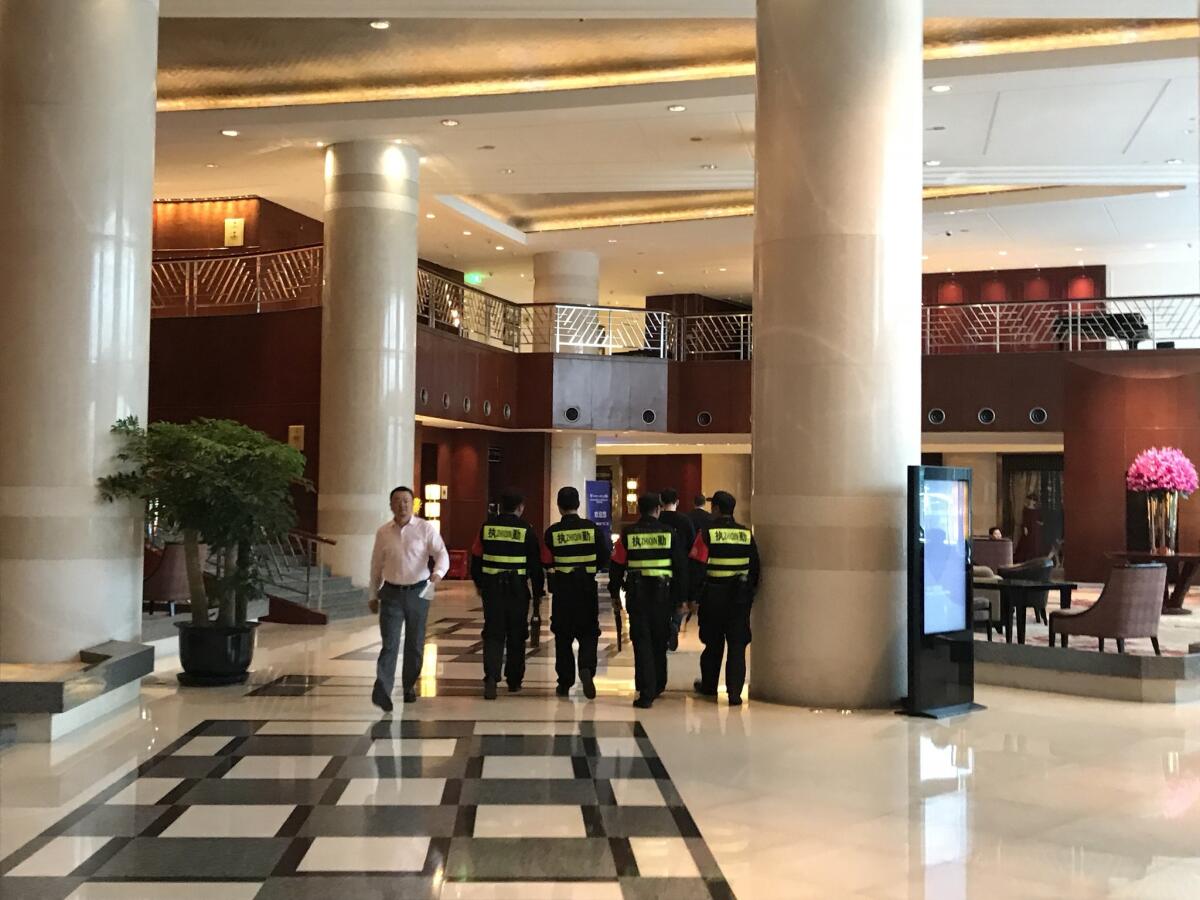 Reporting from HANGZHOU, China —
The young American athletes took a detour to this Chinese lakeside town on their way to play basketball. Now, in a bizarre situation that has entangled some of college sports' most promising players, three may not be able to leave it.
UCLA freshmen LiAngelo Ball, Cody Riley and Jalen Hill are holed up in Hangzhou, a tourist town in east China about 100 miles from Shanghai and the opening game of the season — in which they will not appear. Police questioned the three this week on suspicion of shoplifting sunglasses from a Louis Vuitton store. They must remain here and await a decision by Chinese authorities on how to proceed.
For the record:
6:15 p.m. Nov. 10, 2017A previous version of this article incorrectly stated the name of the U.S. consul general in Shanghai as Steve Stein. His name is Sean Stein.
For many, this former ancient capital is a breezy escape from the industrial grime of other Chinese cities. But for these college students, it's probably a crushing symbol of how little they know about the country and its opaque judicial system.
"I ain't got nothing to say," Ball, 18, said Thursday evening, sounding despondent and scared when reached by phone in his room. "They don't want us to talk."
The players are not technically under house arrest and can walk around the area, according to a person close to the situation who was not authorized to comment publicly because of its sensitivity.
At the Hangzhou police station closest to the Louis Vuitton store, a more humble affair than its shimmery glass mall counterparts that sell Gucci and Chanel, officers nodded with familiarity when asked about the situation, which one termed "the foreigner shoplifting incident."
They directed questions to police headquarters, a cherry-blossom-pink complex in the city center blocked off by security gates. No one answered repeated phone calls seeking information.
Like information concerning a possible resolution of the case, details outlining what exactly happened are murky.
Officials are "aware of reports of three U.S. citizens arrested and subsequently released on bail in China," said Sean Stein, the U.S. consul general in Shanghai, echoing a State Department statement.
Privacy considerations prevent further comment, he said.
The rest of the Bruins team left Hangzhou for Shanghai on Wednesday, in preparation for this weekend's game against Georgia Tech, but representatives from the university and the Pac-12 Conference are staying with the accused, said a person familiar with the situation. Ball's outspoken father, LaVar Ball, his wife, Tina, and their youngest son, LaMelo — in China filming episodes for their Facebook reality show "Ball in the Family" — continued with the team. The one Ball missing was Lakers rookie Lonzo Ball.
The left-behind Bruins could have it worse. Their hotel, the Hyatt Regency, looks out on a misty lake, a view so majestic it's pasted on the country's equivalent of a dollar bill. Rooms can go for $300 a night, and an expansive lobby draws wealthy businessmen and entrepreneurs who have profited from the town's burgeoning tech industry.
This city of 9 million people — more than twice the population of Los Angeles — is also home to e-commerce behemoth Alibaba. The company, which is sponsoring Saturday's game, invites basketball teams to its headquarters every year ahead of a shopping extravaganza it created — a more ramped-up version of Black Friday. The stopover was partly a marketing opportunity.
It's definitely drawing attention.
A server in the hotel lobby said she watched a line of police cars show up Tuesday, and a hotel representative confirmed that authorities took three UCLA students with them.
The Louis Vuitton store is located around the corner from the Hyatt, across from a Tesla showroom and an Apple store. Surveillance cameras cling to corners. An employee one recent afternoon tailed customers who entered. Some men's sunglasses go for nearly $740.
Employees would not discuss the incident, and the store's headquarters declined to comment.
George Hill, the father of 17-year-old Jalen Hill, also opted not to comment when reached on his cellphone.
Consequences for theft in China range from probation to years in prison. Courts differ dramatically from those in the U.S.; analysts have long decried a highly politicized system that lacks judicial independence. Formal charges almost always mean a conviction.
The students' fate is now in the hands of a country they've encountered for less than a week. Their hotel serves hamburgers, but it also offers regional specialties such as boiled hairy crab and dried bamboo shoot. The pathway around the lake is filled with elderly couples doing tai chi and the tonal cadence of the Chinese language.
The third student, 19-year-old Riley, had just received a passport for his first trip overseas.
Ty Nichols, Riley's coach at Chatsworth's Sierra Canyon High, described him as "an amazing young man with a huge heart and a great kid" who had settled in nicely during his first few months at UCLA.
The incident occurred just before President Trump arrived in Beijing on his trip to Asia and has not gotten much attention in Chinese state media. The opposite is true on social media.
"Trump's priority on his China visit is to save these poor arrested guys," one person joked on Weibo, China's version of Twitter.
Another said, "How on earth do you guys dare to steal luxury goods from a communist country, doesn't your capitalist country have that too, and cheaper?"
Chinese Foreign Ministry spokeswoman Hua Chunying, speaking at a regular briefing Wednesday, said she didn't have details of the situation.
But, she added, "China handles the affair according to law, and will guarantee the legitimate rights of the parties involved according to the law."
Times staff writers Ben Bolch in Los Angeles, Jonathan Kaiman in Beijing and Gaochao Zhang of The Times' Beijing bureau contributed to this report.
Meyers is a special correspondent.
Twitter: @jessicameyers
---
UPDATES:
Nov. 10, 5:50 a.m.: This article was updated with additional reporting from the Louis Vuitton store and information from police.
This article was originally published Nov. 9 at 8:05 p.m.
Sign up for Essential California for news, features and recommendations from the L.A. Times and beyond in your inbox six days a week.
You may occasionally receive promotional content from the Los Angeles Times.